The Individual Correspondence Courses offer stitchers a way to expand their skills, by learning a new technique or refining skills in a technique they already know. Courses can range from three to nine classes. There is frequent interaction with the teacher, as each lesson requires that the student submit a piece for evaluation. Here, we highlight stitchers who have completed an ICC.
This month, we congratulate Kim Olson-Kopp of Coon Valley, WI, and Jill Taylor of Vancouver, BC in Canada.
Kim is a member at-large in the Heartland Region. She took the Design for Needlework class with India Hayford. Here is what she says about her experience:
I may not be a typical embroidery student. I love and have a deep appreciation for fiber arts, but I have fewer hours experience stitching than I have drawing and painting as a self-taught artist. Nonetheless, I'm drawn to wool and have a lot of enthusiasm for embroidery. When I saw that the EGA offered a correspondence course on design, I signed up immediately, hoping to build confidence in designing original embroidery. I knew I lacked an understanding of art principles to put all my ideas into action, and this course was a perfect fit. I also wanted the experience of taking a class that lasted more than a few days–I really wanted to dive in and learn.
By far my favorite part of this course was working with India Hayford. She's an excellent teacher and a wonderful, smart, and caring person. Over the months, I took her feedback to heart. I had a great time using a variety of mediums to complete assignments, like painting and drawing alongside embroidery. Focusing on art principles allowed me to slow down and develop a deeper understanding of art and how to get the most out of the tremendous effort that goes into stitching. I've started incorporating many of the processes India taught into my other artwork, too, and so everything I learned can be applied to any artistic endeavor. When I finished my final project, I realized I had created something unique, and the process along the way was incredibly rewarding.
Thank you so much to the EGA and to India for offering this course. I'd recommend it to everyone.
Here is Kim's lovely final project: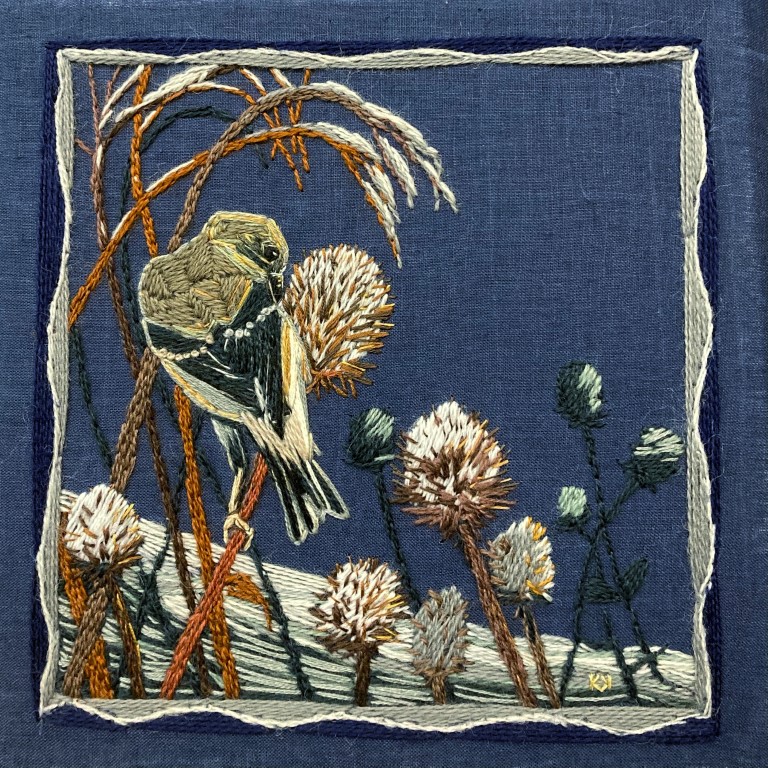 Jill Taylor of North Shore Needle Arts in the Greater Pacific Region is another stitcher who took advantage of the pandemic's down time to find a way to challenge herself. As she says, "Who would have thought that the global pandemic would carry on into another year? How could the editors of Needle Arts magazine have known I was looking for a challenge? I was drawn to learning something completely new. Barbara Kershaw's A Basic Study of Schwalm Embroidery fit the bill.
The whole experience was far beyond expectation. Several colleagues had taken classes from Barbara and were very excited for me; how right they were. The preparatory instructions and text were very helpful so that when I came to actually start sampling the various stitches I was confident that 'I can do this'! Barbara's critiques were constructive but gentle even when I did the hemstitched border for the final piece on the wrong side!
Researching Schwalm embroidery was another very rewarding aspect of the course and thanks to Barbara's guidance I now have a comprehensive record of the history, motifs and artists associated with this lovely art form."
Our Individual Correspondence Course Design for Needlework with India Hayford is for the technically adept embroiderer who wishes to create unique embroideries.
Our Individual Correspondence Course A Basic Study of Schwalm Embroidery introduces the student to the beautiful style of whitework from Germany known as Schwalm Embroidery.
You too can expand your embroidery skills, by learning a new technique or refining skills in a technique you already know with one of our Individual Correspondence Courses. Our available ICCs are:
Written by ICC Chair Helene Ossipov