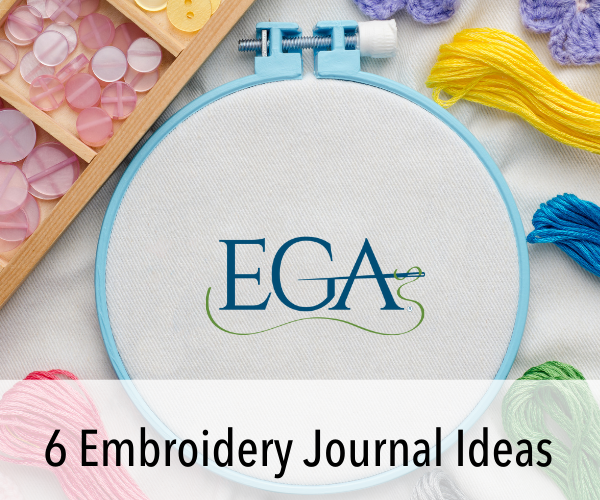 We've noticed a recent, striking trend in the embroidery community. Embroiderers everywhere are engaged in the daily practice of stitching embroidery journals. We see it as the confluence of many factors: an ongoing pandemic, a need to mark the time, a way to document the year, the accessibility of working a simple hoop design, the meditative quality of a regular practice, and a rise in the number of crafters picking up needle and thread to pursue embroidery.
New Year's resolutions seem like a great idea at the start of the year, but those resolutions are so often abandoned. Crafting an embroidery journal—stitching a design a day, or a few designs across a week or a month—feels like a more manageable and potentially fruitful alternative. We've seen all different types of embroidery journals, celebrating several different themes, but they all have one thing in common. They are a way for stitchers to mark and move through their year, and they provide a lovely means of looking back at the year as a whole.
With that in mind, we've gathered the following ideas, inspired by the talented online embroidery community. We hope they inspire you to start stitching your own journal this year. We've also included a downloadable, segmented template to help get you started.
Colors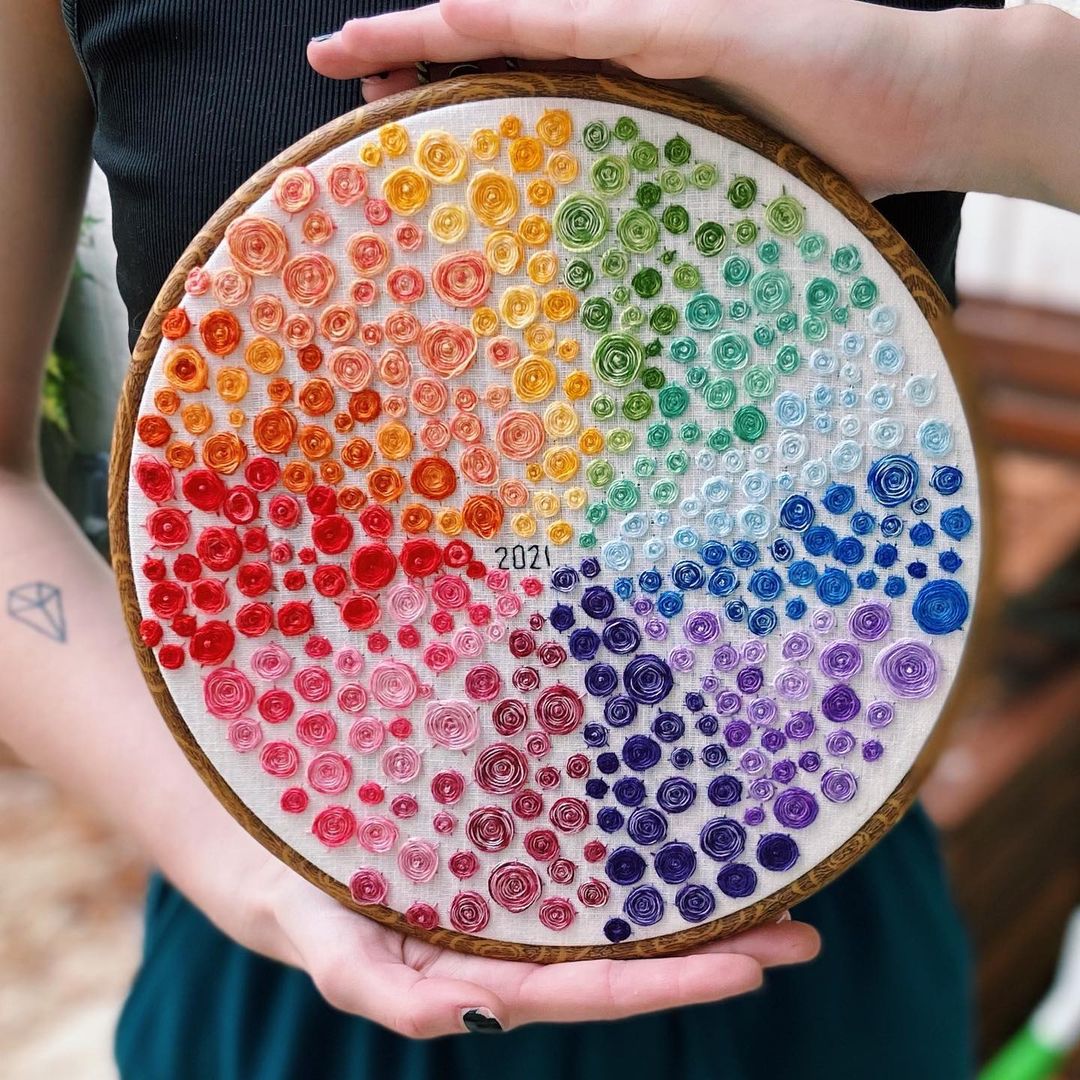 Artist Kate Gaither created the beautiful design above focused solely on a rainbow of colors rendered in rose stitches. We love the simplicity of working with a single stitch across a range of hues. It's easy enough for any embroiderer to accomplish, and interesting to watch the colors change as the year progresses. We suggest choosing an embroidery stitch that is unfamiliar to you. By the end of the year, you'll be a practiced expert!
Gemstones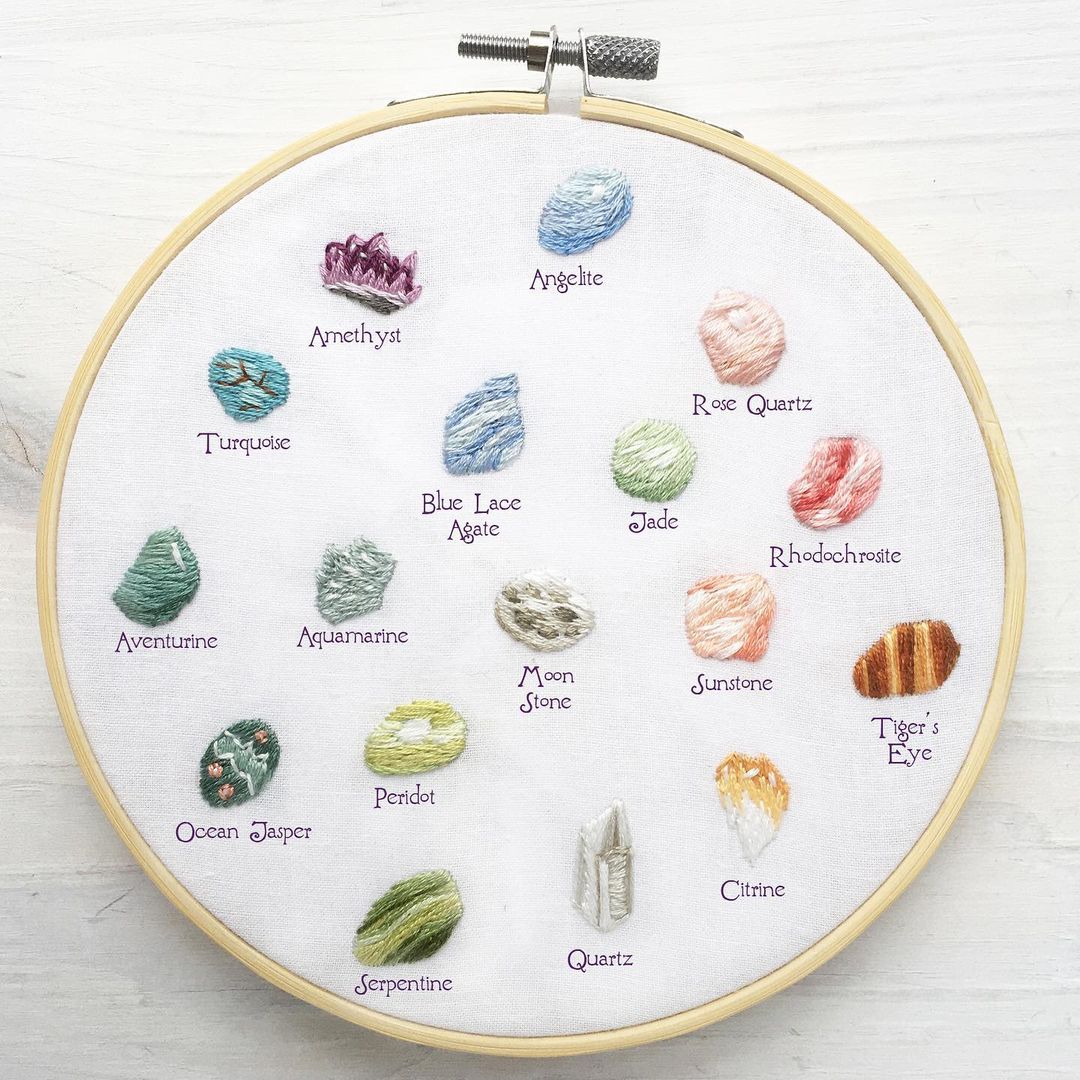 Embroidery artist Aimee Ray stitched the beautiful selection of gemstones above, which we thought would make a lovely yearly stitch journal. Each month has its own birthstone representative, presenting a wonderful opportunity to play with a range of colorful hues every month. It's also a fun chance to experiment with different stitches to capture the textures and character of each stone. You can see each month's birthstone here.
The Zodiac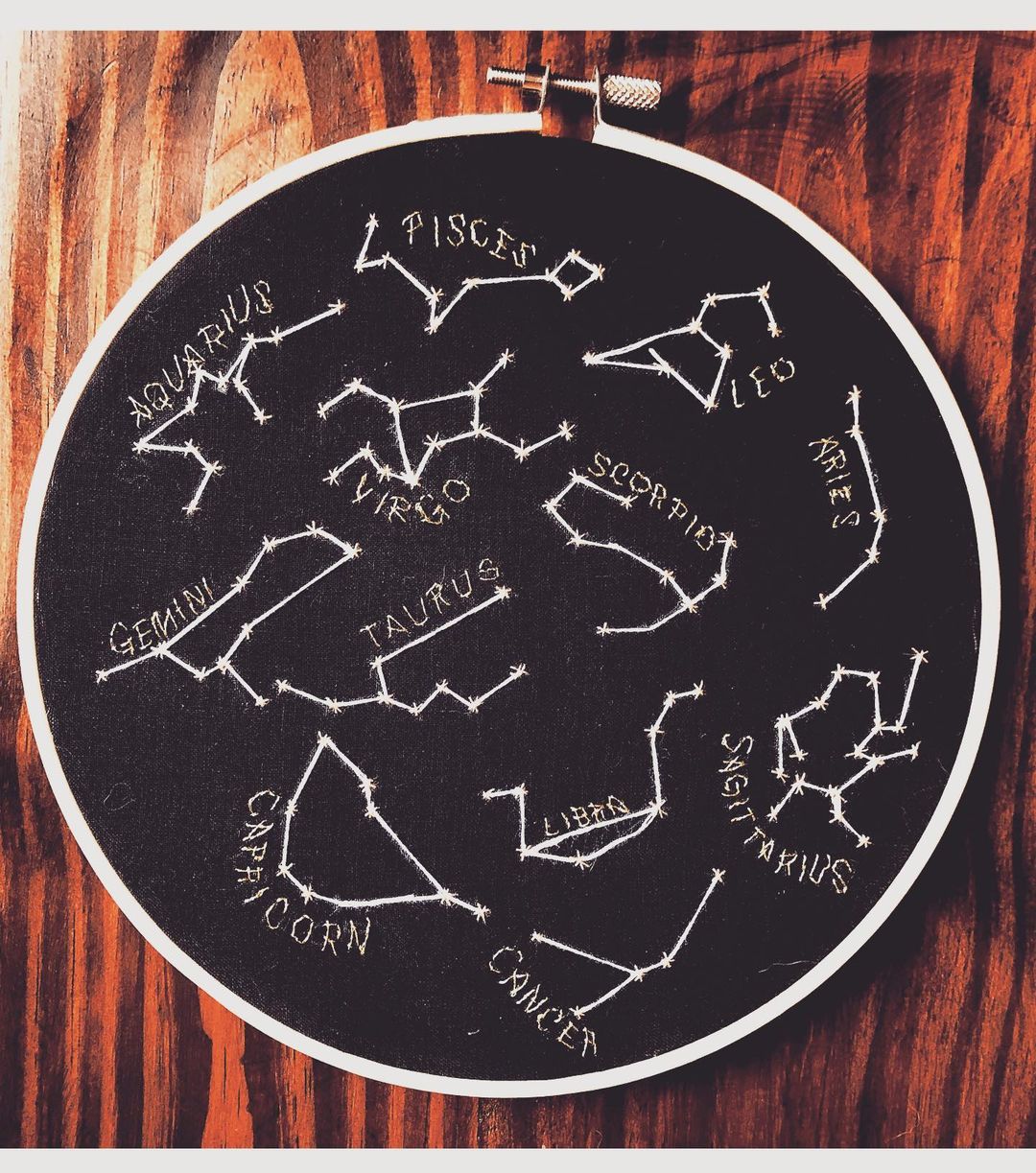 The zodiac is another theme that naturally lends itself to a yearly embroidery journal. Stitchers can fill each segment with the constellation of the month, and perhaps stitch the horoscope symbol as well. Use black fabric and white, silver, or gold thread to create a journal that looks like the night sky, and fill in empty spaces with stars and other planetary bodies. Consider documenting moon phases as well!
Flowers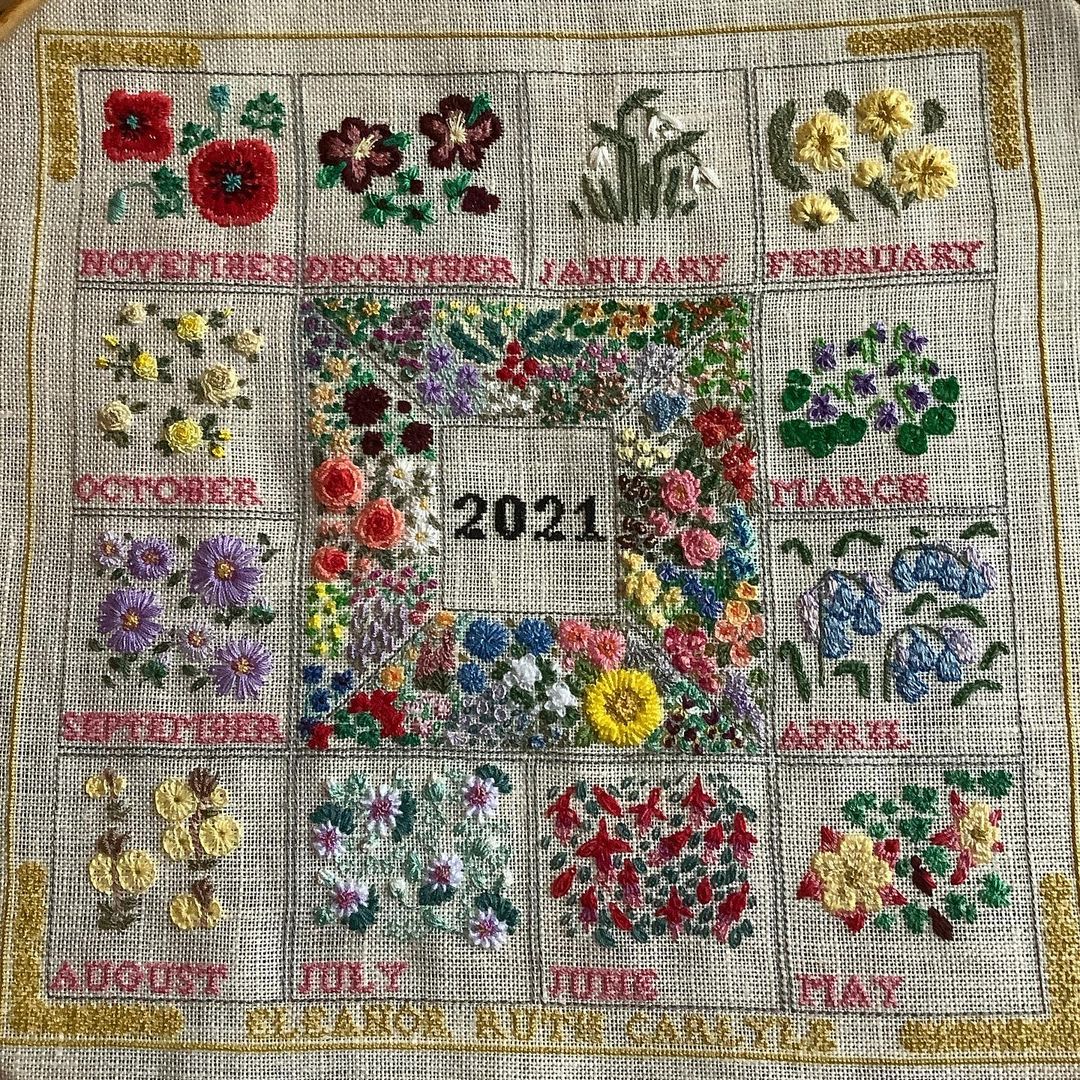 Ruth Carlyle's beautiful embroidered floral calendar is an inspired choice for a yearly stitch journal. As with birthstones and the zodiac, each month of the year is also represented by a flower. It's another wonderful opportunity to play with color and different stitches. Birth month flowers vary, depending on your source, but we found good lists here and here.
Sashiko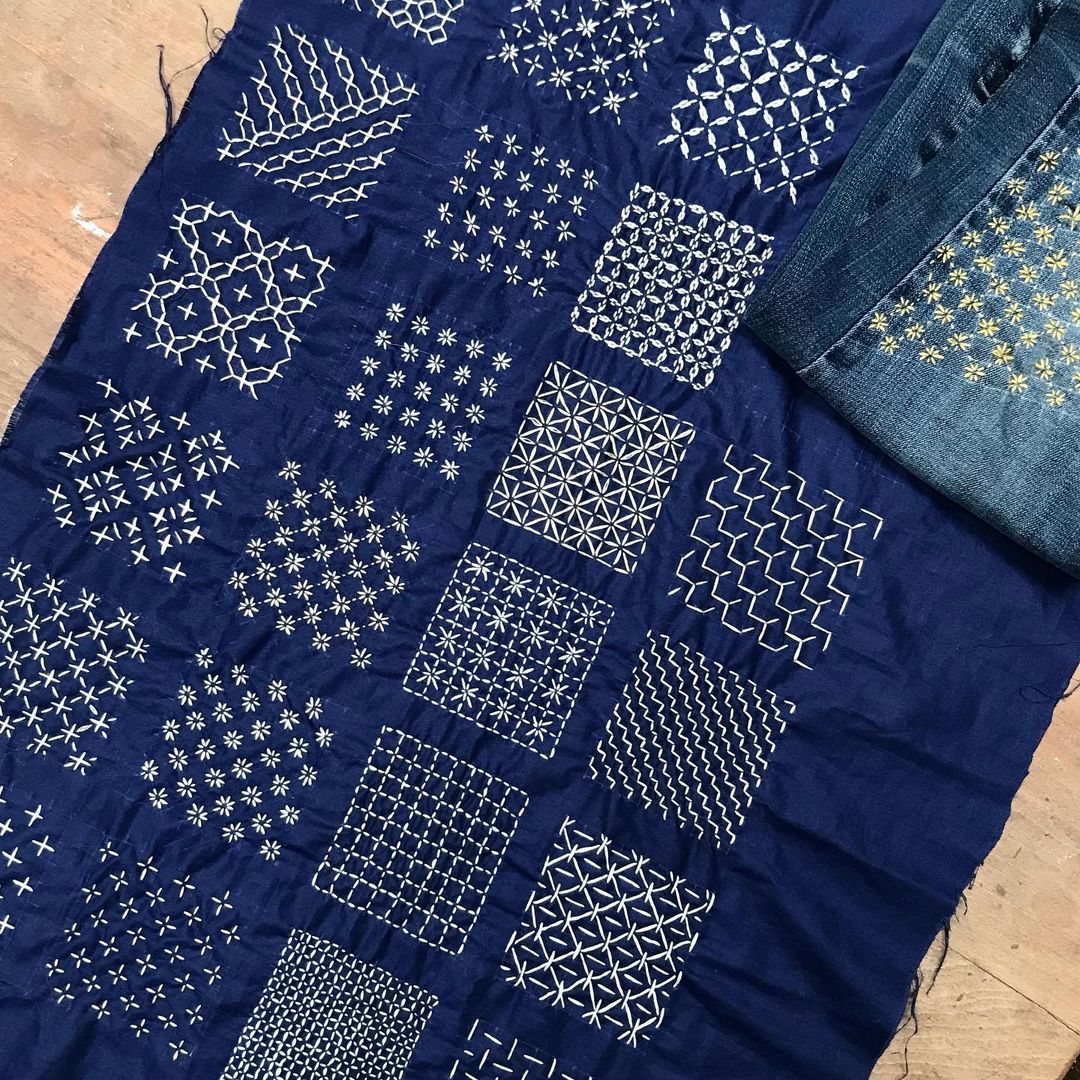 Sashiko swept through the stitchwork community recently, with many sewists and stitchers adopting the Japanese technique to mend and embellish old and new clothing. Sashiko's hypnotic patterns would make for a beautiful embroidery journal and a useful way to practice perfecting the intricate designs.
Visual Diary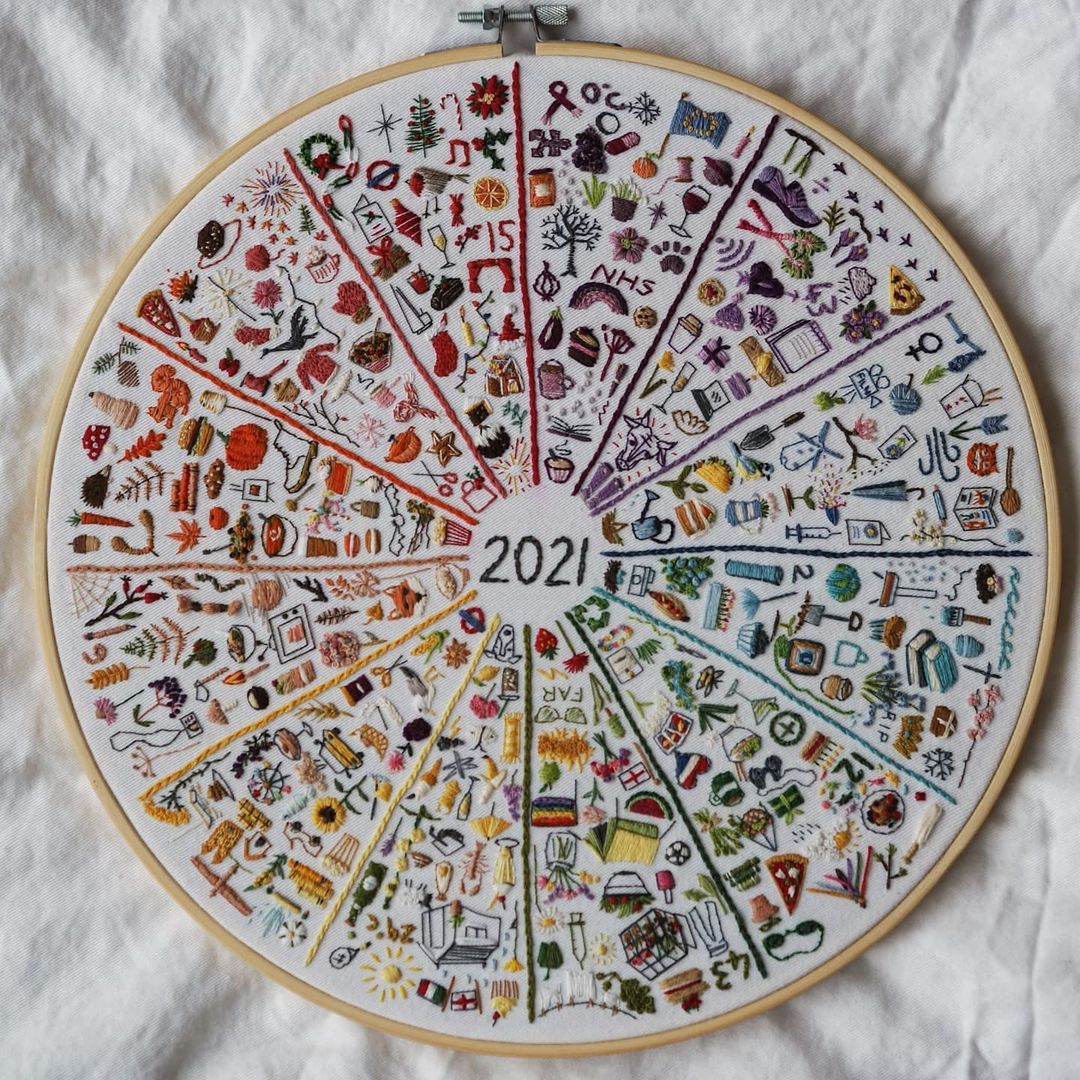 Many stitchers created embroidery journals that were essentially visual diaries representing their daily activities across a single year. This method of embroidery journal is perhaps the most personal. No two could possibly be alike, as it reflects personal experience, and it's "written" in a visual language that can only be understood by the stitcher.
What will you stitch in your embroidery journal? Download the free template below, and let us know on EGA's social media channels if you plan on creating an embroidery journal this year.