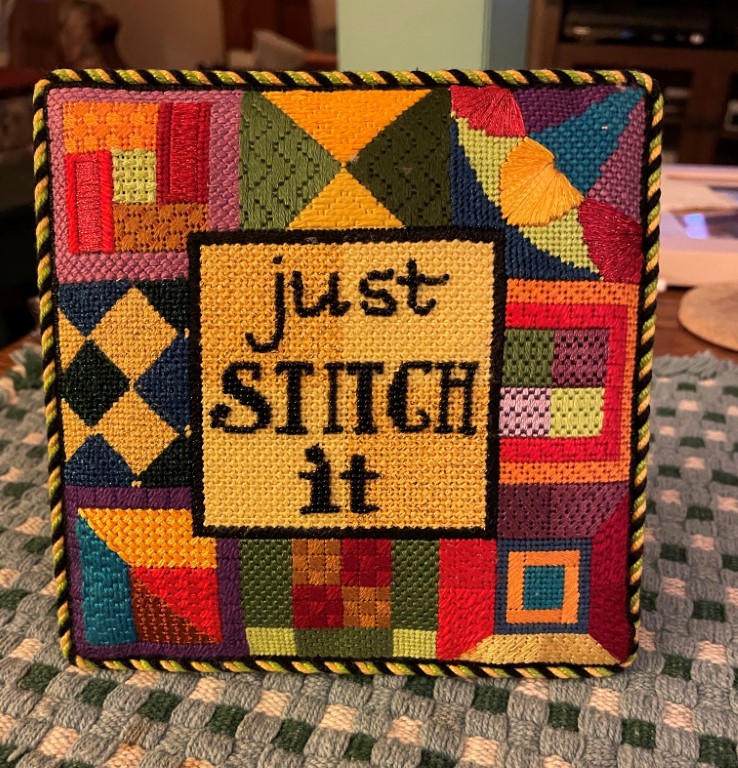 The Individual Correspondence Courses offer stitchers a way to expand their skills, by learning a new technique or refining skills in a technique they already know. Courses can range from three to nine classes. There is frequent interaction with the teacher, as each lesson requires that the student submit a piece for evaluation. Here, we highlight stitchers who have completed an ICC.
This month, we congratulate Elin Gaynor of Wilbraham, MA and member of our Pioneer Valley Chapter. Here is her story.
Elin took the ICC Techniques for Canvas Embroidery class with Diane Herrmann. Because she's planning to do the Master Craftsman in Canvas program, this class "seemed like a logical first step. Also, I was familiar with Diane as a teacher and really had enjoyed her class. She's very thoughtful and always positively encouraging without going soft on you."
In the class, Elin "enjoyed that I really had to think both about stitch selection and execution of the stitch. The class made me improve in both these areas and made me more confident in my decisions as I approach new projects."
More about Techniques for Canvas Embroidery class with Diane Herrmann
Our Individual Correspondence Course is an in-depth study of the various techniques used in canvas embroidery. Each lesson focuses on particular techniques that students will practice in order to learn and improve. The final course project will allow the student to apply what they have learned in a single piece.
You too can expand your embroidery skills, by learning a new technique or refining skills in a technique you already know with one of our Individual Correspondence Courses. Our available ICCs are:
Written by ICC Chair Helene Ossipov