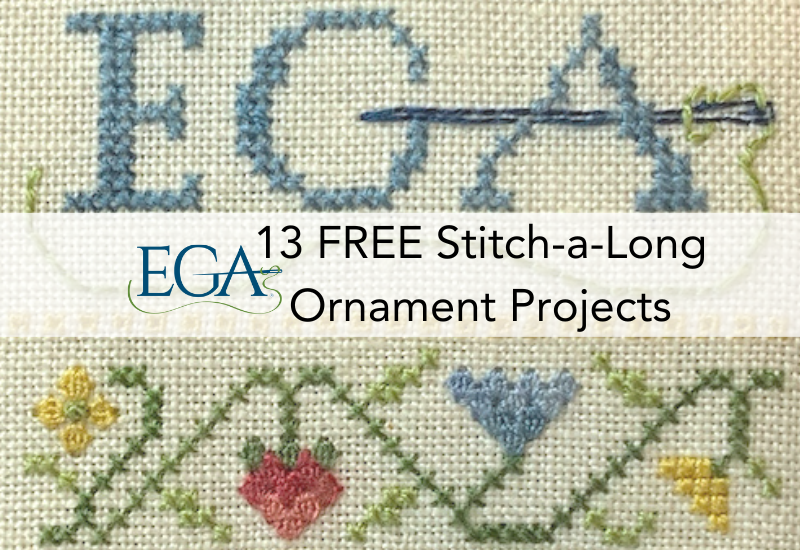 With the holiday season rapidly approaching, EGA is busy receiving and organizing all the beautiful stitched ornaments embroiderers have made and sent to our headquarters. Each year we decorate a tree displayed with all of your work—a wonderful reminder of our needlework family at large, and the perfect way to brighten up the dark winter days.
We want to make it easy and fun for stitchers to create ornaments for our tree and for their own decorations. We previously published a list of more than 10 free ornament patterns. Now, we're sharing some of the fun, free projects shared in the EGA Stitch-A-Long Facebook group that we think would make great decorative ornaments.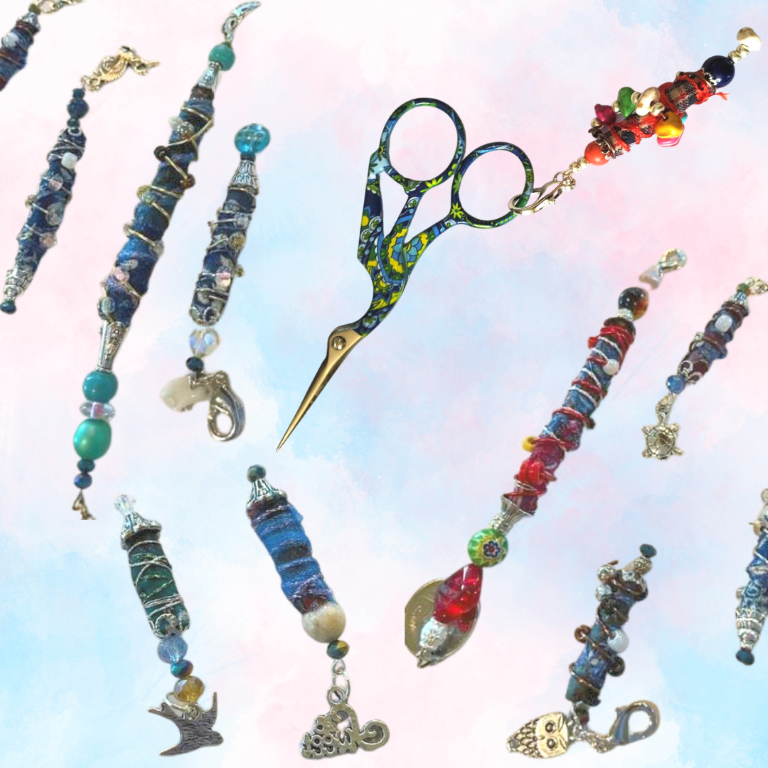 Boho beads are a quick beadwork project that encourage you to use your imagination and creativity. They are also a wonderful excuse to go stash diving to use beads, buttons, charms, and other small trinkets you own already. In the right color arrangements and featuring the right pieces—think icy blue beads and snowflake charms for winter—and boho beads can be created to decorate and celebrate any occasion. This project was created by member Mikki Bonser.
Find the free Boho Beads pattern here.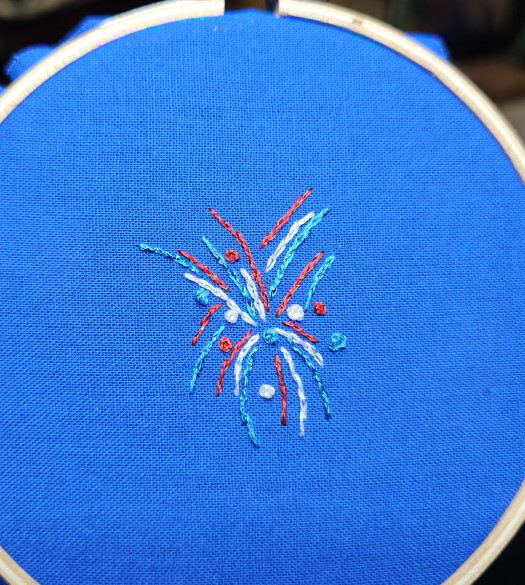 Did we say firework? In the right shades of silver, blue and white, the five "fireworks" designed by EGA Stitch-a-Long admin Dianne Stauber easily translate to snowflakes. Stitch them directly onto 2" or 3" embroidery hoops to create small ornaments!
Download the Baby You're a Firework Embroidery templates here.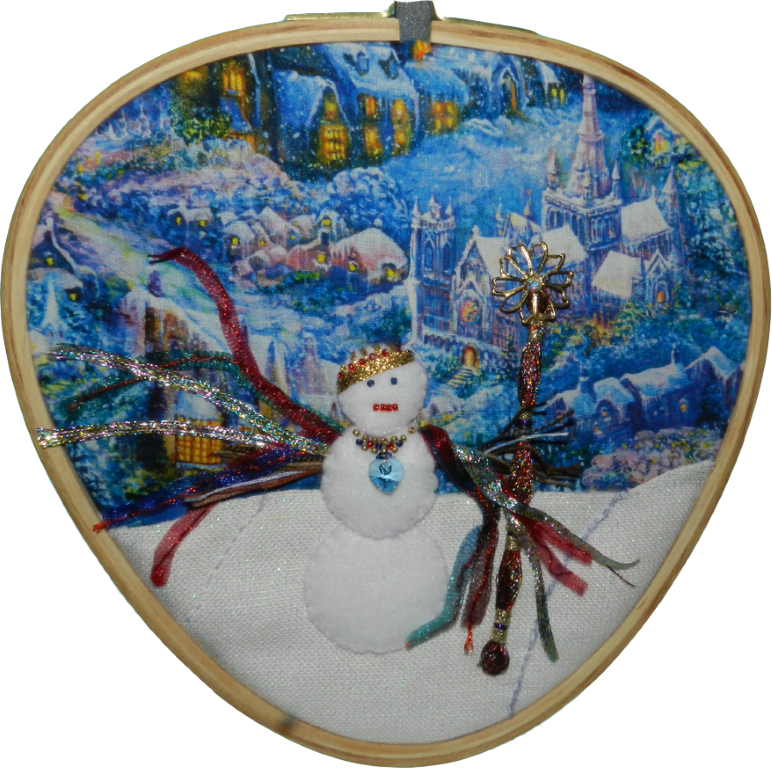 Designed by EGA Stitch-a-Long admin Stephanie Murphy, Princess Snowella of Winter Wonderland is the perfect surface embroidery project for the winter season. She offers another great opportunity to do a little stash diving to find ribbons, beads, sequins, fabric and fibers to make her come to life.
Download Princess Snowella here.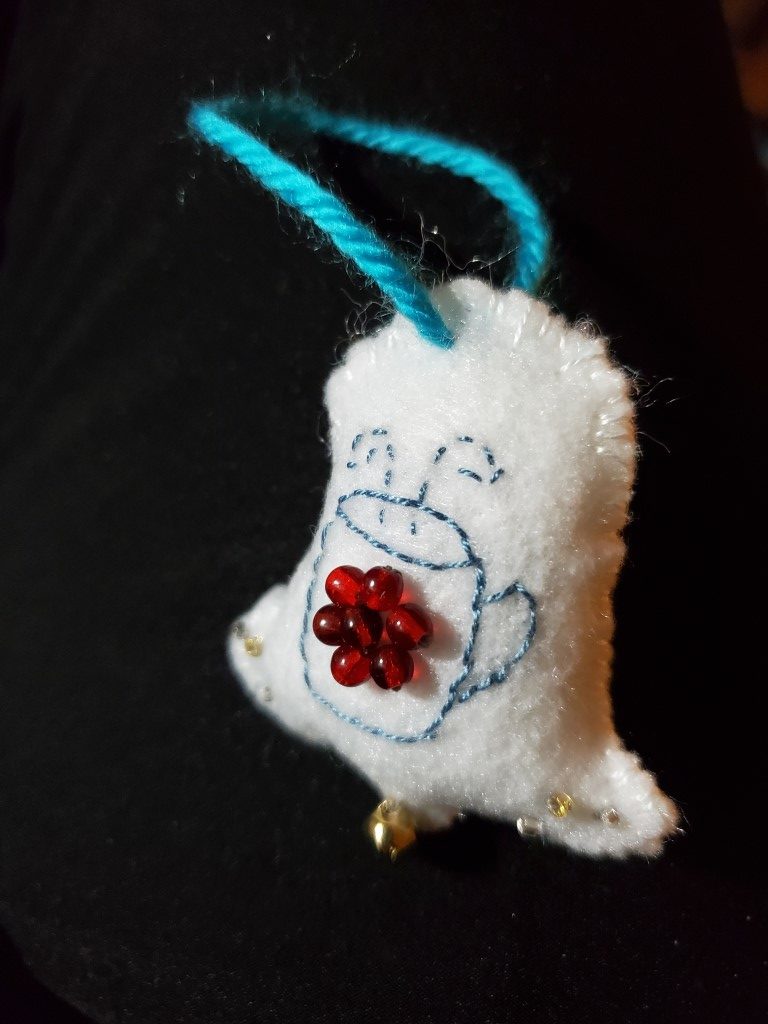 Stitch-a-Long admin Helena Whyte designed the Ringing In Winter with a Cuppa ornament to celebrate everyone's favorite winter accessory: a piping hot beverage! Composed of stuffed felt and an easy running stitch design, and accented by beads and a gold bell for a clapper, this little ornament is a fast project that's easy to customize.
Download Ringing in Winter with a Cuppa here.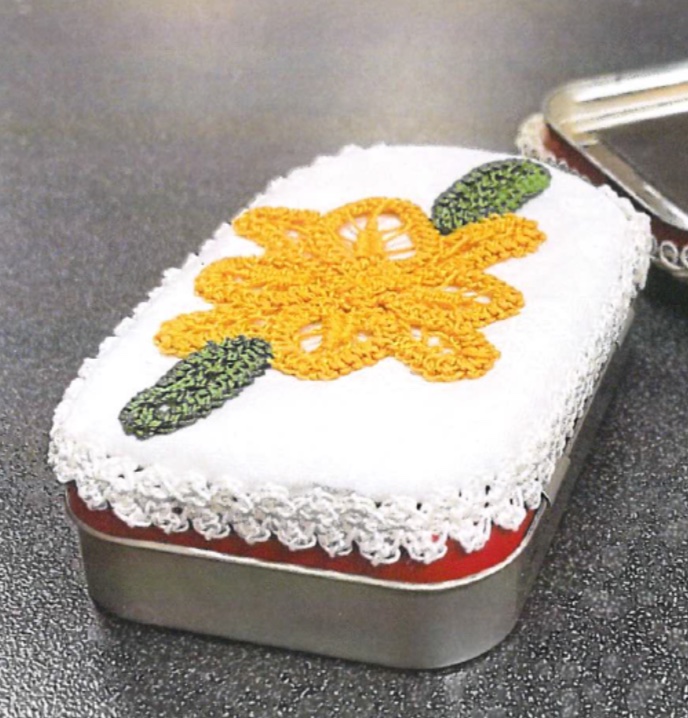 Originally designed by member Tamara Yohannes to celebrate Women's History Month in March, the Golden Blooms floral design is worked in Romanian Point Lace. Change the gold to red, and the design quickly becomes a poinsettia, the popular houseplant that flowers in mid-winter.
Download detailed instructions for making Golden Blooms here.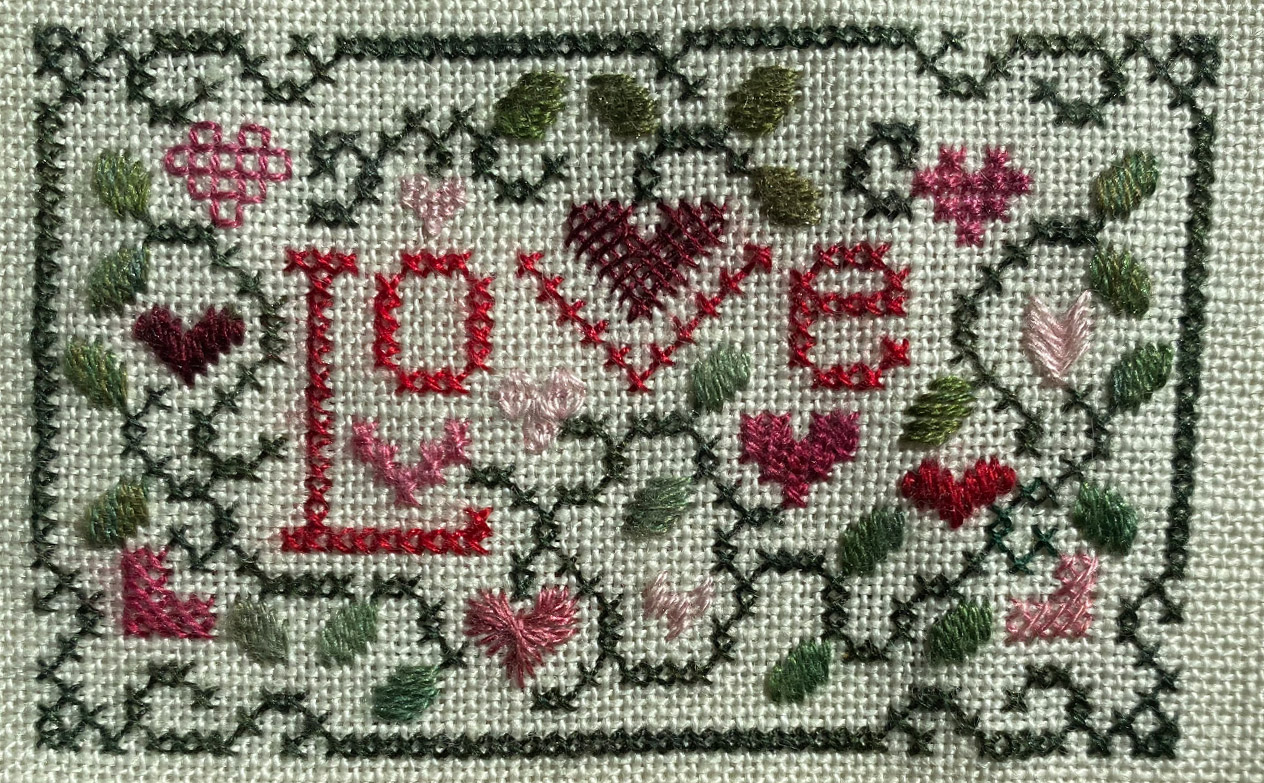 The name says it all. The All You Need is Love EGA Stitch-a-Long project from The Drawn Thread may have been designed for February, but sharing and expressing love is one of the many things that bring us together during the winter season. With more than a dozen different stitches, this thoughtfully designed piece from The Drawn Thread would make a lovely ornament or gift this holiday season.
Download All You Need is Love here.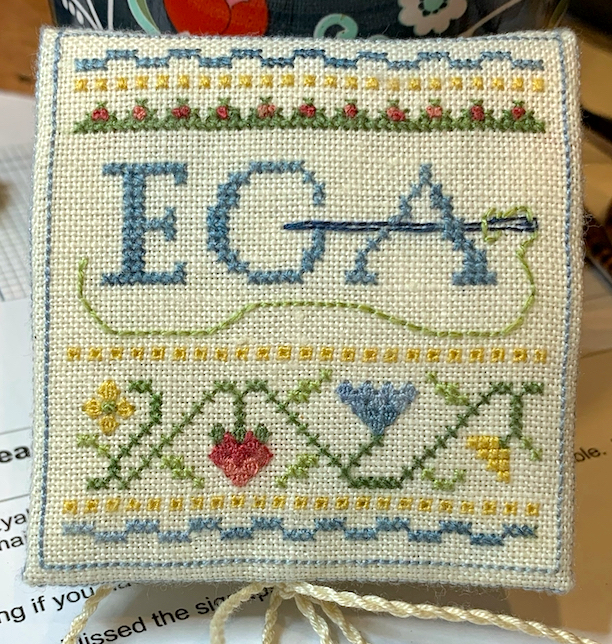 Show your love for your favorite embroidery organization by turning the EGA Needlecase into a hanging ornament! Simply work only the front cover of the needlecase on a square canvas, in the festive colors of your choice. This project was designed by member Barbara Jackson.
Download the EGA Needlecase template here.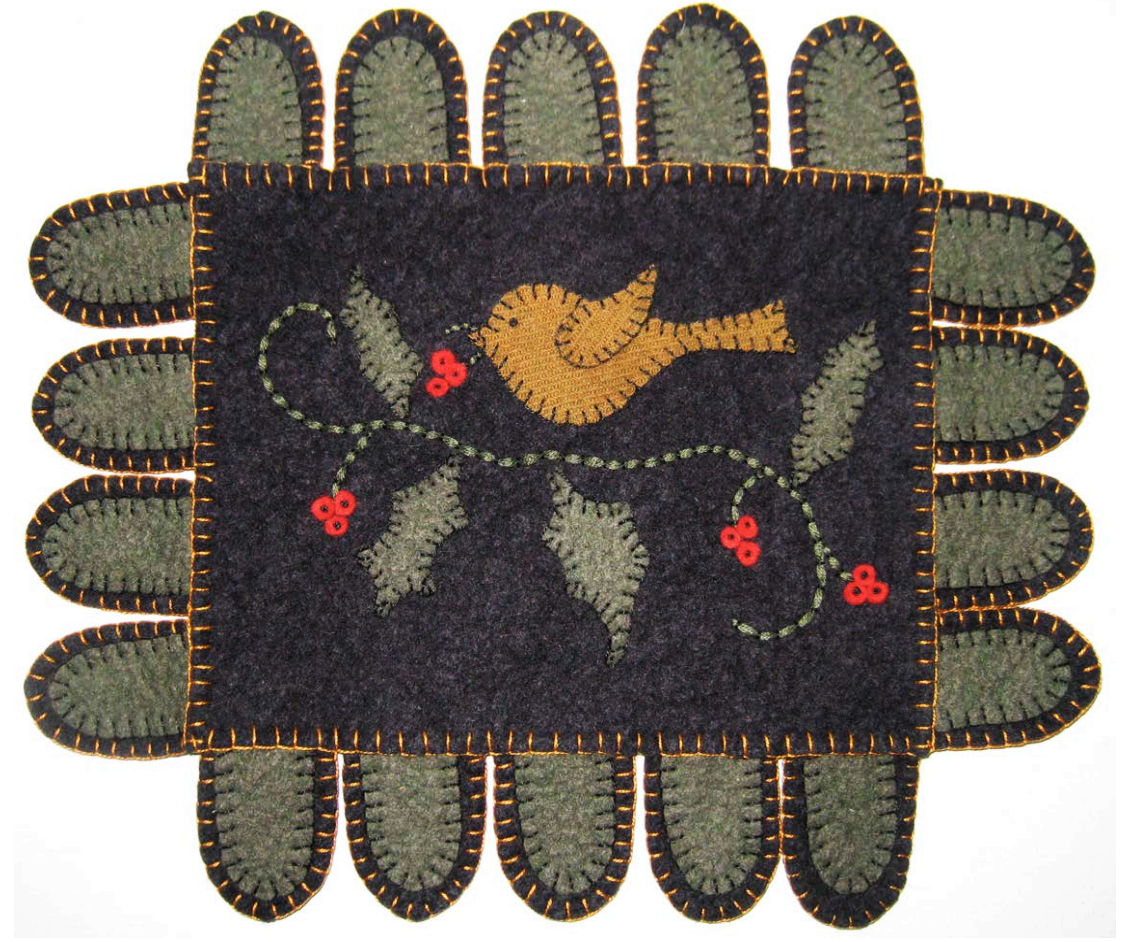 Member Katie Tomlinson was inspired by felted penny wool rugs of the 1800s when she designed Birds & Holly. Penny rugs were often used as wall hangings or pillows. We love the idea of her Birds & Holly design hanging from a window or on a front door during the winter. The felted wool and holly design feel perfect for the season.
Download instructions or Birds & Holly here.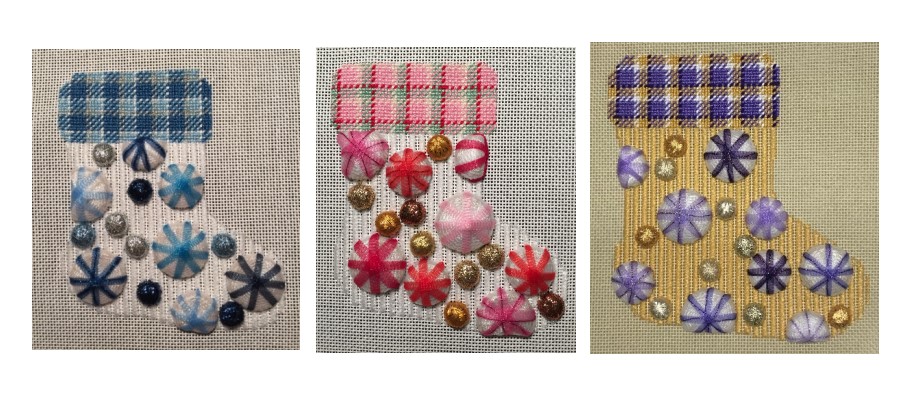 With metallic ribbons, the darling "Chottie's Plaid" cuff (an easy way to stitch plaid created by Chottie Alderson in the 1970s) and "peppermints" made from felt pads covered in Flair, the Peppermint Stocking by member Shawn Miller is an adorable and ingenious winter decoration. Designer Shawn Miller included several different colors for inspiration—click through below to see them all.
Download the Peppermint Candy Stocking here.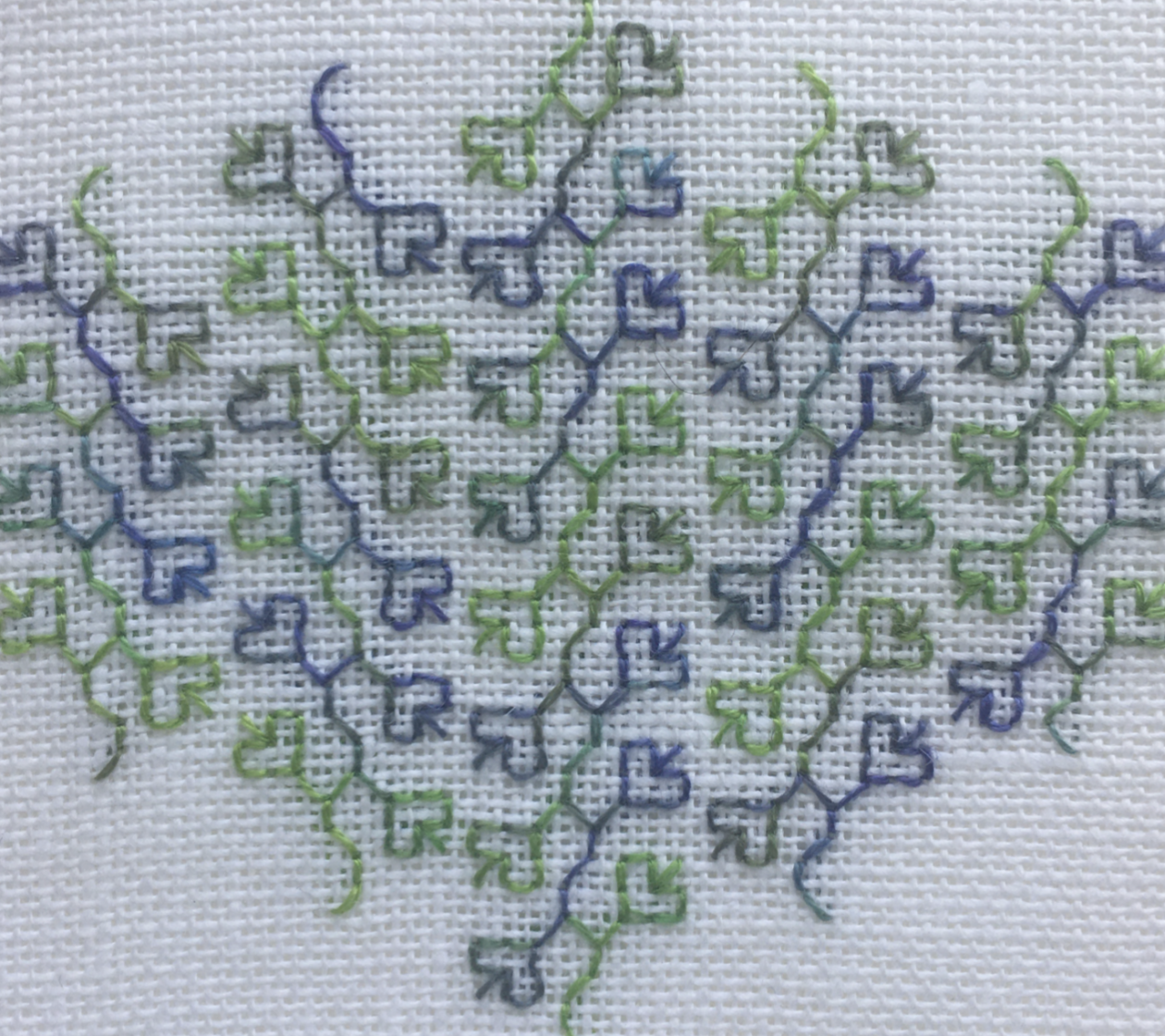 Terri Bay's Trailing Hearts design offers lots of customization opportunities—and Terri's instructions include some fascinating information about Blackwork designs in general! She also includes information on how to modify the design and arrange the hearts. Consider creating tendrils that usher out from a central point to make a snowflake, or simply work her design in silver and gold on a small hooped ornament. The design alone is a lovely ornament for the season.
Download Trailing Hearts here.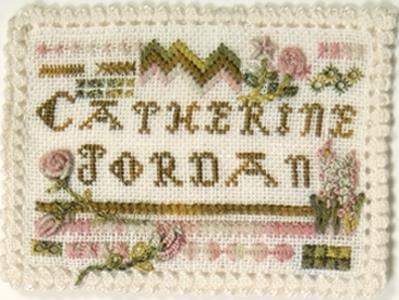 Catherine Jordan's Overdyed Sampler name tag is a lovely way to commemorate someone this season, or you can use the included alphabet to write your own festive message. Designed to fit into a plastic name tag holder, this petite design is perfectly sized to double as an ornament!
Download the Overdyed Sampler here.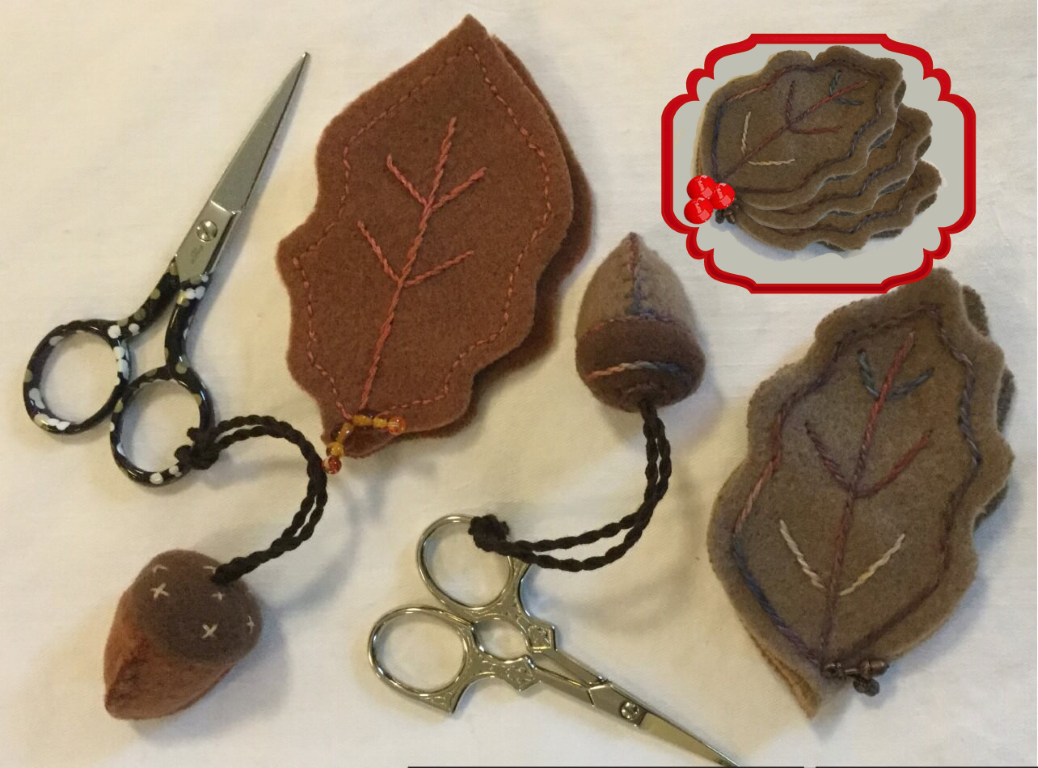 Both the acorn fob and oak leaf needle book are quick projects that effortlessly double as holiday ornaments. Designed by members Denise Pratt and Suzanne Bruno to hang off of your favorite pair of embroidery scissors, the acorn fobs will comfortably hang from a wreath, window, or holiday tree. Instead of making "pages" for the oak leaf needlebook, consider stacking the leaves atop one another, but fanned out and slightly askew. Then, sew red sequins or beads at the bottom-most point where the leaves meet. Voila! You now have a holly berry ornament! (see the inset picture above).
Download the Oak Leaf Needlebook and Acorn Fob here.
We hope these quick projects have inspired you to decorate your home with needlework this winter. To continue enjoying free projects from the EGA community, join the EGA Stitch-a-Long group on Facebook now!
Like this post? Pin it!