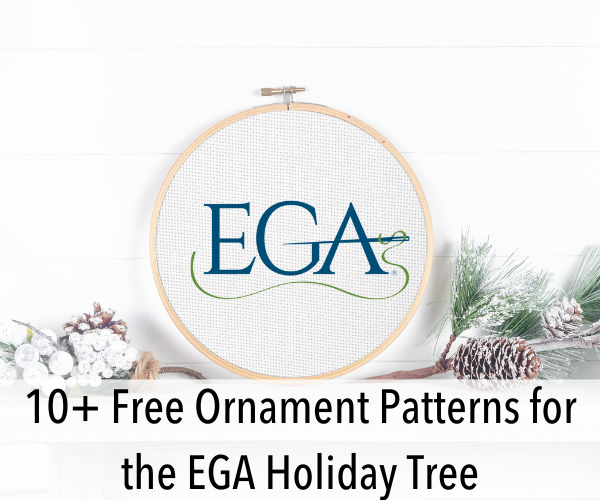 Every year, we celebrate the holidays by decorating the EGA Holiday Tree with hand stitched ornaments. EGA members from across the country mail in ornaments representing a range of techniques, from embroidery to cross stitch, hand beading, sewing and more. It's always a delight to see new shipments arrive this time of year. Our ultimate goal is to one day have enough stitched ornaments to decorate many trees at EGA Headquarters. But to do that, we need your help!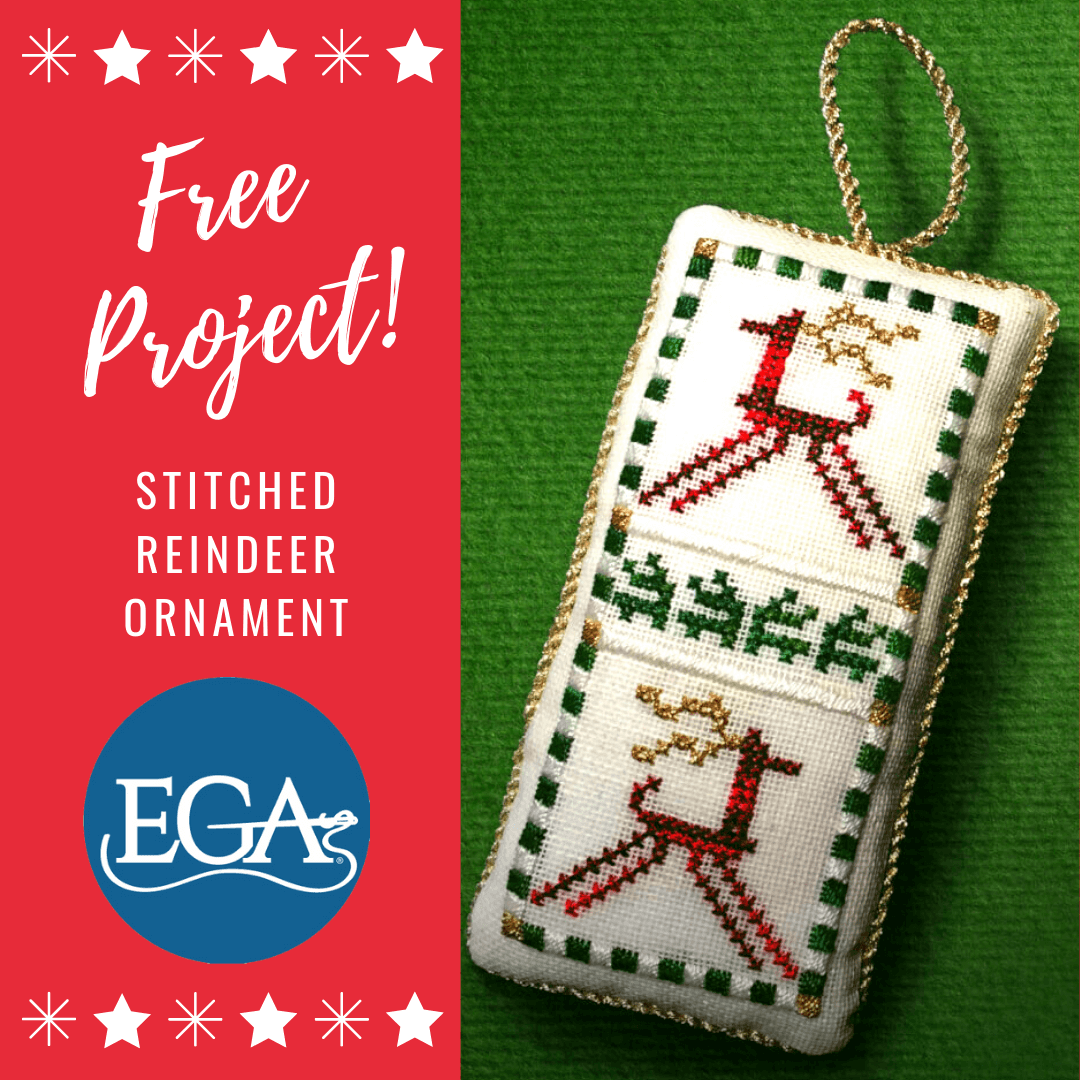 We have several free ornament patterns available on our website (like the Stitched Reindeer Ornament shown above), and dozens of ornaments in our Petite Projects library. Today, we'd like to share some free ornament designs we found online. We've listed ten separate resources. However, some offer more than one pattern, so there are really more than ten here! Hopefully, with these patterns in hand, you should have plenty of inspiration to make an ornament for our tree.
Once you're finished stitching your ornament, you can send it in to the EGA National Headquarters. Additional instructions can be found here.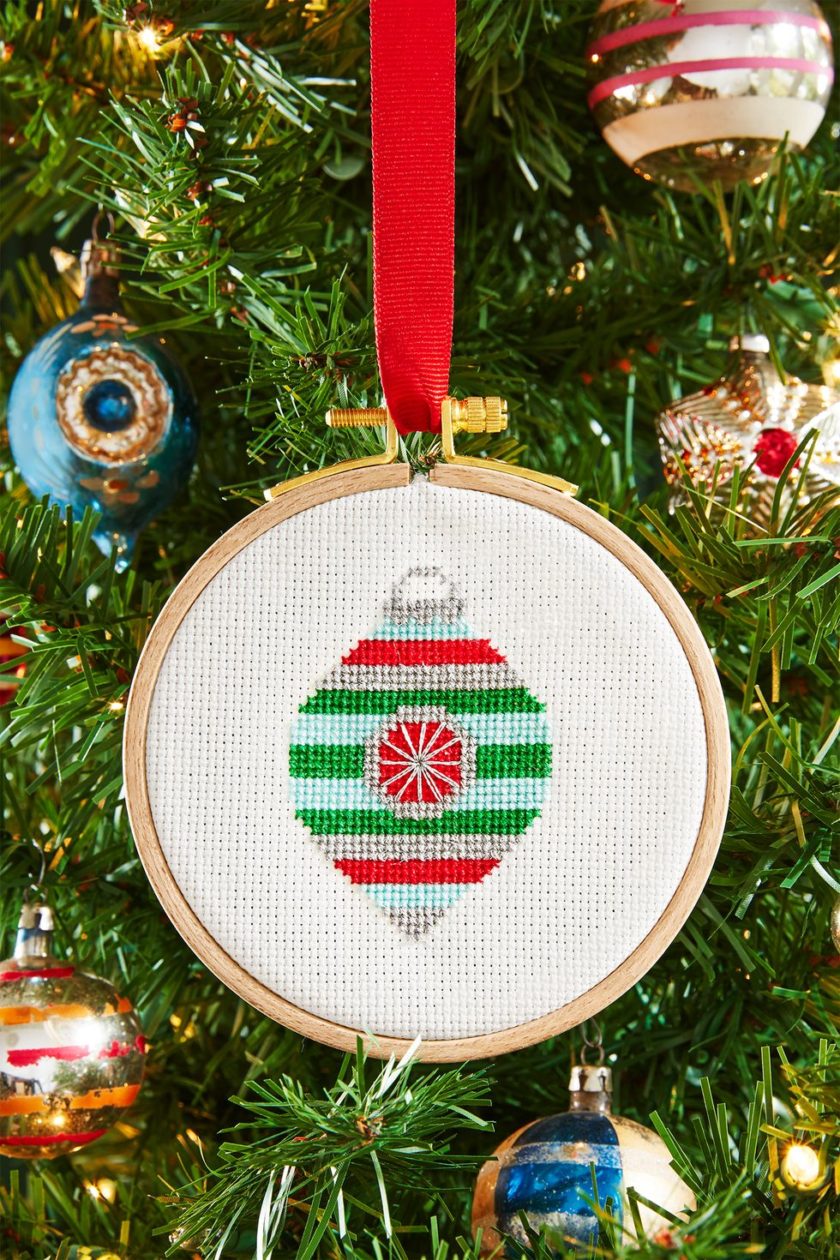 This cross stitch ornament of an ornament from Country Living is simple enough for those just starting their obsession with cross stitch. We love the easy stripe pattern and the sheen of the metallic thread. Country Living has several more free cross stitch patterns that could also make great ornament designs. You can find those here.
Find the Easy Ornament Pattern here.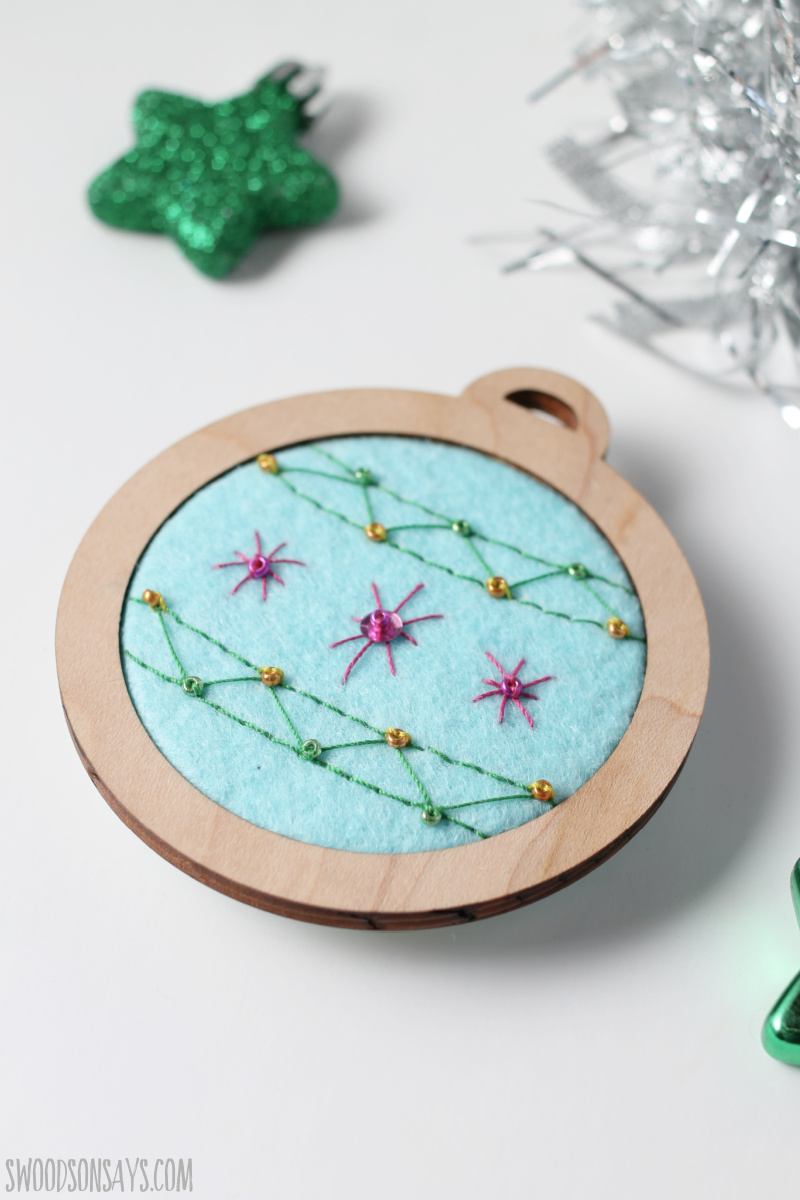 You can whip up this free ornament from Swoodson Says fairly quickly with a little felt, thread and sequins. The craft blogger includes links to all the pieces you need to make the ornament exactly as pictured. She also offers a second ornament similar to the one above, with the word "Joy" incorporated into it.
Get the pattern for the Hand Embroidered Ornament here.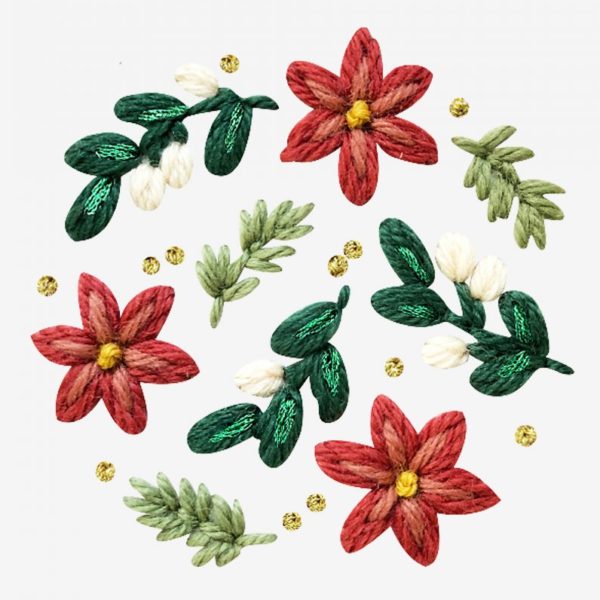 DMC has more than a hundred different free patterns that could be turned into ornaments. We like the poinsettia design the best as it is the most colorful and versatile of the bunch. It's also relatively easy and would be quick to make.
Find the Poinsettia pattern here.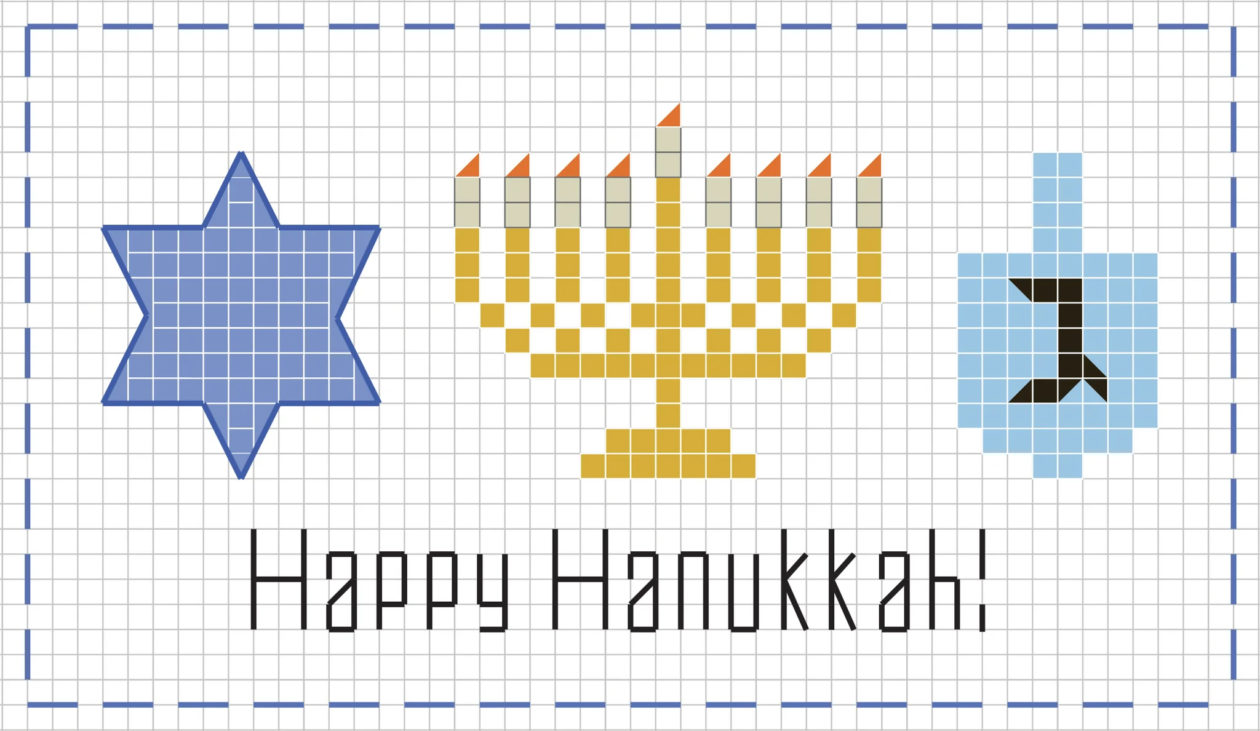 These three Hanukkah designs from Stitch People would look lovely grouped together, or cross stitched separately onto their own ornaments. It's a fairly basic sampler that leaves the creativity up to you. Add embellishments to the Star of David or use a different Hebrew letter on the dreidel. You can find additional charts for Hebrew letters here.
Download the Hanukkah sampler here.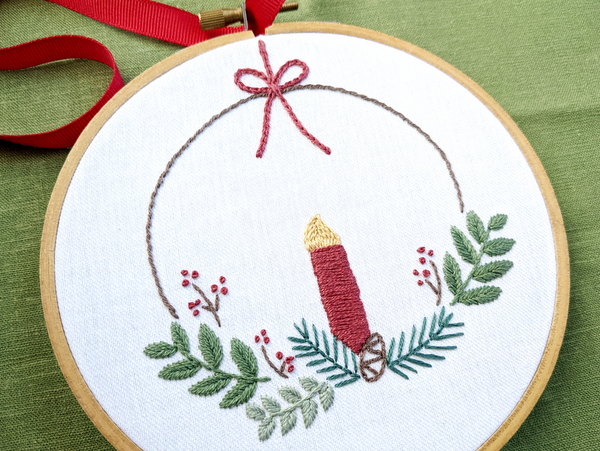 This candle ornament from Wandering Threads embroidery features step-by-step directions to accomplish the detailed design. We like the small open space above the candle—it's just enough room for a name. Or, perhaps the EGA logo?
Find instructions for the Candle Ornament here.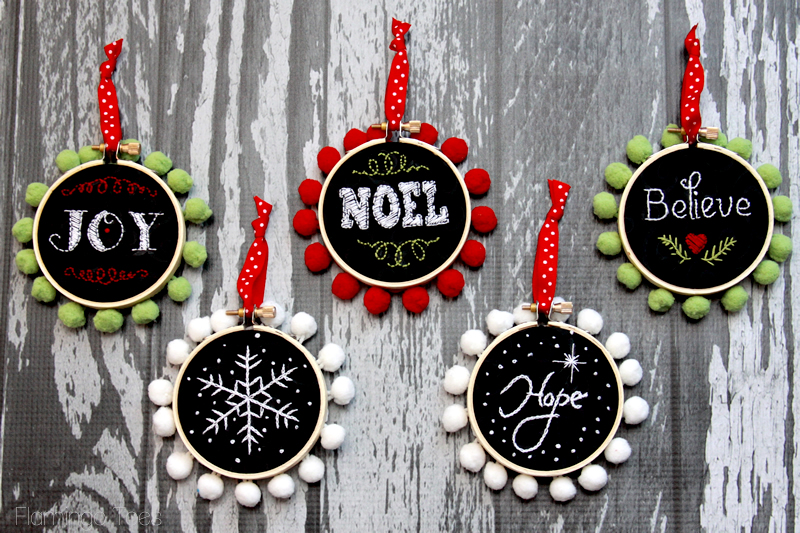 Flamingo Toes graced us with five free ornament patterns, and they're all stunning! We love the mini pom pom borders and the nostalgic chalk art-style rendering of the "NOEL" and "JOY" designs.
Find instructions for the Chalk Ornaments here.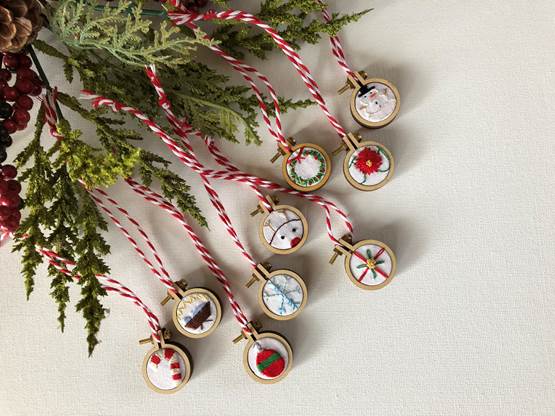 We probably could have created a single blog around all these mini-hoop ornaments from Sulky. There are nine in total and they feature a snowman, snowflake, candy cane, wreath, poinsettia, and more. They're also so tiny, you could probably make them all in a single weekend.
Find instructions for the Mini-Hoop Ornaments here.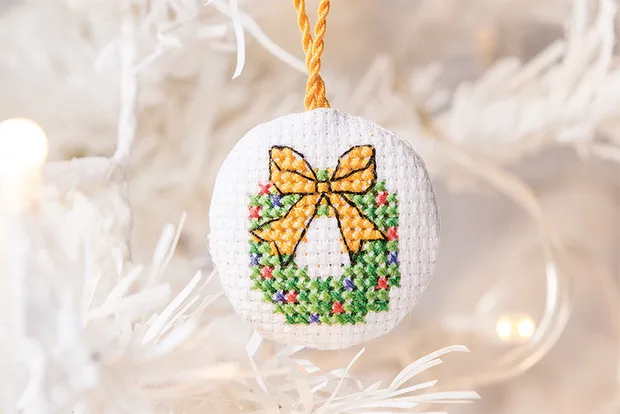 This adorable and oh-so-tiny wreath ornament is perfect for our holiday tree. Simple and sweet, the canvas is stuffed with wadding for a cute puffy appearance. We imagine you could take other cross stitch designs on this list and apply this technique to make more puffy ornaments if you wanted to!
Find the Wreath Ornament here.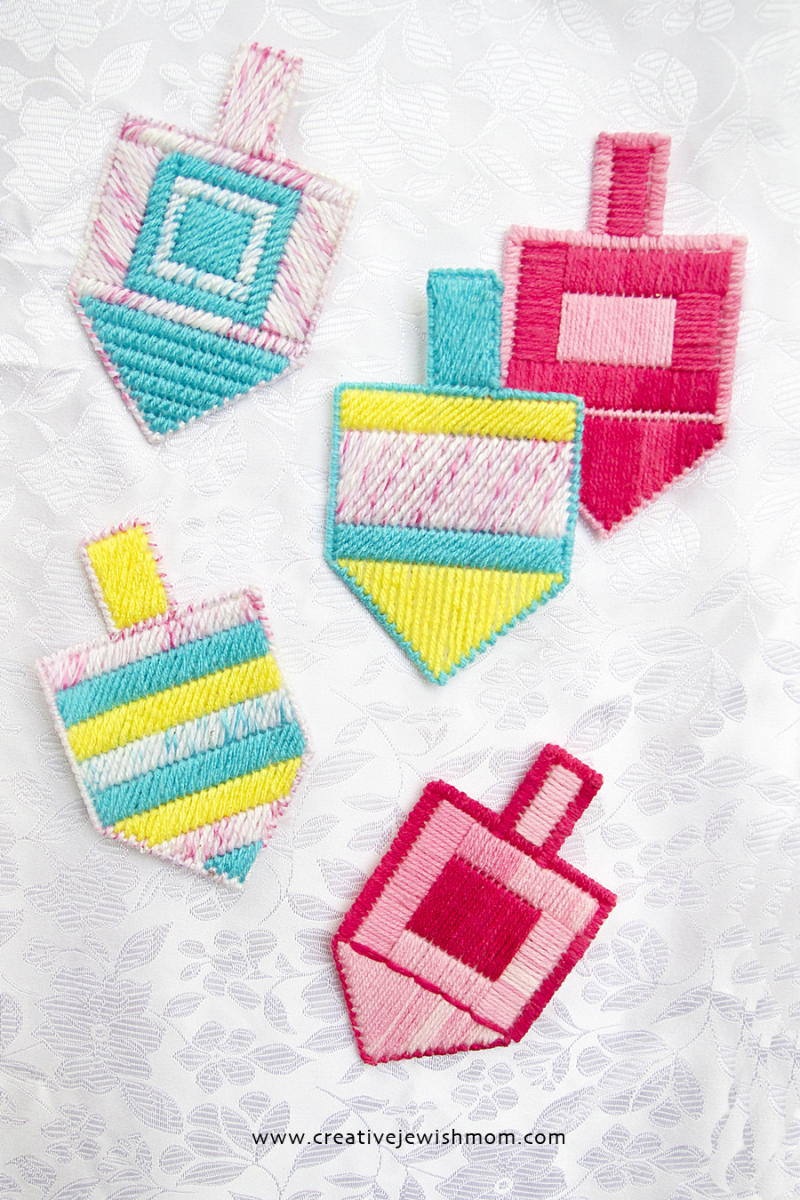 The Needlepoint Dreidels from Creative Jewish mama require a little imagination, but they look like a lot of fun to make. She doesn't include instructions for accomplishing the exact color schemes shown, but that just means you get to have a little fun coming up with your own designs. You just need some plastic canvas, yarn, and a needle, and you're ready to stitch!
Find instructions for the Needlepoint Dreidels here.
We left the most detailed ornament for last. Technically the large design might be too large for an ornament, but we decided to include it anyway, as the smaller "Merry and Bright" design is the perfect size for a tree. You can find both patterns at Little Dear Tracks site, which includes instructions for the ribbon-wrapped hoops—an excellent finishing touch.
Find the details for the Deer and Fox and Merry and Bright Ornaments here.
Are you stitching an ornament for the EGA holiday tree? Be sure to tag us on Instagram and Facebook and use the hashtag #EGAStitchers so we can see what you're making!