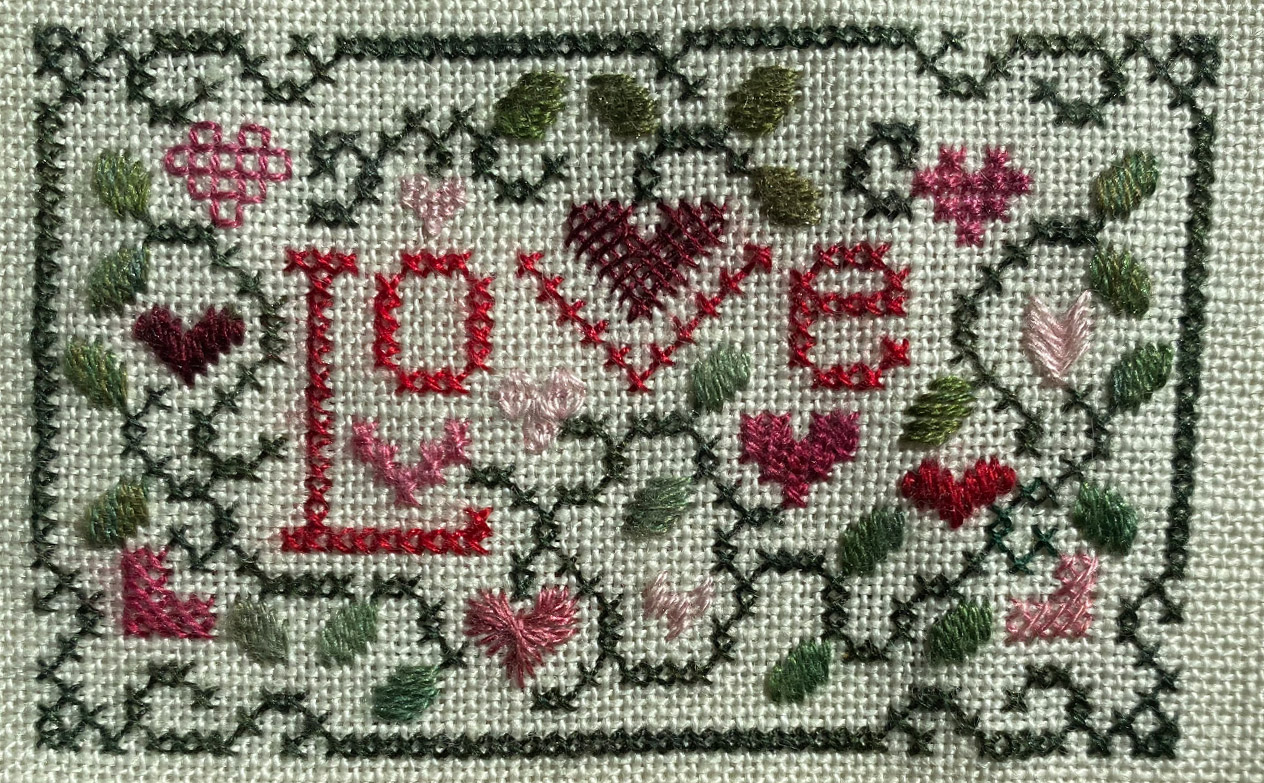 For our February stitch-a-long on Facebook we are working on a lovely design from The Drawn Thread with over a dozen stitches! A link to download the project is available below, and make sure you don't miss the introduction by our new volunteer admins.
Here's a little more about this month's project from stitch-a-long admin Stephanie Murphy:
Woohoo! The Big Game is coming up! Have you ever thought about embroidering on a football? It does have laces… Not into football? Our next design is available to start stitching NOW!
The Drawn Thread has given us permission to share their beautiful design "All You Need Is Love". It includes over a dozen different stitches creating, what else, hearts! Check out their website at www.drawnthread.com to see more of their designs. Stitch your design in whatever color you love and share it with us on Facebook!
We at EGA wish you and yours the most precious Valentine's Day!
We have 2 samples stitched by our intrepid SAL volunteers Wendy(at the top of the page) & Laura(below).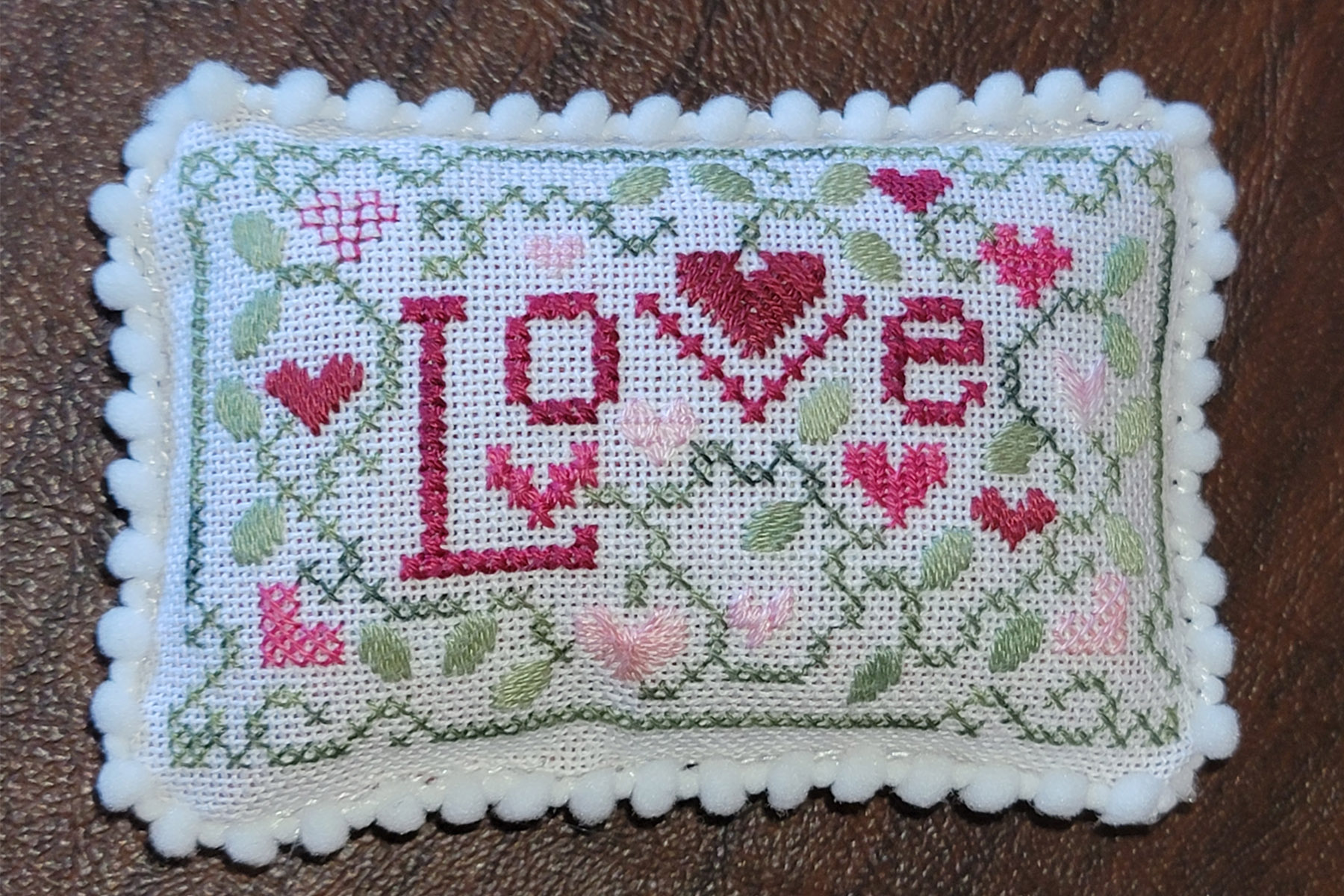 Someone asked for DMC Color Numbers; this is my thoughts for conversion: This is my best guess with my current light sources. Please do look at the color range together and see if you like it; if you don't swap the wrong one out. How's that? Gloriana will be G and DMC will be D. G012: D491. ; G035: D321; G065: D818 or D23; G087: D164 or D369; G091: D3805; G106: D3706 – D3708 (I'd probably use 1 strand each in one needle; G117: D989 or 368. Let me know how that works! Follow the conversation on Facebook.
Last month we mentioned that we have three new volunteer admins in our Stitch-a-long! These EGA members are already doing a great job on the stitch-a-long group in Facebook and we know that you'll love learning about them, and their stitching journeys! Here's more about each of them as shared by them in the group last month.
Hello, EGA Stitch Along members! I'm excited to introduce myself as one of the three new moderators in this group. Here's a little about me:
I learned to stitch in Girl Scouts when I was 9 years old…and I still have my needlework badge! While my childhood goals of becoming a tap dancing astronaut soon took up all my time, I came back to needlework in my 20s and just sort of dabbled in cross stitch for awhile. For the past ten years, I've relied more and more on needlework as a mindful activity to give my hands something to do rather than eat when I'm not hungry. Reaching for a stitchy project instead of Cheetos has resulted in a weight loss of over 100 pounds so far!
I've been a member of EGA for nearly four years. I'm currently the Vice President of Education for the Fort Worth, Texas Chapter, as well as the newsletter editor and Engagement Committee Chair. I also hold the honorary title of Chief Enabler. 🙂 I love all forms of needlework, but my favorites are cross stitch, surface embroidery, goldwork, and ribbon embroidery. I'm also an avid traveler and have taken multiple classes from the Royal School of Needlework at Hampton Court Palace.
I'm so excited to be a volunteer moderator here, along with my new moderator pals Stephanie and Helena. You'll meet them in the next couple of days. Please reach out if you need us for anything. Now…let's get to stitching our way through 2022!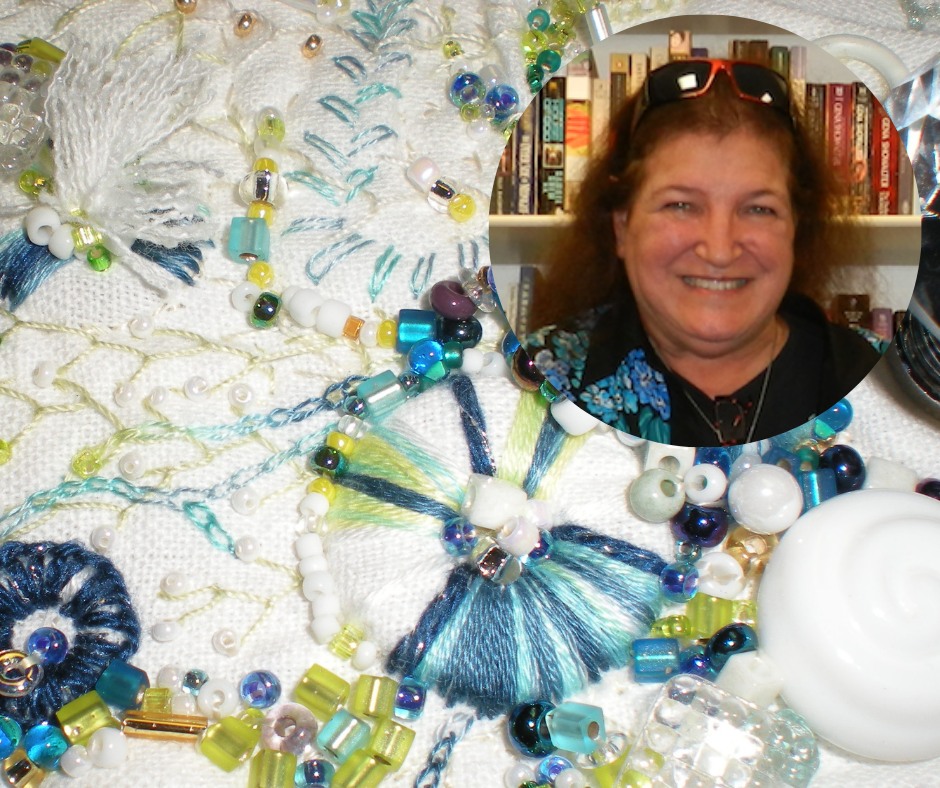 Hey, EGA Stitch Along members! It's my turn to introduce myself as the 2nd new moderator!
My mom taught me how to do surface embroidery when I was young. She also taught me how to sew, knit, and crochet. I made my own wedding gown; my mom designed the sleeves for the dress, made the headdress and the veil. It was beautiful. I picked up a counted cross stitch kit in a Crystal City (D.C.) embroidery shop when I was on my first business trip. The owner was confident that I could handle it and, indeed, I was hooked.
I worked in the Space industry at Cape Canaveral & Patrick Space Force Base for most of my career in computers, networks, and communications & am now retired. I have home software for developing cross stitch and needlepoint designs, creating designs for my machine embroidery machine, and doing digital scrapbooking creating unique wrapping paper for all my extended nieces and nephews. I'm a huge Harry Potter fan, including going on a Harry Potter tour of England and Scotland of filming sites ending in the premiere of the Half-Blood Prince in London. I was in that sea of 100K people on Opening Day of the Wizarding World of Harry Potter at Universal Islands of Adventure in Orlando. It's AMAZING!
I joined EGA in 1979 and ANG in 1984, although I had to drop out of EGA for a few years to take care of home and work. I rejoined EGA when I retired and have been active in all my hobbies since then. My home chapter Indian River, and my plural chapter, Suwannee Stitchers, are very active. I have taken well over 20 group correspondence courses in many techniques, and taken advantage of the many other opportunities that EGA offers (Individual Correspondence Courses, Lightning Rounds, Online classes) and love, love, love the opportunities that EGA offers in this Stitch-a-Long, the blogs, the newsletters, and all the other activities that we have via our chapters. It's just amazing. My best advice is to be a sponge and try everything! You will figure out what you love and what you don't love!
I, too, am excited to help with the EGA Stitch-a-long and meeting Dianne and Helena. We are going to tag team and plan to bring you serious fun this year! Give us some ideas of what we can do to make the experience great for you. Tell your friends about the group, Let's see if we can get to 10K members!
Helena Whyte from our Pajarito Chapter in New Mexico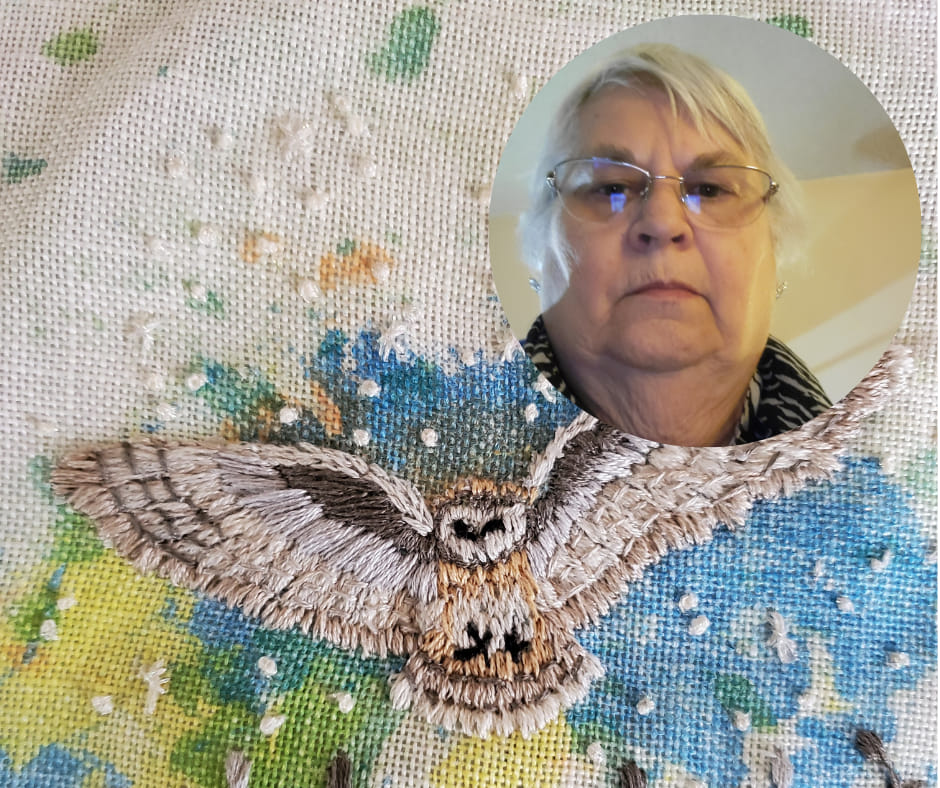 Hola Stitch-a-Long Members, I am your third new moderator!
I also learned to embroider in Girl Scouts when I was 10. I discovered Crewel embroidery as a young newlywed decorating on a budget. Surface embroidery and Crewel are still my favorite escapes in stitching.
I've only been a member of EGA for 2 1/2 years. I'm currently the VP of Education for the Pajarito Chapter (NM) in the Rocky Mountain Region. I have taken a few correspondence courses and two regional classes during the pandemic. I am enjoying new techniques such as stumpwork, beading, Brazilian embroidery, and Romanian Point Lace. Notice I didn't mention anything requiring me to count! It seems I am addicted to collecting projects for future completion.
I worked as a science educator during my working years teaching science at the high school and junior college levels. I morphed into a safety instructor in a government setting where I used computers, networks and databases to determine success and to follow compliance with training requirements. In my retirement I am on the Board of Directors for a Middle School summer residential STEM camp for girls so I have learned about social media, web site design, Facebook, Instagram, Twitter, and YouTube.
I am excited to work with Dianne and Stephanie to keep EGA Stitch-a-Long alive and furthering member enthusiasm.