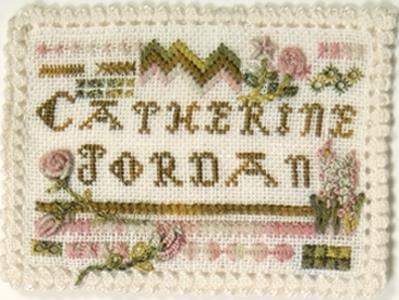 For our March Stitch-a-long on Facebook we will be stitching an over-dyed sampler name tag. The talented designer behind this month's project is Catherine Jordan from our Gentle Pursuits of Richmond chapter in Virginia.
Here's a little more about this month's project from Stitch-a-long admin Kate Gaunt:
We had so much fun experimenting with stitches in January and February with Jane Balzuweit's leaf and band sampler designs! Thank you, again, to Jane Ellen for expanding our knowledge of stitches with your clever projects!
We continue our theme of using new stitches and playing with stitching in a great design contributed by Catherine Jordan. Catherine's name is likely familiar to you since she has taught nationally for stitching groups of all sorts for many years. Catherine is also a special friend to EGA in that she is always willing to help and contribute in any way she can. Thank you, Catherine, for this design which features a number of stitches artfully arranged in a petite format. Stitched on 30-ct linen, this design will fit into a standard plastic name tag holder. The design also showcases the versatility of over-dyed threads. Floss is the logical choice for this project, but other types of threads will also work if they are fine in diameter — like #12 pearl cotton.
If you aren't in need of a new name tag, you could scale this up in size (choose a larger ground fabric) and experiment. Jane Ellen got us warmed up and now Catherine keeps us going.
Have fun with this project and let's see what you come up with!
Visit our EGA Stitch-a-long group on Facebook to learn more and to start stitching with us!