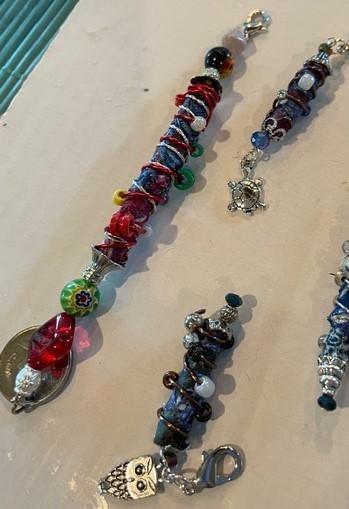 For our August 2023 stitch-a-long on Facebook we are making Boho Beads in a project by member Mikki Bonser from the Sandia Mountains Chapter in New Mexico.
Here's more about this month's project from Mikki:
Boho beads can be used in many ways: scissor fob, pendant, attached to chains, journal markers, plant decorations, window hangings, pins, earrings, tree ornaments, etc. Your imagination can provide many ideas.
This project is a chance to use your imagination, dig into creativity, and borrow some ideas. There is no right or wrong way to make a Boho bead. Change these directions in any way you would like to. Watch some videos on the internet to get some different ideas, look for Boho beads on Etsy or Pinterest. This is a super project to do with children, but I suggest getting the fabric covered tubes ready in advance.
Please post pictures in the EGA Stitch-A-Long Facebook group when you're done!