This month, we congratulate Kathleen Weston of Albuquerque, New Mexico!
The Individual Correspondence Courses offer stitchers a way to expand their skills, by learning a new technique or refining skills in a technique they already know. Courses can range from three to nine classes. There is frequent interaction with the teacher, as each lesson requires that the student submit a piece for evaluation. Here, we highlight stitchers who have completed an ICC.
Kathleen is a member of the Turquoise Trail Chapter in the Rocky Mountain Region. She took the Introduction to Metal Thread Embroidery class with Kay Stanis. Here is what she says about her experience:
"I jumped into metal work during the pandemic, and since no one was meeting in person, I was basically self taught. I was fortunate to take wonderful classes in goldwork from Natalie Dupuis and several lovely goldwork projects from Cynthia Jackson during this period. But, I knew that I needed training if my metalwork was going to improve and be something that I could be proud of. One of the chapters here in Albuquerque, Sandia Mountains, offers scholarship opportunities which I applied for and after receiving it, signed up for the three lesson ICC in metalwork. Since I'd taken classes with Natalie on more advanced metalwork, I chose not to take the nine lesson ICC.
Thankfully, I already had a foundation in metalwork, so I wasn't totally freaked out when the lessons arrived. I told Kay Stanis that I would work hard, but I wasn't buying any supplies, everything was coming out of my stash. And boy, did I work hard. You would think that I could fly through three little lessons, but no, she held my feet to the fire and made sure that I proved myself. Which is exactly why I put my money down and signed up. I needed someone to make sure I learned what the lessons had to teach me and hold me accountable to finish each lesson and finish the ICC.
I have attached photos of lesson one and lesson two. Lesson two is Rudy the Roadrunner who actually exists. I've attached a photo of him, also. He comes through my backyard twice each day looking for lizards, hummingbirds and bugs to take home to Mrs. Rudy."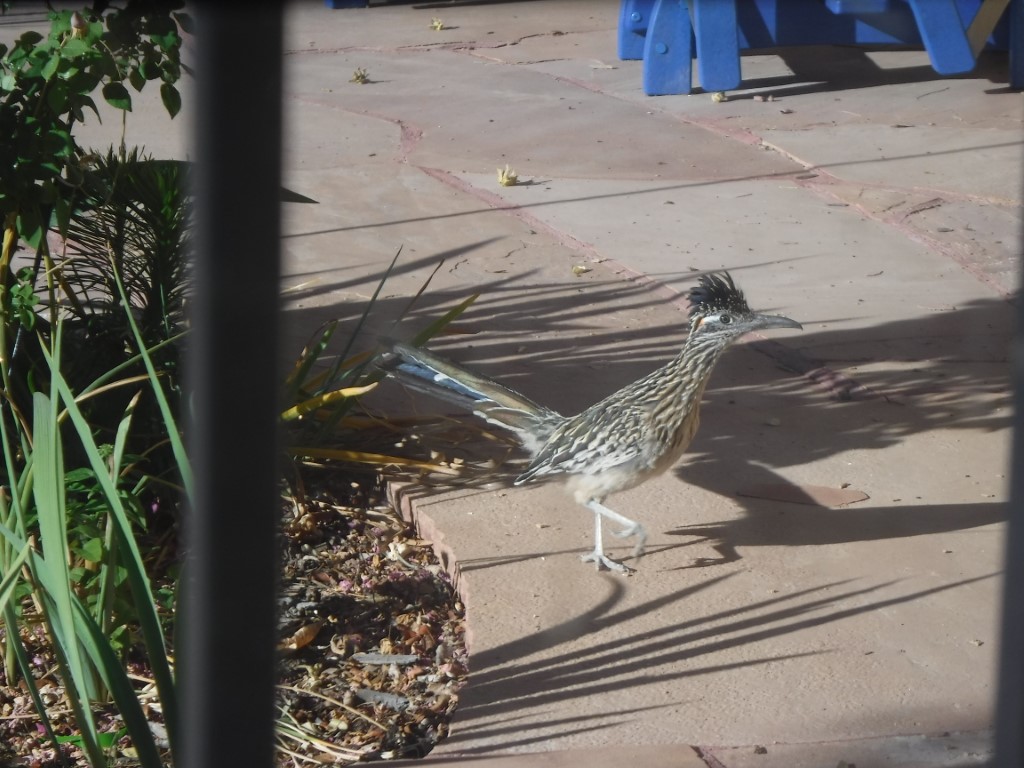 Our Individual Correspondence Course Introduction to Metal Thread Embroidery is an in-depth study of the techniques of metal thread embroidery that will introduce the student to the shimmer of real gold and silver on fabric. From actual samples of the metal threads discussed to the proper methods of framing up the foundation fabric, the world of metal thread embroidery will be explored. Although this technique is often regarded as difficult, the student will learn that this needlework is not only a challenge but also a delight.
You too can expand your embroidery skills, by learning a new technique or refining skills in a technique you already know with one of our Individual Correspondence Courses. Our available ICCs are:
Written by ICC Chair Helene Ossipov