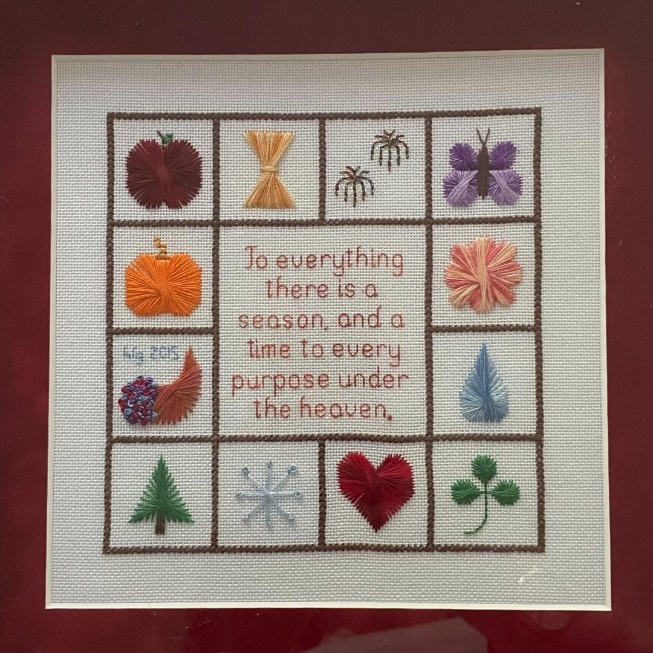 The Education Department is pleased to announce the newest segment in the Petite Project series, Rhode Rage by member Heather Lynn Gitlin from our Bucks County Chapter. The seasonal sampler on 28 count even weave is about 5-1/4 inches square. There are twelve small squares surrounding the central one which contains the verse "To everything there is a season, and a time to every purpose under the heaven." (Ecclesiastes 3:1). Each of the small squares contains a motif for the month worked in variations of the Rhodes stitch. Thank you Heather for sharing.
We hope you enjoy this new project and will, with us look forward to other new projects!
Petite Projects is a collection of over 60 beautiful projects in a wide-range of techniques made available as a benefit to EGA members. If you are an EGA Member, once you log in you will see Petite Projects in the navigation under Members Only or by clicking here (You need to be logged in for the link to work). If you are not an EGA Member yet, join us as a member at-large or through one of our chapters and receive access to the entire collection.
We are continuing to look for designers for future Petite Projects. If you have a small project you are willing to share, please contact publications@egausa.org, subject line Petite Projects. The projects are thoroughly tested and proofread by the education publications committee. If you need help in the presentation, we are willing to assist.
– Carole Rinard, Education Publications