Get Started
This course is currently closed
Note: This class has ended. This page is only for informational purposes.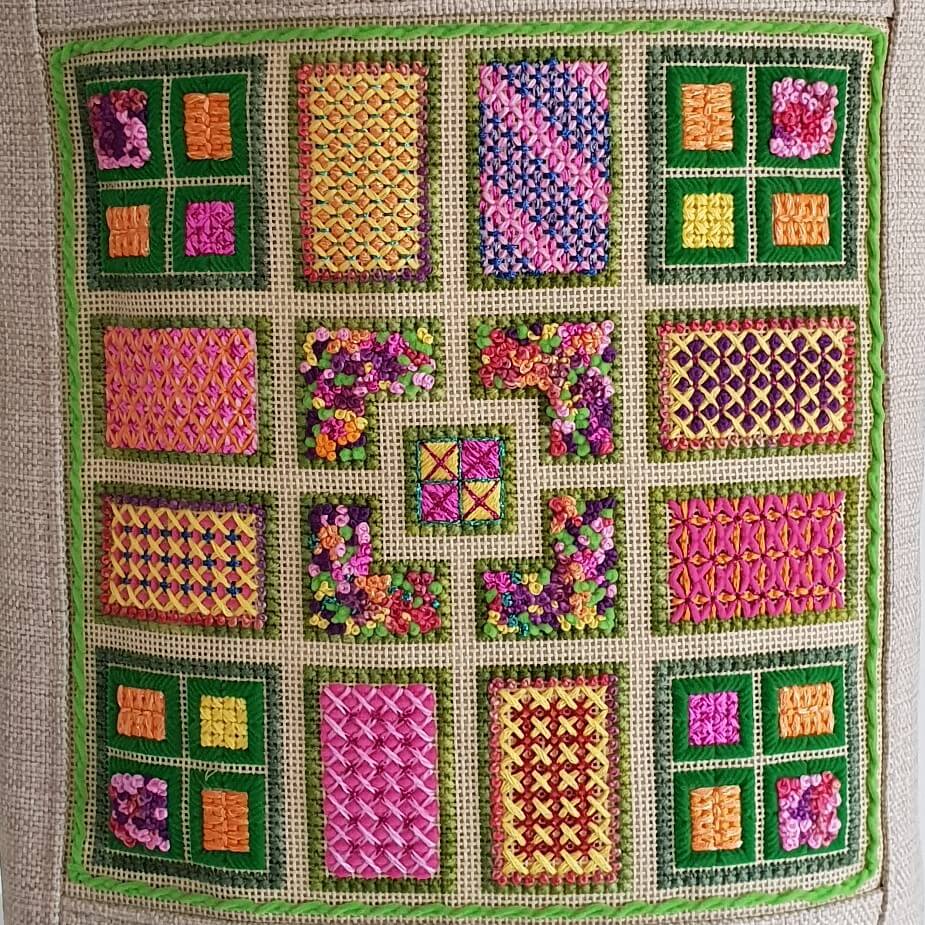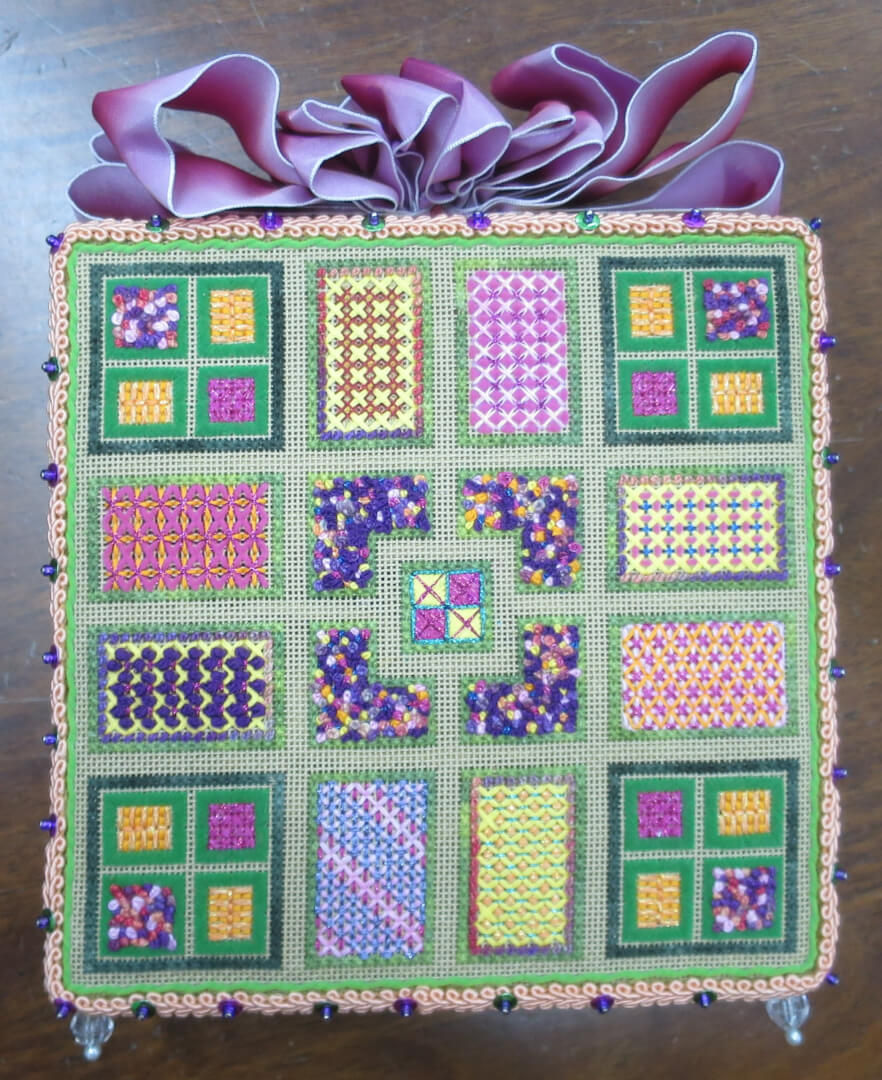 Stitch a marvelous garden trellis in Hidden Trellises, a new online class with needlework teacher Merrilyn Heazlewood. While trellises in our garden are often covered with fruit, vegetables or flower, on this class you will stitch the trellising background and use a variety of stitches to incorporate flowers, allowing both the trellis and the flowers to shine.
Some of the stitches you will be using to create your own trellis masterpiece are:  Smyrna, Woven Cross, Upright Cross, Running, Straight and French Knots, and more.
Grab some beautiful threads from your stash and start stitching right away or order one of the two kit options available.
Already registered? Scroll down to the Course Content Section to see your lessons. You need to be logged in to access your lessons and the class discussion group.
Tips from the teacher
Choosing your threads: Within the garden beds of Hidden Trellises only small amounts of threads are used, so it is an ideal project to 'have a walk down memory lane' and look at your stash to see what threads you could work this project with. When looking at our stash of threads it's lovely to reflect on the project we used some of the threads in, especially if we have given the finished piece to very special people in our lives.
It is perfectly fine to stitch Hidden Trellises with the original threads in the original colors. But if you are looking for a challenge — here it is and have fun with it! The idea is to use up some of your stash and to combine colors that are either your very favorite or colors you would not normally work in.
Here's an example from one my students, where they used soft lemon, old gold, bright red, mid green, light and mid mauve and lilac for their piece.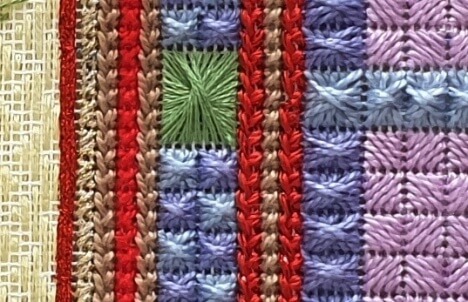 Substituting Gumnut Yarns Poppies: Gumnut Yarns Poppies is a silk-wool blend and is stitched in Smyrna stitch to form all the garden bed borders. You could stitch these bed borders with four strands of floss/silk. In the USA Poppies could be substituted with:  Sheep's Silk Wool by the Thread Gatherer, Silk and Ivory by Brown Paper Packages, and from Rainbow Gallery: Wool fibers -Rainbow Persian, Wool and polyester – Glisten wool and cotton blend, Rainbow Tweed.
Finishing your Trellis: This class includes instructions for completing the stitching of the design which can then be finished however the student prefers. Finishing instructions are not included in this class.
Hidden Trellises Information
Design size: 7 1/2″ X 7 1/2″
Technique: counted canvas
Skill level: intermediate
Number of lessons: 4
Type of online class: Continuing Studies (Learn more)
Registration dates: Registration opens on October 2, 2019 and ends on September 30, 2020.
Class cost: Class Only $45; Class + Partial kit $75; Class + Full kit $220.
Kit information: There are 2 kit options for this course, a partial kit and a full kit. See the Kit and Supplies Document
How does it work? This continuing studies class is an on-going class that is available to our members for one year. Students may register at any time during that year and work at their own pace. All of the lessons are posted in the Course Content section below at the beginning of the class so that students have access to all of them upon registration. The teacher is still just a click away in the class' discussion group to answer any questions you might have.
About teacher Merrilyn Heazlewood
Merrilyn is an internationally renowned hand embroiderer, designer, author and teacher. Merrilyn opened her 1st needlework shop in 1978.
With an artistic heritage and a passion for hand work this was the starting point for a long creative and rewarding journey with needle, threads and fabrics.
Merrilyn has published books on her original designs worked with silk ribbon and wool embroidery and needlepoint. Magazine articles of Merrilyn's work are regularly featured in publications in USA, Australia, and New Zealand. This year she is reflecting on her forty years in the needlework industry.
Her creative and individual approach to her designing and taking all opportunities offered to her Merrilyn has found the many international teaching and promotional trips very enjoyable and satisfying, especially to the USA. "I have visited states I would never have gone to as a tourist."
"Forty years ago I would never have dreamed of teaching in other countries" she said.
Totally self-taught, Merrilyn's focus is that students enjoy their stitching, especially in the very busy world we all live in. "Meditation with an embroidery needle is wonderful."