Registration is now open for our online class Cyclamen with Merrilyn Heazlewood!
On this class you will create a decorative tile adorned with bright silk ribbon Cyclamen on all four sides. The decorative tile has over ten counted needlepoint stitches worked with Gumnut Yarns Poppies (50%wool/silk), floss and perle cotton with silver lined clear beads bringing sparkle to the design. Floss is stitched with four or six strands.
The decorative tile is stitched in five tones of purple/mauve and the 'dots' of small complimentary colors are stitched with French Knots in the five miniature motives. The rows of stitches are worked diagonally and horizontally and the floss is stitched with four or six strands.
Registration closes on June 1. The PDF Lessons for the class will be posted to the class page weekly from August 3 through August 24, 2022.
We have another exciting class coming soon! In Candy Cane Christmas Decoration with Emma Broughton you will make a delightful 3D Felt and Goldwork candy cane Christmas decoration with stuffing to give it a realistic look. The techniques you will use to embroider the candy cane stripes include Pearl purl, Spangles, Chipping and Ladder stitch. Registration starts August 3, 2022. Learn more and sign up for a reminder!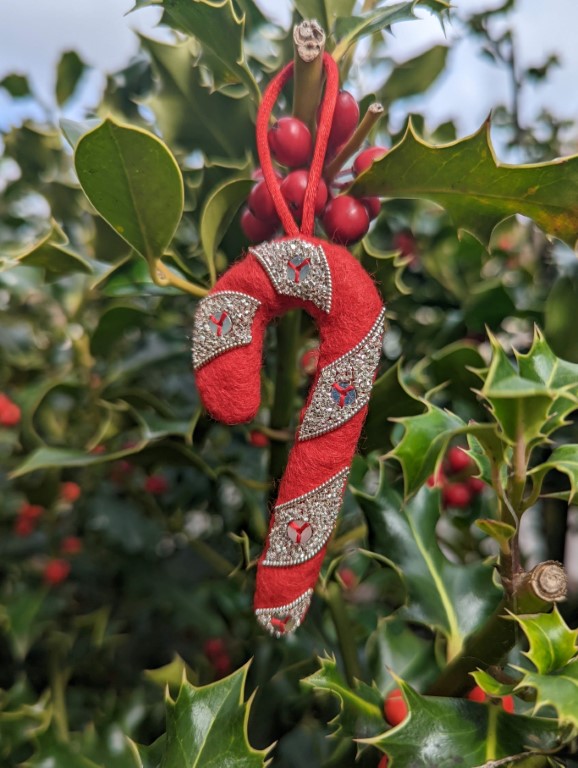 Here's a quick rundown of how our online classes work:  Students get access to the class content based on the class schedule and to a class discussion group where the teacher will answer students' questions and where students can post photos of their progress and communicate with each other. Lessons can be downloaded at any time up to two months after the last lesson is posted.  Please check the details for each class to see if the class format will include video instruction.
---
If you are looking for more exciting learning opportunities, we still have our latest set of GCC Lightning Rounds available through the end of this month! While there is not an online component to these correspondence course, you get to interact and learn directly with your teacher who will send you your text and introductory materials in the mail. he teacher will also notify you of the turn-in date for your finished piece if you wish to have your piece evaluated.
Here's the current set of GCC Lightning Rounds available for a limited time