Price
$200 per Group + $40 Text per Student
Star-Spangled Puzzle Ball
Take counted thread embroidery into three dimensions!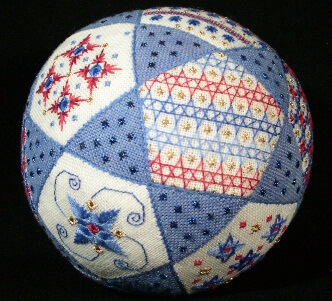 Our Group Correspondence Course Star-Spangled Puzzle Ball offers the stitcher the opportunity to discover the joy of taking counted thread embroidery into three dimensions by creating a "puzzle ball." The ball is constructed of pentagon and triangle components. The student will experience the art of counted thread embroidery by stitching the components in a variety of counted thread stitches. Some of the stitches are kite eyelet, two-sided insertion stitch, Nova stitch, leviathan star stitch, and many more. The student will notice that most of the stitches have a star-like appearance. The stitches used create a variety of texture and pattern on the ball providing an enjoyable and varied stitching experience. Once all the components are completed, the student will assemble the components into a beautiful, stitched ball. Clear instructions and diagrams make this process a most delightful and exciting part of the project.
The information-packed instructions are very detailed and will guide the student through the entire process of creating the puzzle ball in a step-by-step manner. Color photos are included.
More about Star-Spangled Puzzle Ball
Class Details

Project: Three-dimensional ball
Size: Circumference of ball is approximately 13½" (diameter: 4½")
Fabric: Linen or even weave fabric
Threads: Silk and metallic or threads of choice
Colors: Two color options are offered but students may choose their own color palette
Skill level: Intermediate
Prerequisites: Ability to stitch on linen
Time: Six months, six sessions
Fee per group: $200
Text: $40 for 44 pages including three color pages
Supplies (approximate): $60 if silk and metallic are used, less if cotton floss is used.

About teacher Denise Harrington Pratt

Denise Harrington Pratt is an artist and needlework designer with a Bachelor of Fine Arts and a passion for counted thread embroidery on linen. Denise has been teaching needlework since 1995. She has taught at Spirit of Cross Stitch Festivals, National and Regional Seminars for the Embroiderers' Guild of America, Inc., and EGA chapters.  Denise is an active member of our Southern Maine Chapter.

More about our Group Correspondence Courses and GCC Lightning Rounds

Visit our Group Correspondence Courses page for the registration form and for more information on how our GCCs work.

Our GCC Lightning Rounds are three or four of our Group Correspondence Courses that have been hand-picked by our Education Department and made available for individual EGA members to register without a group for a limited time. Visit our GCC Lightning Rounds page to see which courses are available this quarter!

 There are no refunds for course or text fees so make your selection carefully.