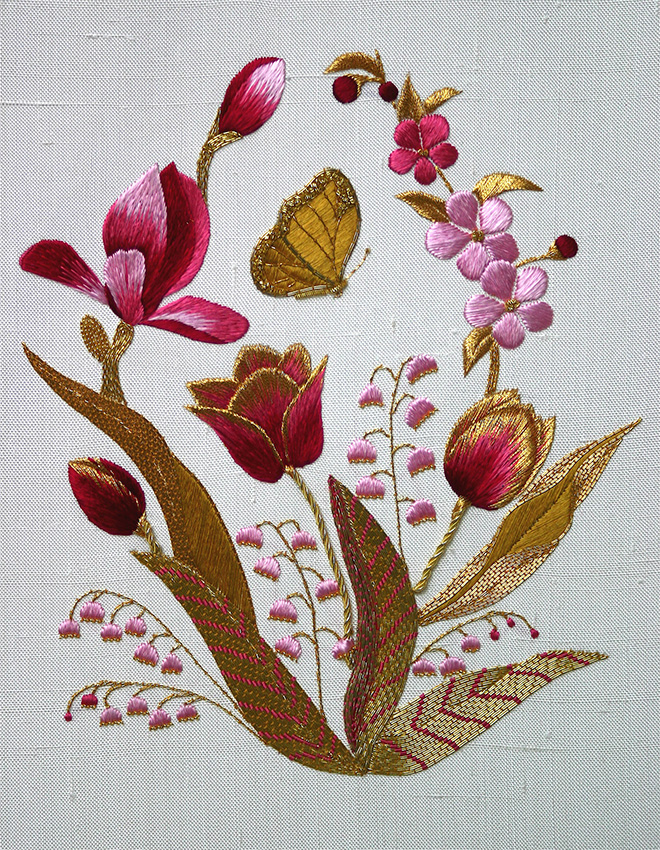 Our Group Correspondence Course Spring Splendor with Kay Stanis will no longer be available after the end of 2023. Spring Splendor is currently available as a GCC Lightning Round through May 31, 2023. This means that individual members can register for this correspondence course for a limited time.
After May 31, 2023 and through December 31, 2023 the course will only be available as a Group Correspondence Course.
On Spring Splendor you will learn couching, filling with purls, blending long and short over padding, how to transfer your patterns and twist flat silk and more.
Here's more about Spring Splendor: "Finally, after that long cold winter and the long cold drizzle that melted the gray snow and rinsed the earth clean, comes the time of generous sun. Blossoms exuberantly play in the golden light and spring walks among us again. The foundation for this bouquet is Dupioni silk and the silk fibers used are soft twist silk and silk sewing thread. These threads combine with pearl purl, check purl, Japanese twist, Grecian twist, passing thread, and Japanese golds to create the butterfly, blossoms and leaves. The stitches include vertical, radiating, horizontal, voided, and diagonal satin; long and short over padding and split stitch; normal and pattern couching. Students will also learn how to transfer their own patterns and twist flat silk. The focus of the class will be on couching, filling areas with purls, and blending long and short over padding."
Our GCCs offer low cost, high quality learning experiences for groups of up to 20 participants plus their group coordinator. GCCs are open to all EGA members. You can learn more about our Group Correspondence Courses and download the GCC registration form here.
Lightning Rounds
We have 4 additional GCC Lightning Rounds available for registration through May 31, 2023. These are a selection of our Group Correspondence Courses that have been hand-picked by our Education Department and made available for individual EGA members to register without a group for a limited time. Click the pictures below to learn more about each course.