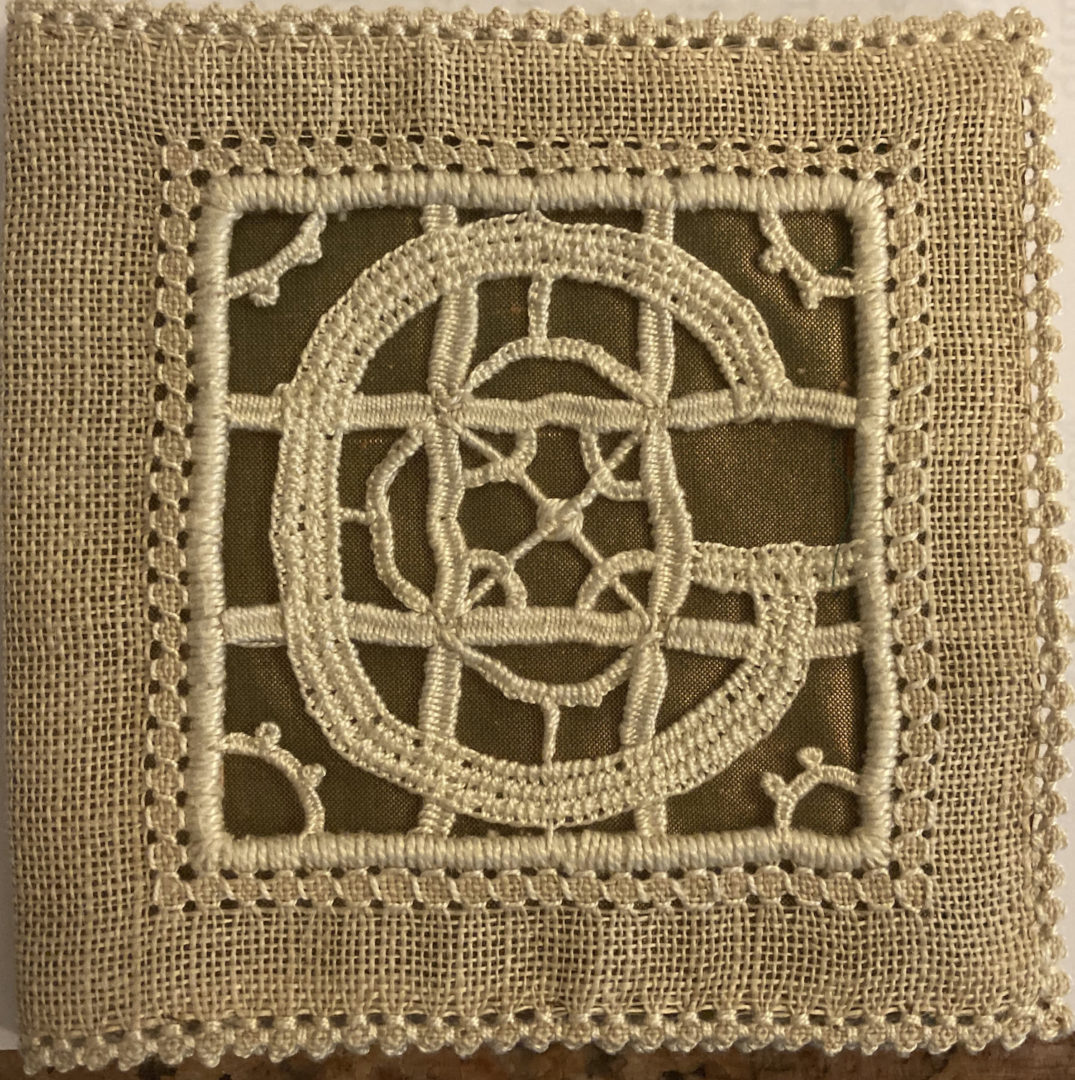 We have a new Group Correspondence Course(GCC) with teacher Jonalene Gutwein that focuses on the technique of reticello, incorporating the pulled 4-sided stitch, the cutting of threads in both directions, satin stitched edges, and needle weaving.
Reticello Needle Book is the next step for the experienced drawn thread enthusiasts who wish to begin learning the technique of reticello. One of the most exciting things about this course is that the final design is personalized, allowing each student to choose an initial to work on.
Are you new to our Group Correspondence Courses? Here are some of the main points of how this exciting program works:
What are GCCs?
Our GCCs offers low cost, high quality learning experiences for groups of up to 20 EGA members plus their group coordinator.
How many GCCs are available?
We have over 35 Group Correspondence Courses in a wide variety of techniques ranging from beading and counted thread to mixed media and surface embroidery. See them all here.
How much does a GCC cost?
Each course has a course fee shared by the participants plus each student pays for their own text fee. The larger the group, the smaller the course fee is for each student. The group coordinator only pays the text fee and supplies, because of their service coordinating the group. Some regions and chapters fund the course fee as a part of their education programs.
How do I find others who may be interested in a course?
Members who wish to take a Group Correspondence Course must plan with a group of other stitchers interested in taking the course. If you are a chapter member, we recommend talking to others in your chapter and region who you know would be interested on this technique and see if they're interested in being part of a group.
All EGA members have access to our EGA Discussion Group, where you can post asking if there are other members interested in taking a specific GCC. You will need to be logged in to post to the group.
Can I enroll on my own for a Group Correspondence Course?
Every quarter, our Education Department selects several GCCs to make available for members to register without having to pay a group fee or have a group coordinator. These are called GCC Lightning Rounds, the current courses are great, see them here. Members can still register for any of GCC on their own but the full course fee and text fee would need to be paid.
I have a group ready, what's next?
The group coordinator must visit the Group Correspondence Course page and download the GCC Registration Paperwork under the GCC Documents and more information tab. The coordinator will send the completed registration form, a list of participants and a check for the course and text fees to EGA Headquarters.