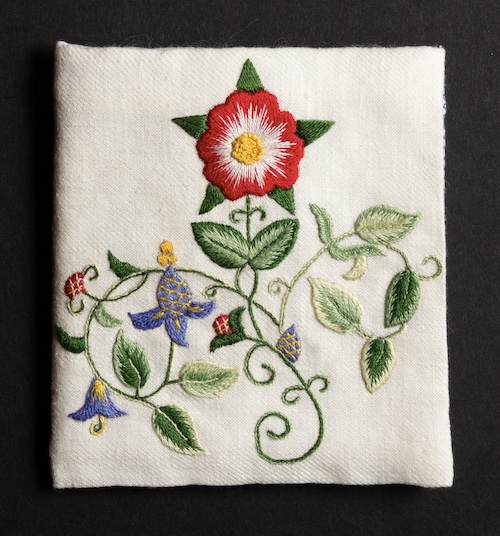 Our Threaded Needle Chapter in Escondido, California recently hosted member Kathy Andrews, who will also be teaching at our upcoming National Seminar: The Magnificent Stitch. Read more from the chapter below:
In March, we offered a special program presented by Kathy Andrews: Sampler Collections: The Makers & Their Samplers.  Kathy is a member of the Cedar Valley Chapter in Iowa and the EGA Fiber Forum. She is an embroidery teacher who works with students of all abilities, teaching them the techniques and the joy of hand embroidery. She received her Certificate of Technical Hand Embroidery with Merit from the Royal School of Needlework and her City and Guilds Certificate in Design and Stitched Textiles. Her work has been exhibited at the Knitting and Stitching Show in London and Harrogate, UK and Dublin, Ireland, at the William Morris Gallery, London, at Kelmscott Manor, Oxfordshire, UK and at Wrightwick Manor, Staffordshire, UK.
She even shared a special sampler pattern modeled after one of the historical samplers that she shared from her collection. The program was very well attended and received high marks from the membership.
See Kathy's classes on the 2021 Seminar Classes page. Registration for The Magnificent Stitch is open through June 15, 2021. Come stitch with us!
Check out Kathy's website The Unbroken Thread