It is a pleasure to announce two new Education Publications for EGA members! Technique Basics and Petite Projects are two series of publications available as a benefit to EGA members. If you are an EGA Member, logging in will give you access to the links below. If you are not an EGA Member yet, joining today will give you instant access to these publications and more. Click here to learn more about our memberships.
An Introduction to Brazilian Dimensional Embroidery by Judy Borreson Caruso is the latest in the Technique Basics series.  If you have been mystified or horrified by Brazilian rayon thread, Judy's explanations and instructions should answer your questions or relieve your anxiety.  Proper handling of the thread is the key.  As a Z-twist thread, it handles differently from most of the threads in the embroiderer's stash which have an S-twist.  A charming design using some basic stitches and two weights of Brazilian rayon thread is included. Download it from the Member Publications Page.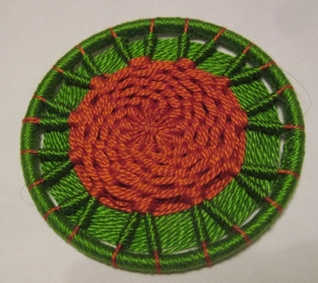 The second publication is an addition to the Petite Project series.  Dorset Buttons by Hope Wright is presented in advance of the four hundredth anniversary of the buttons in 2022.  A time to celebrate with this project which is presented with traditional instructions.  A ring of metal or plastic of any size can be used.  The ring should be solid, not a split ring as the opening deforms the shape of the button.  The smallest ring of sewing thread wrapped around a pencil as the ring could be used as a button for an infant's garment or a much larger ring can make an artistic statement as a brooch or wall piece. Download it from the Petite Projects Page.
A big thank you to these authors.
We are continuing to look for new authors for Petite Projects, Technique Basics or the Guideline series.  If you are interested in sharing a design or guide, please contact publications@egausa.org. The projects are thoroughly tested and proofread by the education publications committee. If you need help in the presentation, we are willing to assist.