Registration for our upcoming online class Hardanger Trio ends very soon, on April 6, 2022. Registration has been extended to April 27! In this class you will stitch a beautiful hardanger embroidery set, and you get to select threads to make it your own. This set includes a box pin cushion, scissor fob, and needle book. The needle book has two pockets for storing threads, etc. and a felt page to hold needles. All the Instruction for this class will be provided through detailed PDFs and while there's no video component, your teacher will be available in a class discussion group to see you through your stitching, answer questions and see photos of your progress. Instructions are included for the assembly of all pieces as well.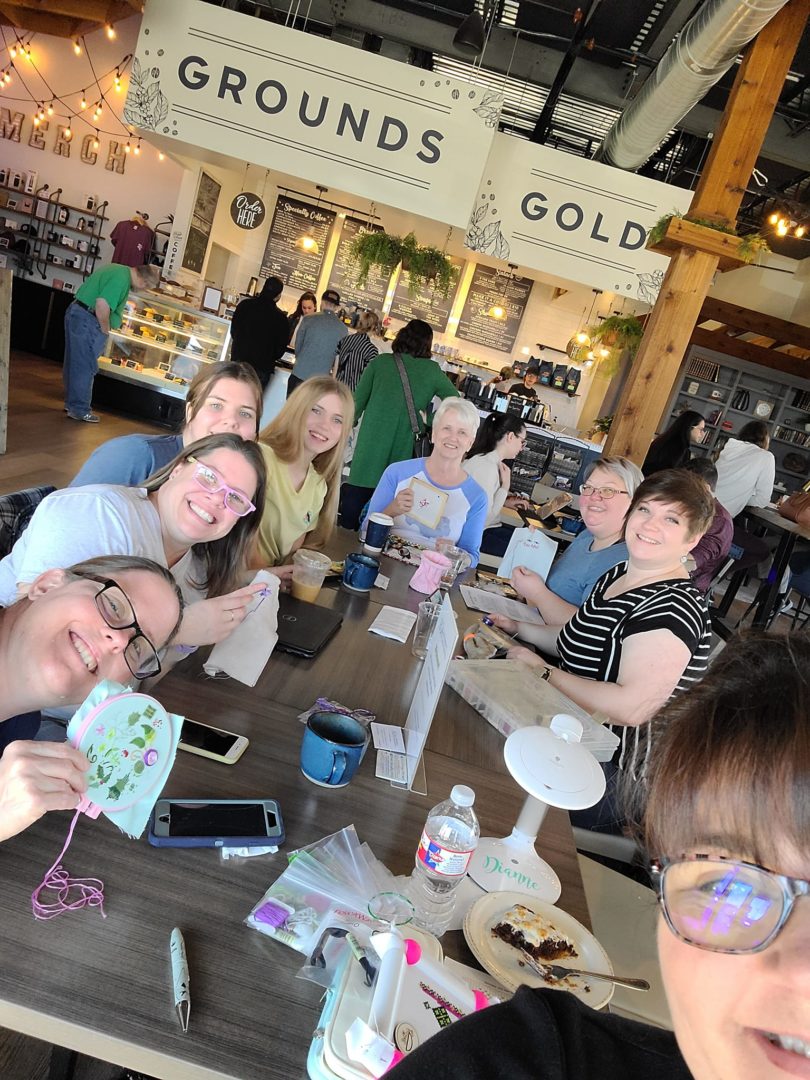 Among the many members who have already signed up, a group from our Fort Worth Chapter saw the class as a fun opportunity to try something new and went on a mini-road trip to gather their materials! Here's more about their adventure from member and one of administrator of our Stitch-a-long on Facebook, Dianne Stauber:
Most of us have never ventured into Hardanger before and we're super excited about such an affordable opportunity to work on a project that's both pretty and useful while learning a new (to us) form of needlework.
Our chapter does one or two Stitch In Public days each month and afterwards few of us decided to take a mini road trip to buy the fibers for the class! First we stitched for a few hours and were approached twice by people who were curious about what we were stitching and what EGA is. We're pretty sure we'll have two new members soon.
Then we hopped in our cars and drove down to one of the needlework shops that advertise in our newsletter. We were helped by the owner of Fancy Stitches in Cleburne, a long time supporter of our chapter. We were delighted to learn that she also carries Hardanger fabric, so she took great care of us as we kitted up our projects. Each of us chose such different thread colors and combinations and we've made a plan to get a picture of our finished projects together to showcase the variety.
When we were done shopping we stopped at Grumps (a local legend) and had some killer burgers and onion rings. Such a fun day…and now we're all kitted up for Hardanger class!
Here's a quick rundown of how our online classes work: Students get access to the class content based on the class schedule and to a class discussion group where the teacher will answer students' questions and where students can post photos of their progress and communicate with each other. Lessons can be downloaded at any time up to two months after the last lesson is posted.