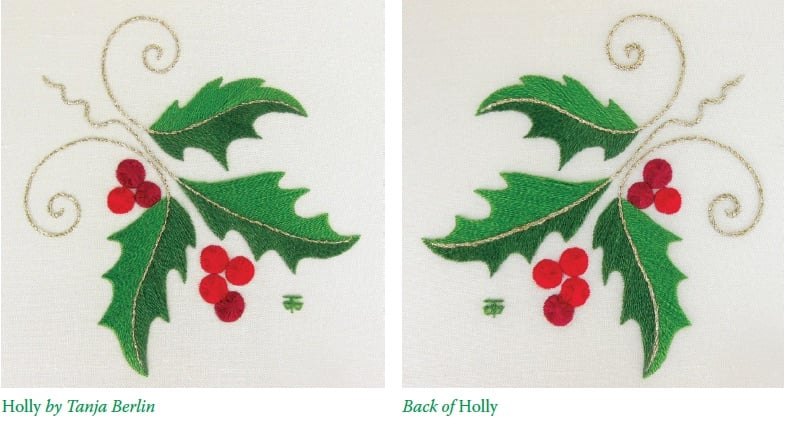 Happy New Year! For our January stitch-a-long on Facebook we are working on a beautiful berry and leaf motif by designer Tanja Berlin, EGA member at-large from Canada.
We are excited  to announce that we have three new volunteer admins who will be managing our Stitch-a-long Group on Facebook. These are members Dianne Stauber from our Fort Worth Chapter in Texas, Helena Whyte from our Pajarito Chapter in New Mexico, and Stephanie Murphy from our Indian River Chapter in Florida. We want to thank Kate Gaunt and Leslie Gagliardi for the fantastic work they put into the stitch-a-long from the very beginning!
Here's a little more about this month's project from stitch-a-long admin Stephanie Murphy:
Happy New Year! Thanks to Tanja Berlin for allowing us to use her project. This berry and leaf motif can be used as an ornament, needle case cover, or pin cushion. But it shines as an ornament finished in a hoop so you can see both sides – because if you stitch it as stated, it's REVERSIBLE! How amazing is that! If you don't have silk floss, substitute your favorite flosses; if you don't have silk dupioni, you can substitute a firm cotton, twill, or moire, but the dupioni has a beautiful sheen.
Many, many thanks to EGA Stitch-a-Long administrators: Kate Gaunt and Leslie Gagliardi who have handled the group since inception. We greatly appreciate all the work and creativity they have put into the Group. They can now take a break and stitch their own projects. We have three new volunteer admins who will introduce themselves over the next few months: Dianne Stauber (TX), Helena Whyte (NM), and Stephanie Murphy (FL). Have any suggestions? PM us!
Get stitching those holly pieces and let's see your creativity shine!