Three EGA members recently completed one (or more) of our Individual Correspondence Courses. The Individual Correspondence Courses offer stitchers a way to expand their skills, by learning a new technique or refining skills in a technique they already know. Courses can range from three to nine classes. There is frequent interaction with the teacher, as each lesson requires that the student submit a piece for evaluation.
We'd like to congratulate Tanya Sanders of Rochester, MA, Sheila Dixon of Atlanta, GA, and Susan Mondabaugh of Topham, ME. You can read their stories below.
Tanya Sanders, EGA member at-large, took Introduction to Metal Thread Embroidery with Kay Stanis. Of her experience, she says "I found the introduction to metal thread embroidery to be very informative and I learned a lot of new techniques. The teacher, Kay Stanis, was quick to respond, and supportive of my efforts. I found the class to be exciting and well worth the investment." You can see the beautiful work she did here:
Maybe the ICCs should come with a warning that they can be addictive. The following stitchers have taken several classes.
Sheila Dixon, member of our Dogwood Chapter, took advantage of the pandemic to take not one, but two classes: Silk and Metal Thread Embroidery with Kay Stanis and Rainbows Bend – A Course on Color Theory with Carole Rinard.
This is what she says about the classes: "When I realized my normal activities were shutting down due to Covid, I jumped at the chance to enroll in two classes I had long been interested in.
As much as I have been captivated by silk and metal thread embroidery, the multitude of threads alone were overwhelming. This class provided a working knowledge of the threads and other materials required, and the techniques for using them. In addition, Kay asks for designs of your own, within her guidelines, using what you are learning. This was the hardest and best component of the class for me, actually having to use the information in the lesson in this way. I learned so much from her encouraging words when I did well on an assignment, but the most from her explanations when I missed the mark.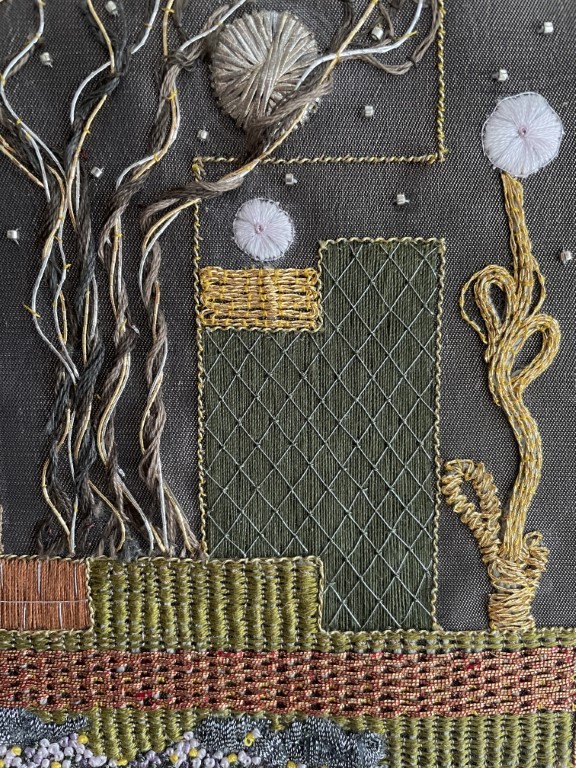 Color is such a complicated subject, and I needed help! Carole guides, one step at a time, into those complexities. Two things were particularly helpful in the way she structured the class. The option to complete the exercises in a variety of materials, like paints, colored pencil, fabric, paper, or thread, showed how the theory works across the mediums. And, the requirement to design according to the assignment and her guidelines made sure you understood the lesson…or not. The level of encouraging personalization of the evaluations and the answers to all my many questions was invaluable."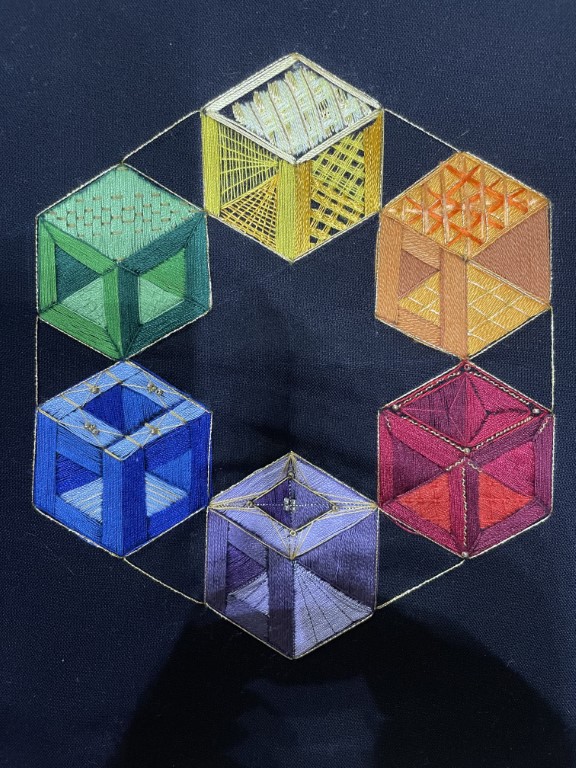 Susan Mondabaugh, member of our Southern Maine Chapter, has also completed several ICC classes, most recently the ICC Techniques in Canvas Embroidery with Dianne Herrmann, which she chose because, as she says, "much of my needlepoint has been self-taught and stitch books do not always give one enough information to correctly execute a stitch or technique. I've enrolled in several ICC courses and especially during these last two years of pandemic social isolation, ICC courses have been a way to continue to expand my skills. While it is impossible to completely distill comprehensive instruction of stitch families, color theory and techniques in 6 lessons, I found this course provided me with enough information to execute the techniques as well as provide a resource for further study of techniques I was interested in pursuing and mastering. I had never done applique before this class nor stitched any bargello patterns, so my knowledge was expanded. The text and photographs in each lesson will continue to be a resource to me for future projects."
You too can expand your embroidery skills, by learning a new technique or refining skills in a technique you already know with one of our Individual Correspondence Courses. Our available ICCs are:
Written by ICC Chair Helene Ossipov