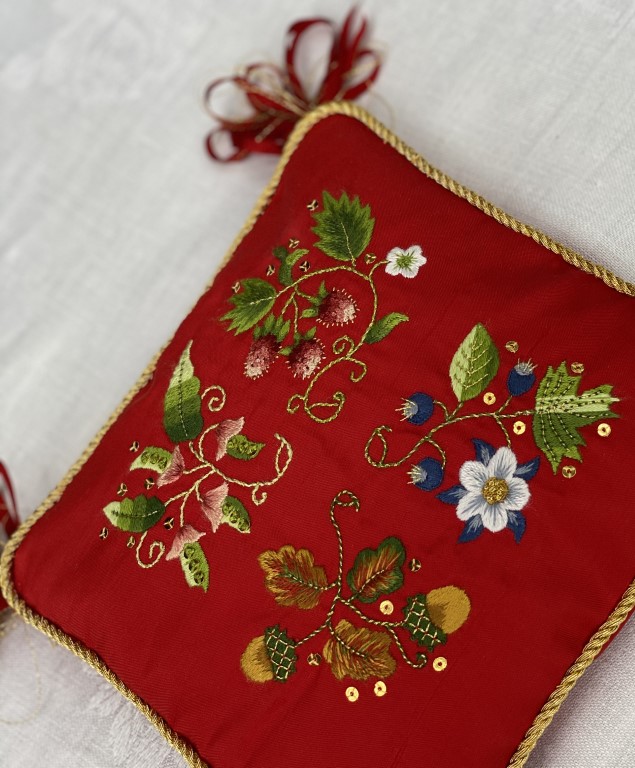 On Sunday, July 10, 2022, textile artist and teacher Kathy Andrews will be joining us for a virtual lecture on Elizabethan Embroidery And The Trevelyon Miscellany Of 1608.
The Trevelyon Miscellany of 1608 is best known for a series of embroidery designs, which have become a treasure trove for embroiderers and costume designers. Unpainted motifs of carnations, roses, cowslips and columbine, acorn and oak leaves fill the pages.
Thomas Trevelyon, a London craftsman of whom little is known, created his miscellany in 1608 when he was about 60 years old. In addition to the embroidery designs, it includes is a collection of handwritten notes and drawings covering many topics that Trevelyon felt were important to record.
A brief overview of the concept of a miscellany will be explained. We will see a facsimile of the Miscellany and explore the embroidery designs within. Participants will see both period and current examples of embroidered pieces whose designs are inspired/taken from the Miscellany.
The signup period is open to all EGA members through June 20, 2022 at 1PM Eastern. Attendance is limited to 100 EGA members and the signup list will all go to lottery. You will be notified if you are actively registered or on the wait list. Click here to learn more about the Virtual Lecture Registration Process.
Sign up below!