Do you have some beautiful threads you've been wanting to use but haven't been able to find that perfect project? We have just the class for you!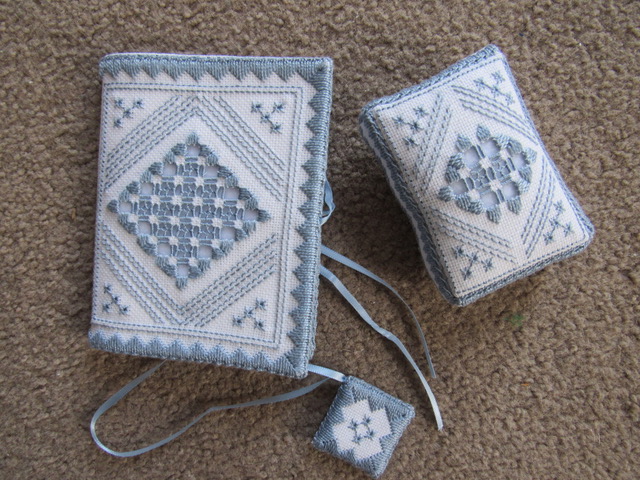 In our online class Hardanger Trio with Kim Beamish you will stitch a beautiful hardanger embroidery set that includes a box pin cushion, scissor fob, and needle book using your own materials. The needle book has two pockets for storing threads, etc. and a felt page to hold needles. The cut work area has a lacy look using Wrapped Bars and Doves Eye. Registration closes on April 6!
Instruction for this class will be provided through detailed PDFs and your teacher will be available in a class discussion group to see you through your stitching, answer questions and see photos of your progress. Instructions are included for the assembly of all pieces as well
From your stash, you may chose to use solid colors such as Pearl Cottons or variegated threads such as Caron threads which will provide you with an opportunity to experiment with color. The examples show both colorways. The one at the top was stitched by G. Thompson.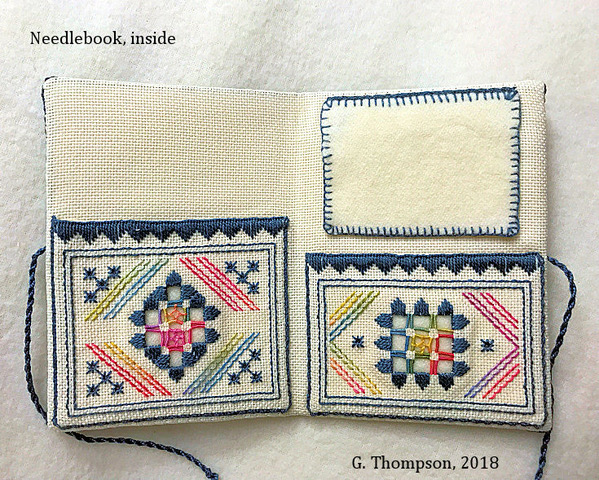 If you don't have the colors that feel right to you for the project, you have plenty of time to get them because the first lesson will be posted on June 1st and there's only around two hours of pre-stitching before then. This is considered a Beginner/Intermediate level project. Some familiarity with Hardanger would be an asset.
We have another exciting class coming soon! On Kiss Me Under the Mistletoe with Celeste Chalasani you will first learn to transfer the design using the "tissue paper" method. Then we'll explore introductory Stumpwork embroidery techniques as students pad with stitches and wrap beads to create berries. Finally, we'll finish the embroidery into ornaments using festive velvet ribbon. Registration starts April 6, 2022. Learn more and sign up for a reminder!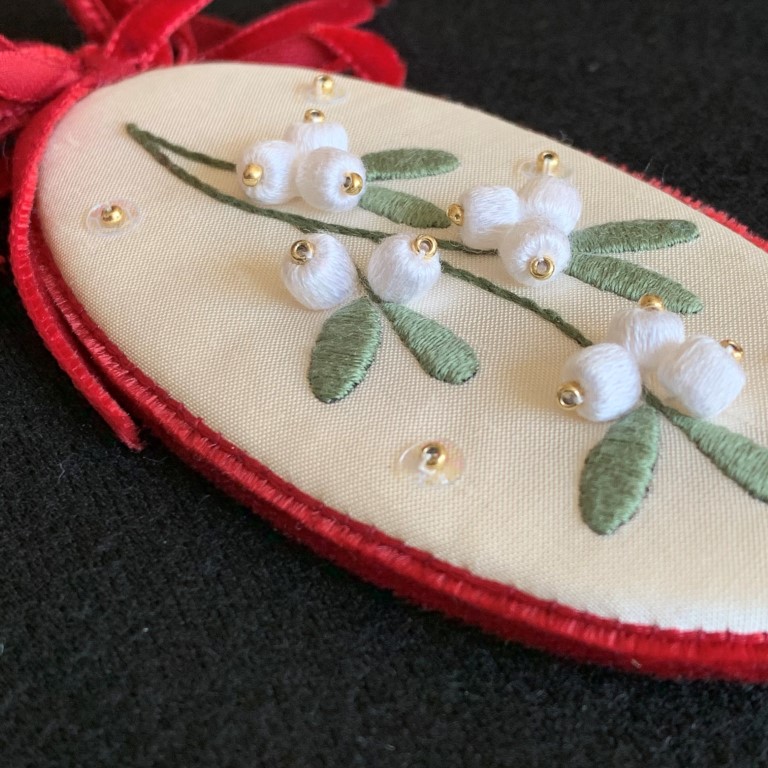 Here's a quick rundown of how our online classes work:  Students get access to the class content based on the class schedule and to a class discussion group where the teacher will answer students' questions and where students can post photos of their progress and communicate with each other. Lessons can be downloaded at any time up to two months after the last lesson is posted.
---
If you are looking for more exciting learning opportunities, we also have a fresh batch of GCC Lightning Rounds! While there is not an online component to these correspondence course, you get to interact and learn directly with your teacher who will send you your text and introductory materials in the mail. he teacher will also notify you of the turn-in date for your finished piece if you wish to have your piece evaluated.
Here's the current set of GCC Lightning Rounds available for a limited time