It's a new quarter and that means we have a fresh group of EGA educational opportunities for you to participate in!
GCC: Lightning Rounds
Every quarter, our Education Department selects some of our group correspondence courses and these are made available for members to register individually without needing a group. This is a great opportunity for members-at-large or chapter members who have been wanting to try one of these group courses and haven't been able to. Learn more about Lightning Rounds.
From September 1st through December 31, 2022 we have the following GCCs available as Lightning Rounds and open for registration: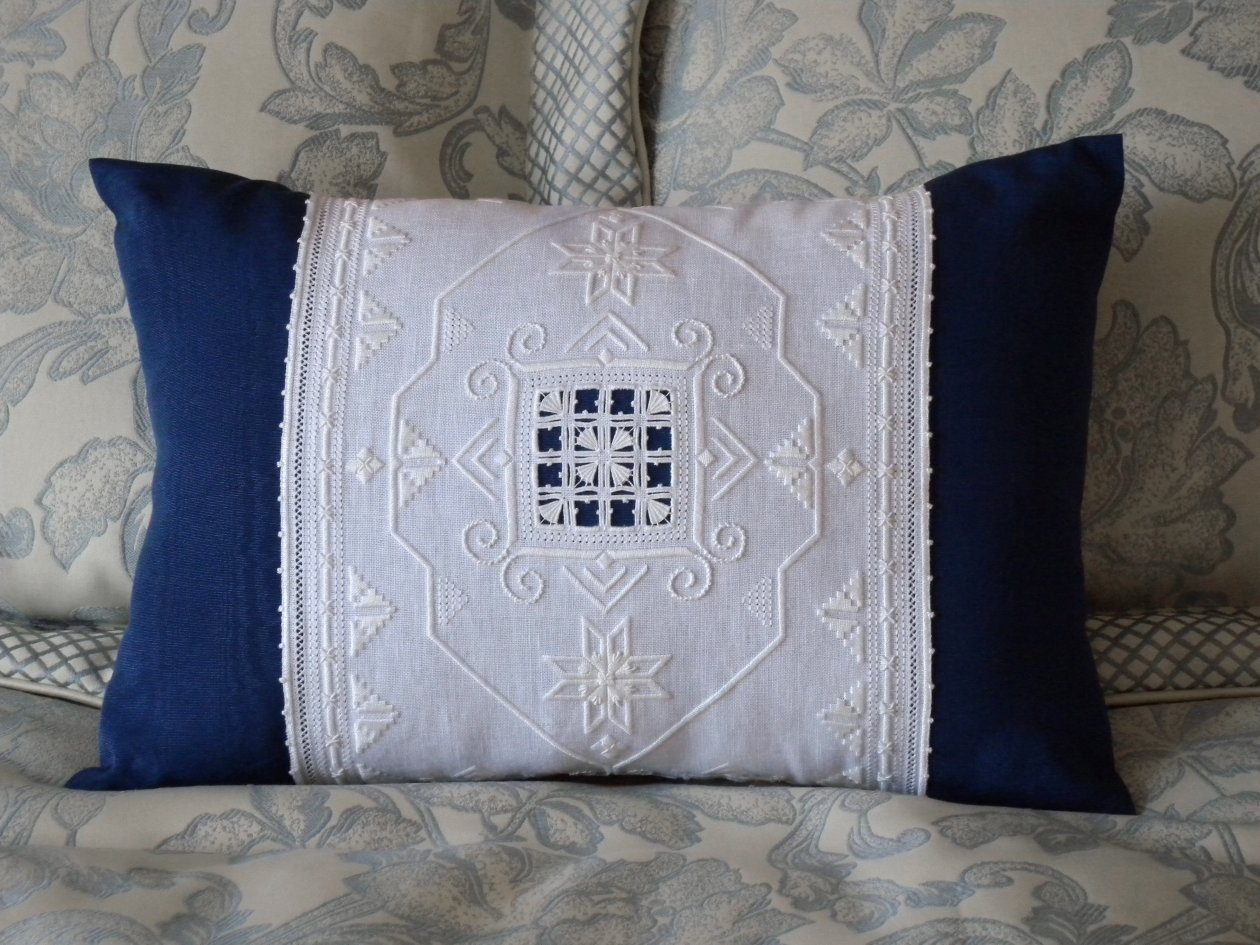 Join teacher Barbara Kershaw in Fandango, a Correspondence Course focused on Punto Antico, one of many beautiful styles of Italian whitework embroidery.
Punto Antico embroidery includes a lot of satin stitch, Palestrina and bullion knots, curls and scrolls. Italian hemstitch is also an integral part of any design as well as drawn thread areas with sometimes simple and many times intricate needlewoven insertions. No matter if simple or intricate it is a beautiful form of whitework.
The design was created as a pillow band but instructions for an alternate end to create the runner are included in the text.
---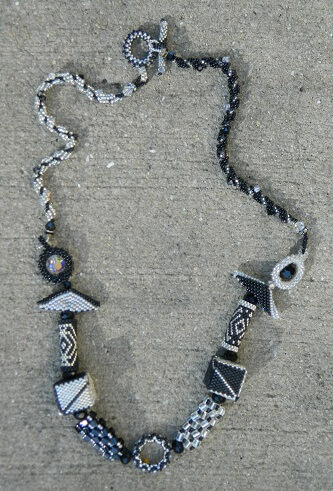 In Keeping in Shape, the student uses various techniques to make the geometric shapes. Among the techniques are circular and flat peyote to make some of the pieces. The student will also use the herringbone stitch to shape other pieces. Some of the pieces include a combination of beading techniques. The finished necklace includes an assortment of triangles, circles, rectangular solids, cylinders, and cubes. The strap is a spiral rope of seed beads and Swarovski crystals. Embellishments include Swarovski crystals and rondelles.
---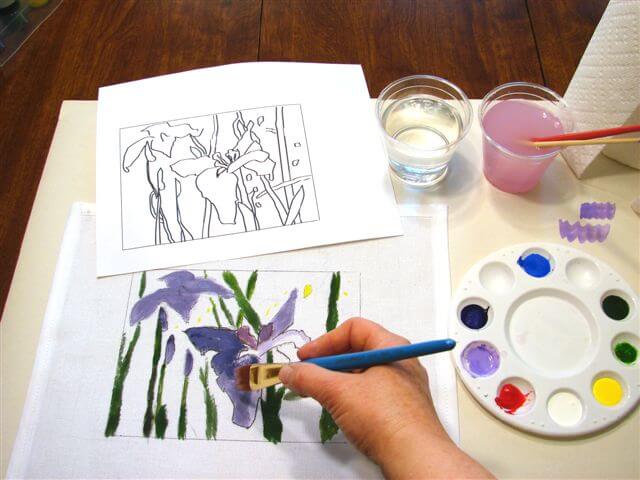 Do you have a drawing or photo that you'd like to make into an embroidered design? In this course, you will mark and paint one design onto needlepoint canvas and one onto silk fabric.
Step-by-step instructions are given for painting with acrylic paint and fabric paint or dye (including using resist).Students may use the three provided designs, but are encouraged to create their own. See some examples by former students in the class page.
The goal of this course is for students to feel confident and competent to transfer designs to fabric or canvas with markers and paint. After you complete the course, the text becomes a reference manual that you'll use over and over again.
---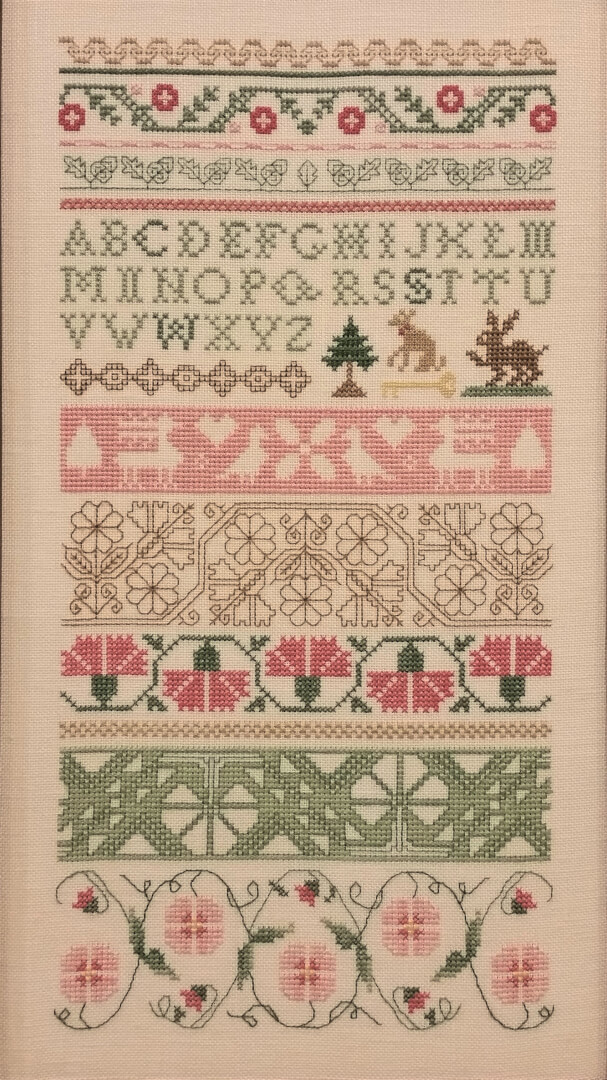 In this course you will learn how to create a sampler that will dazzle those who see it with perfectly executed crossed stitches. This course was designed for those who want to move their stitching from basic to the next level.
Perfectly Counted Crosses features about 30 pages of reference material with information about thread, fabric, needles, scissors, Assisi and more. You will create a notebook of sample stitches so that you can practice a variety of crossed stitches including cross over one, long arm cross, and alternating double backstitch. Five different marking crosses are explained so that you can learn to stitch them in your embroidery.
The final part of your journey is creating a sampler. It can be stitched in the colors and pattern given but you are encouraged to choose your own colors and make it uniquely your own
---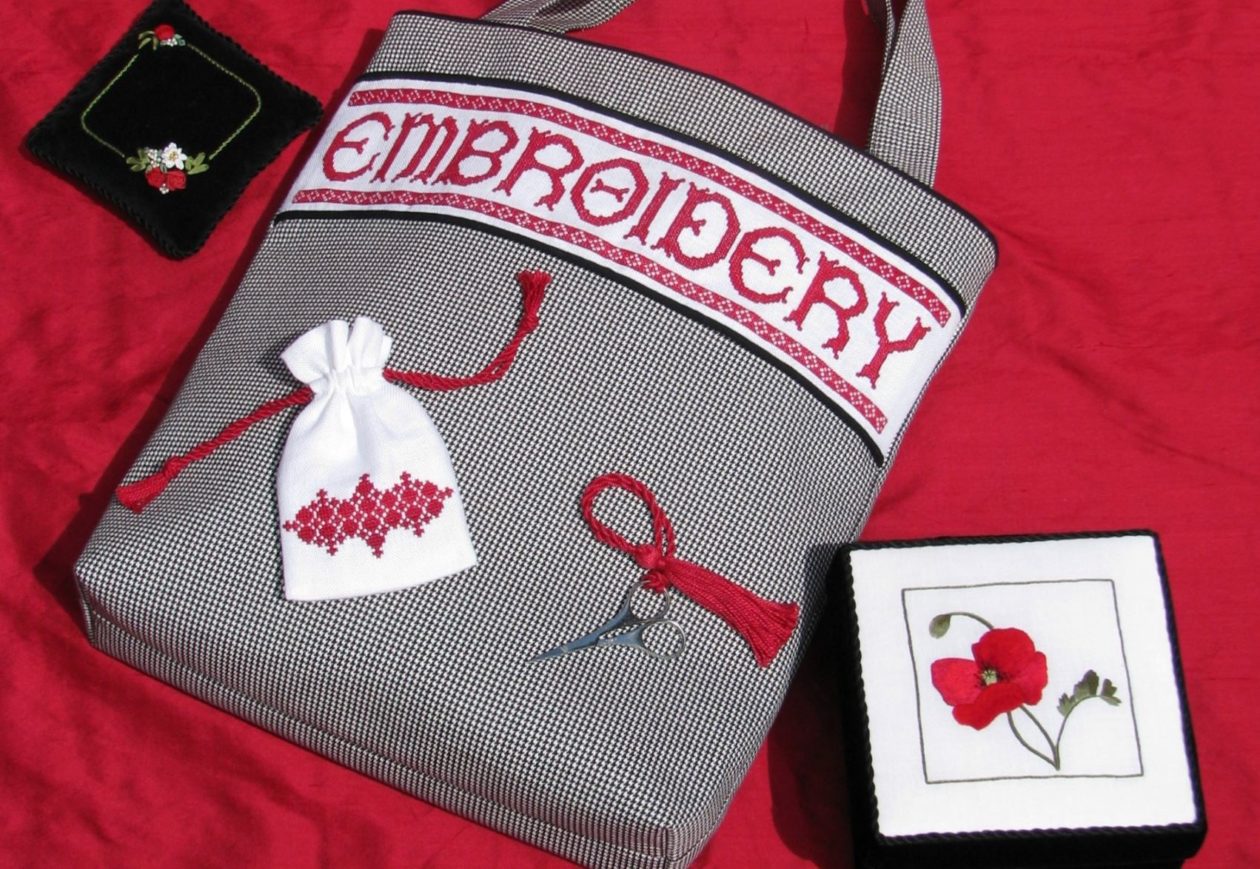 Are your beautiful embroideries languishing in a drawer awaiting a trip to the finisher? Finishing the embroidery yourself gives you complete control over the end product and could be less expensive than using professional finishing services. This course teaches a variety of skills needed to assemble embroideries into their final form.
Thank Goodness It's Finished text is thoroughly illustrated with clear drawings as well as written directions. Once the student has finished the items in the course, the same techniques can be applied to similar items.
Online Classes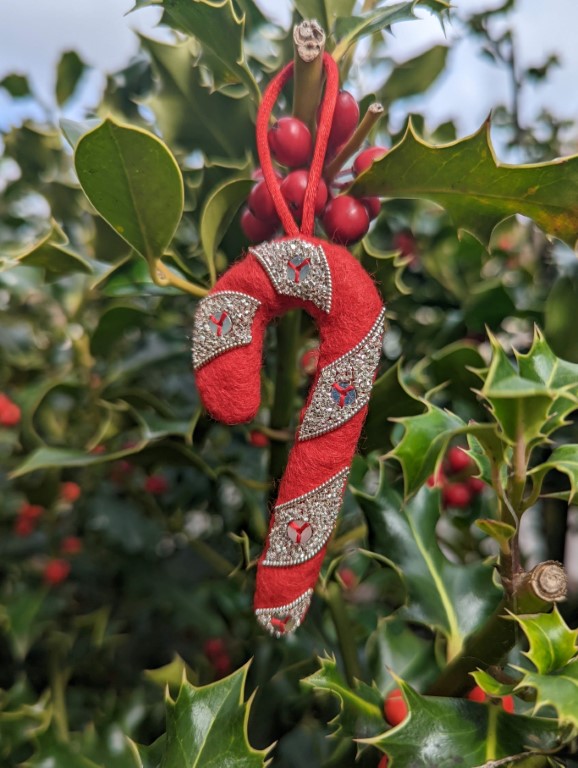 In Candy Cane Christmas Decoration with Emma Broughton you will make a delightful 3D Felt and Goldwork candy cane Christmas decoration with stuffing to give it a realistic look. The techniques you will use to embroider the candy cane stripes include Pearl purl, Spangles, Chipping and Ladder stitch.
Registration: August 3 – September 7, 2022. Class Schedule: November 2-16, 2022.
---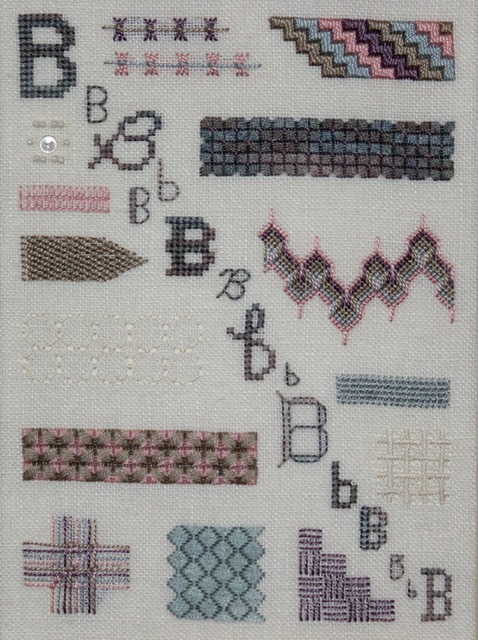 In our online class B Sampler you will stitch a sampler of stitches containing the letter B in the title.
The student will learn the following stitches: Butterfly Chain, Balloon Satin, Byzantine, Battlement Couching, Basket Filling, Buttonhole, Bokhara Couching, Brick, pulled Ringed Back, pulled Open Basket, Running Backstitch and Cross Stitch.
Registration: September 7 – October 5, 2022. Class schedule: January 4 – February 1, 2023.
---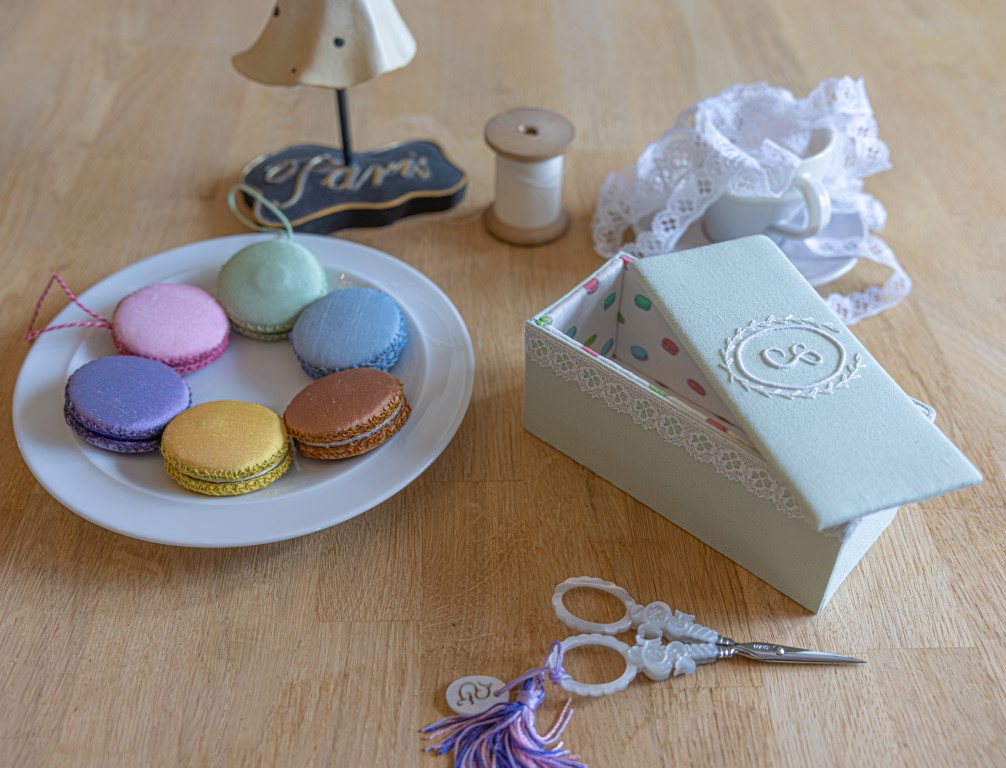 In Box Making: Parisian Patisserie by Sarah de Rousset-Hall you will create a beautiful embroidered box, reminiscent of the beautiful boxes seen in the patisseries of Paris, containing all sorts of delicate treats.
The outside of the box is covered in an Eau de Nil coloured cotton, with embroidered monogram on the lid (you will be able to choose your letter) and Appliqued Nottingham lace around the top edge.
Registration: October 5 – November 2, 2022. Class schedule: January 4 – February 1, 2023.
These classes and projects were featured in our September 2022 issue of Needle Arts.