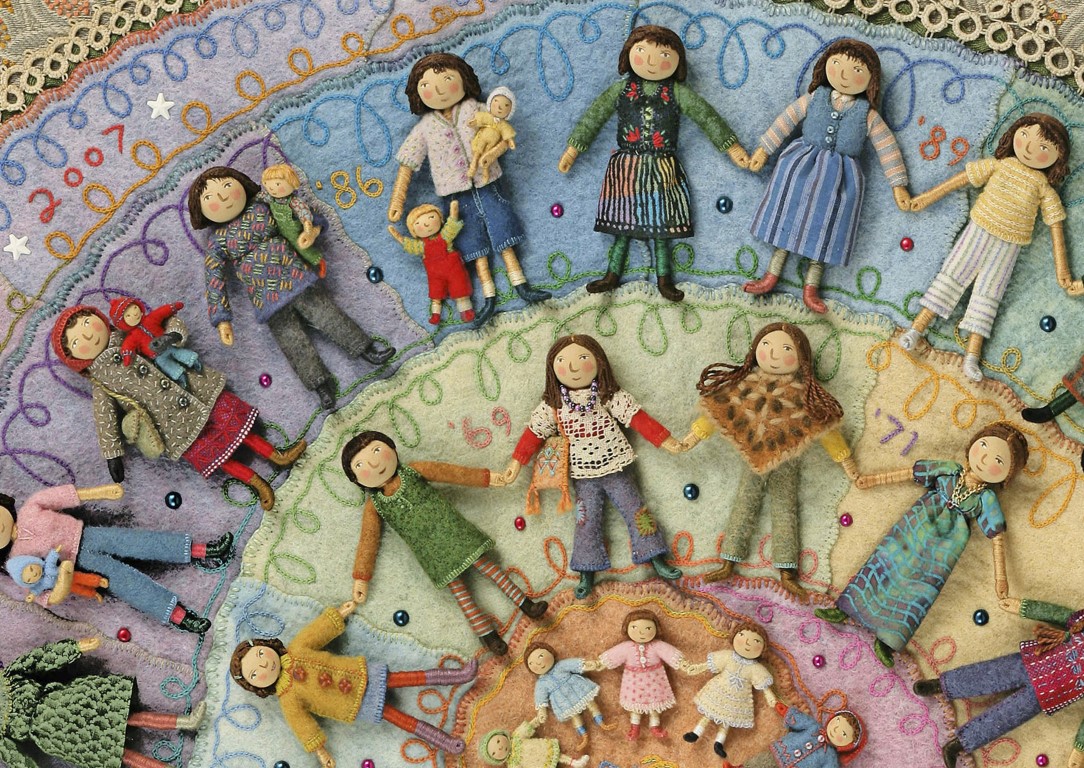 Did you miss our virtual lecture with Salley Mavor? Good news, registration is now open for instant access to the recording of her lecture: Making My Bed: Creating imaginative worlds with 3D embroidery! Here's your chance to catch up with this exciting lecture if you missed it live. Upon registration you will be able to access the video from the lecture page under Course Content through October 20, 2023. Also, don't miss our interview with Salley with spectacular pictures of her work here.
About this lecture: Artist Salley Mavor will talk about her 40+ year career creating imaginative worlds with 3-dimensional embroidery. The presentation will cover a wide range of artistic adventures, from illustration to doll-making to stop-motion animation, all done in her signature hand-stitched style. This is an opportunity to take a behind the scenes peek at Ms. Mavor's innovative process, which incorporates embroidery, fabric, and found objects.
Award-winning artist Salley Mavor has spent 4 decades developing her signature style and working methods, carving out her own niche within the children's book world and the fiber art community. Her three-dimensional embroidered scenes have been used as children's book illustrations, social commentary and stop-motion animation. As an illustration student at the Rhode Island School of Design in the 1970's, Salley left traditional mediums behind, preferring to communicate her ideas with sculptural needlework. Salley has illustrated 11 picture books using her distinctive blend of materials and hand-stitching techniques, including Pocketful of Posies, which won the 2011 Boston Globe-Horn Book Award and the 2011 Golden Kite Award. Her popular how-to book, Felt Wee Folk is in its 2nd edition, inspiring creativity in all ages. The picture book, My Bed: Enchanting Ways to Fall Asleep around the World is her most recent publication. She works in her home studio in Falmouth, Massachusetts.
More Virtual Lectures
Recording Now Available: Elizabethan Embroidery And The Trevelyon Miscellany Of 1608 with Kathy Andrews — Thomas Trevelyon, a London craftsman of whom little is known, created his miscellany in 1608 when he was about 60 years old. Join Kathy Andrews for a brief overview of the concept of a miscellany. We will see a facsimile of the Miscellany and explore the embroidery designs within. Participants will see both period and current examples of embroidered pieces whose designs are inspired/taken from the Miscellany. Live Lecture Date: Saturday, March 11, 2023 1PM Eastern Live Lecture Registration: February 16 – March 9, 2023 1PM Eastern. Register today!
Recording Now Available: A Journey into Tibet's Sacred Textile Art with Leslie Rinchen-Wongmo — A California woman traveled to the seat of the Tibetan government-in-exile in India to manage an economic development fund. In a twist of fate, she ended up sewing pictures of buddhas instead. She ultimately learned that a path is made by walking it, and some of the best paths are made by walking off course. Get access to the recording!
Coming Soon: Bojagi, Stitching and Wrapping Happiness with Youngmin Lee — Bojagi (Korean Wrapping Cloths) are pieced together from small scraps of cloth. It is the most unique form of Korean textile art. Bojagi occupied a prominent place in the daily lives of Koreans of all classes. They were used to wrap or carry everything from precious ritual objects to everyday clothes and common household goods and also to cover food. It is also strikingly contemporary: the designs and colors of bojagi remind one of the works of modern abstract artists. Bojagi can be described as a true form of abstract expressionism. Youngmin Lee will talk about bojagi during this lecture and show her bojagi works after the lecture. Live Lecture Date: Saturday May 20, 2023 1PM Eastern Live Lecture Registration: April 28 – May 18, 2023 1PM Eastern Sign up for a reminder!
Coming Soon: How to Research an Antique Sampler with Cindy Steinhoff — An antique sampler reveals some of its physical characteristics and often some information about the girl who stitched it, but what else can it tell us? Cynthia Shank Steinhoff will discuss how she learns more about the samplers she collects and researches. The result is a full documentation of a sampler's appearance and history. Many of the characteristics that she identifies for older samplers can be used to provide a full description of a needlework piece made today. Live Lecture Date: Sunday, June 11, 2023 1PM Eastern Live Lecture Registration: May 21 – June 9, 2023 1PM Eastern. Sign up for a reminder!
Coming Soon: The History and Mysteries of the Bayeux Tapestry with Christine Crawford-Oppenheimer — The Bayeux Tapestry (actually, an embroidery) is a fascinating example of eleventh century needlework. This talk discusses its history, both the history depicted on the Tapestry and the history of the Tapestry over the almost 1000 years of its existence, including a few narrow escapes. Mysteries of the tapestry include questions about what some scenes depict (the Latin phrases on the cloth are sometimes very inadequate) and who commissioned, designed, and embroidered it. You'll also learn about the stitch used for most of the embroidery, the Bayeux stitch, and how to do it. Attendees will receive bibliography that lists several books about the Tapestry and some needlework shops that sell kits for reproductions of some scenes. Live Lecture Date: Saturday, July 8, 2023 1PM Eastern Live Lecture Registration: June 16-July 6, 2023 1PM Eastern. Sign up for a reminder!