Get Started
This course is currently closed
Access to the recording for this lecture ended on August 11, 2023.
A Journey into Tibet's Sacred Textile Art
Lecturer: Leslie Rinchen-Wongmo
Live Lecture Date: Saturday, February 11, 2023 1PM Eastern
Recording Registration Ends: August 2023
Recording access ended: August 11, 2023
A California woman traveled to the seat of the Tibetan government-in-exile in India to manage an economic development fund. In a twist of fate, she ended up sewing pictures of buddhas instead. She ultimately learned that a path is made by walking it, and some of the best paths are made by walking off course.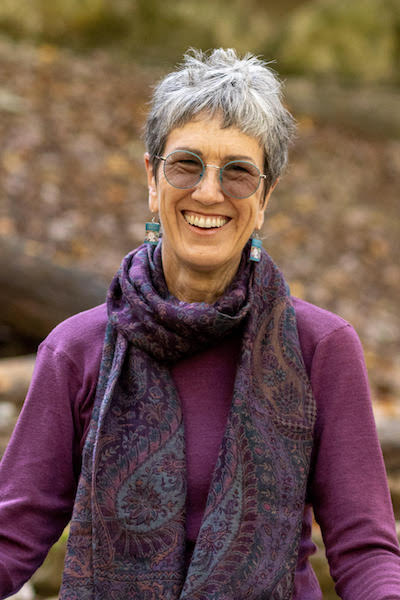 Leslie Rinchen-Wongmo is an American textile artist, teacher, and author of Threads of Awakening: An American Woman's Journey into Tibet's Sacred Textile Art. After attaining masters degrees in urban planning and management from UCLA, curiosity carried her from California to India, where she became one of few non-Tibetans to master the Buddhist art of silk appliqué thangka. Trained by two of the finest living Tibetan appliqué artists, she stitches bits of silk into elaborate figurative mosaics that bring the transformative images of Buddhist meditation to life.
The documentary film, Creating Buddhas: The Making and Meaning of Fabric Thangkas, focused on her work and the tradition it springs from. Her silk thangkas have been exhibited internationally in museums and Dharma centers. Her artwork and writing have been featured in magazines such as Spirituality & Health, Buddhistdoor Global, FiberArts, and Fiber Art Now. Spurred by her commitment to the preservation and evolution of the art form, she developed the Stitching Buddhas® Virtual Apprentice Program, a teaching program that bridges East and West, traditional and contemporary, as it transmits the techniques and blessings of Tibetan appliqué art to students around the globe.
Recognized by her bright smile, Leslie Rinchen-Wongmo has long felt that joy is her greatest gift to give. She calls her work "Threads of Awakening" and encourages people to follow the threads of connection and joy in their own lives. After two decades abroad, she returned to southern California where she now lives near the beach with three cats and enough fabric to last several lifetimes, but never enough for the next project. Learn more, buy the book, and view the artwork at threadsofawakening.com.