We have compiled a selection of embroidered flower pieces from our Permanent Collection,  exhibits and more that are all about the beauty and colors of Spring. Take a look at the pieces and statements by the artists, be inspired and share this post with other lovers of embroidery.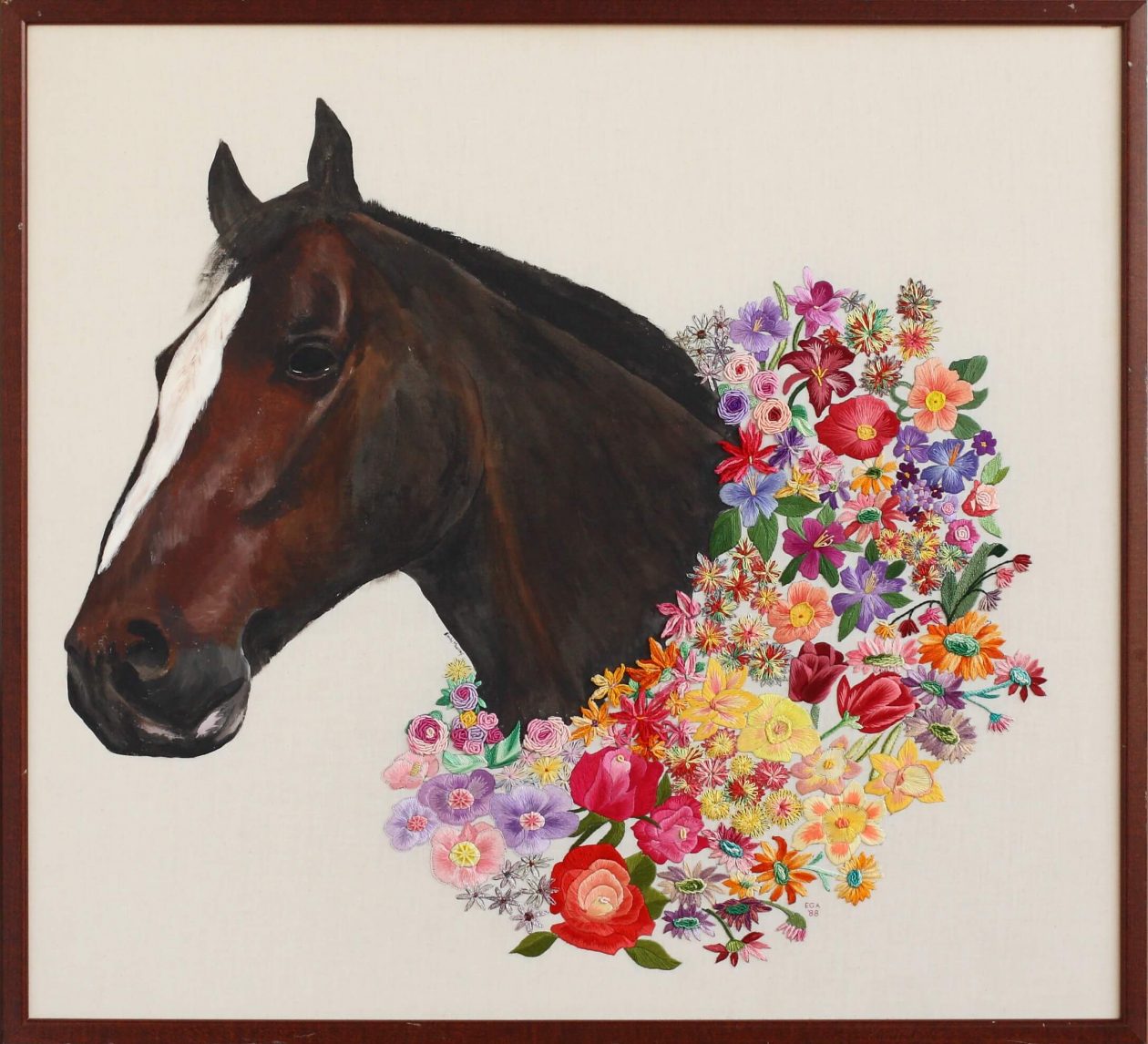 A Winner, depicting a horse head painted on muslin by Emily Murray with floral embroidered wreath around its neck embroidered in a variety of surface embroidery techniques including bullion, chain, satin, needleweaving, etc, completed by Dorothy Goldstick. The piece was placed in a frame located in the lobby of the Hyatt during Seminar '88 in Louisville, KY, where all in attendance were invited to stop by and stitch on it. 1988-1989. Take a closer look in our Permanent Collection Gallery.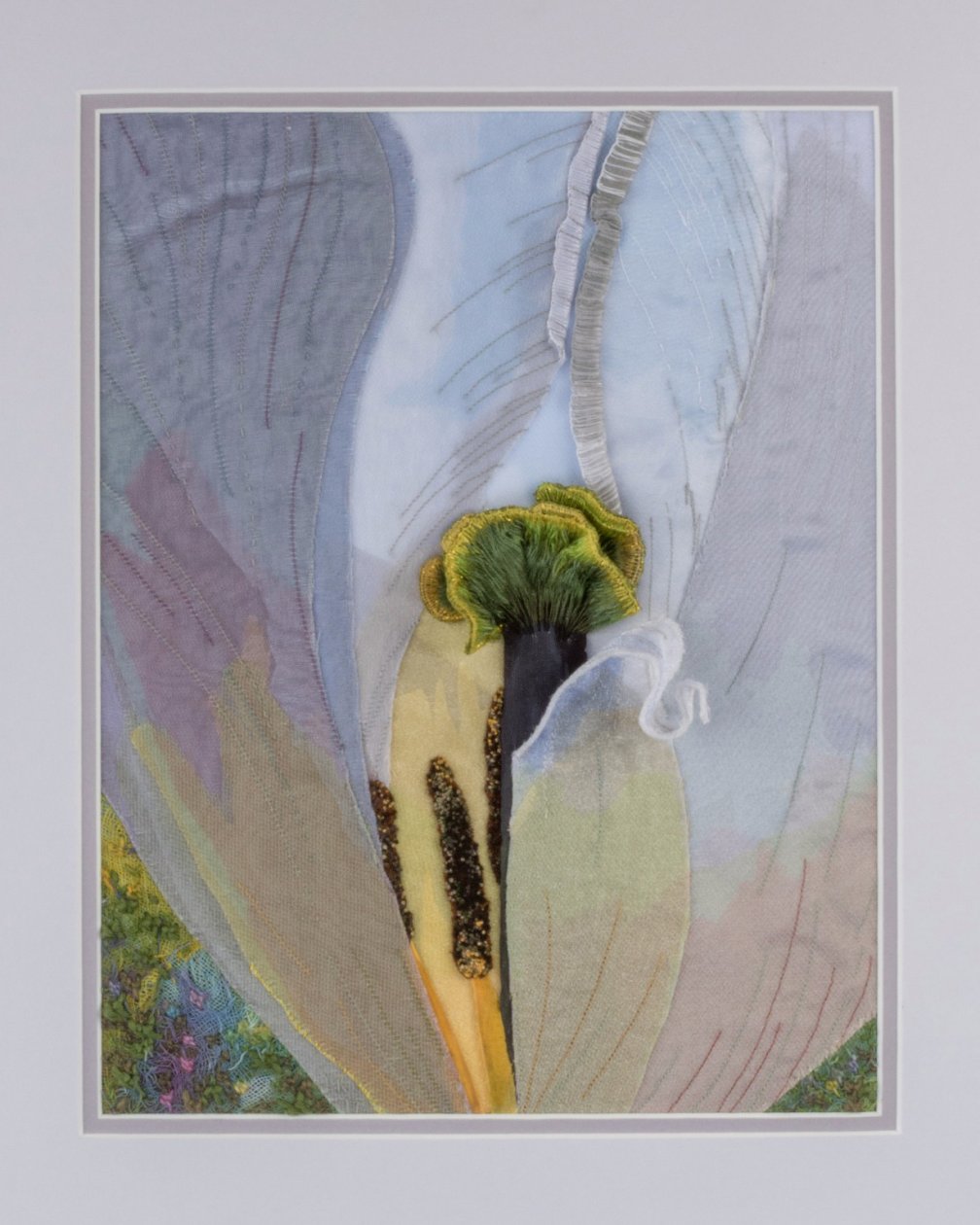 Emperor Tulip by Florance Kochenberger, a member of our Red Rose Chapter, and photographed by Paul Jacobs of Paul Jacobs Photography. The artist says: "Emperor tulip petals, each a unique sandwich of colored chiffons, tulles and organzas, reveal shadows, the reflections of azure sky above and colorful spring plantings below this striking tulip variety. The detached, wired tip of the fore petal curls back to reveal a softly shaded, detached, and ruffled stigma. Single ply French knot anthers stand atop hand painted filaments. In the background, hand dyed scrim is enlivened with Sorbello stitches in a variety of fiber weights and textures." This piece is currently being exhibited as part of our National Exhibit, learn more here.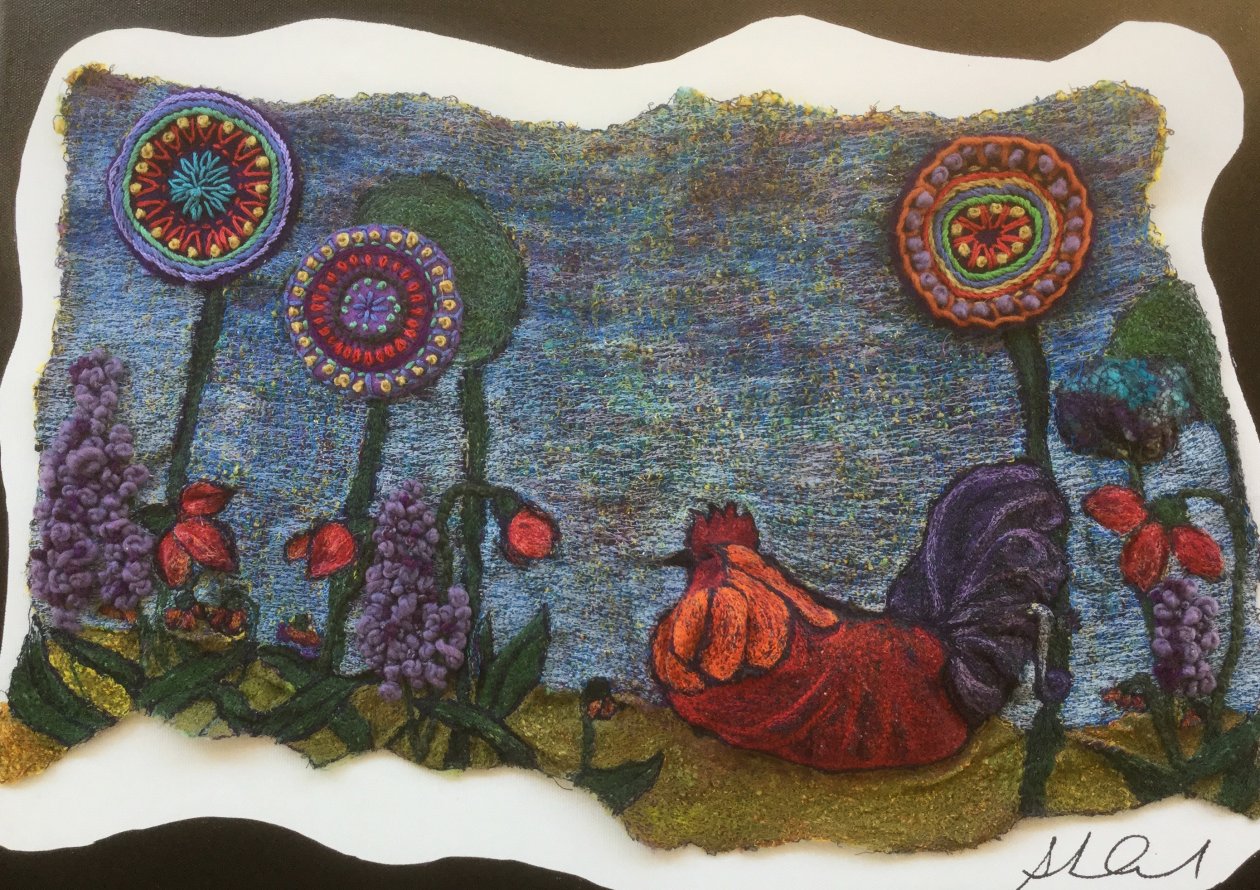 Why is There a Rooster in my Garden? by Sharon Ahmed, a member of our Dogwood Chapter. The artist says: "My garden is my sanctuary and where I find emotional peace. How do we react to unexpected events that disturb our peace of mind? Often, we see unexpected change as disruptive and try so hard to ignore the rooster in the garden. Is it being passive to accept the rooster? What is the balance of social activism and inner peace? Gandhi was able to be both at peace and be socially active, can I?"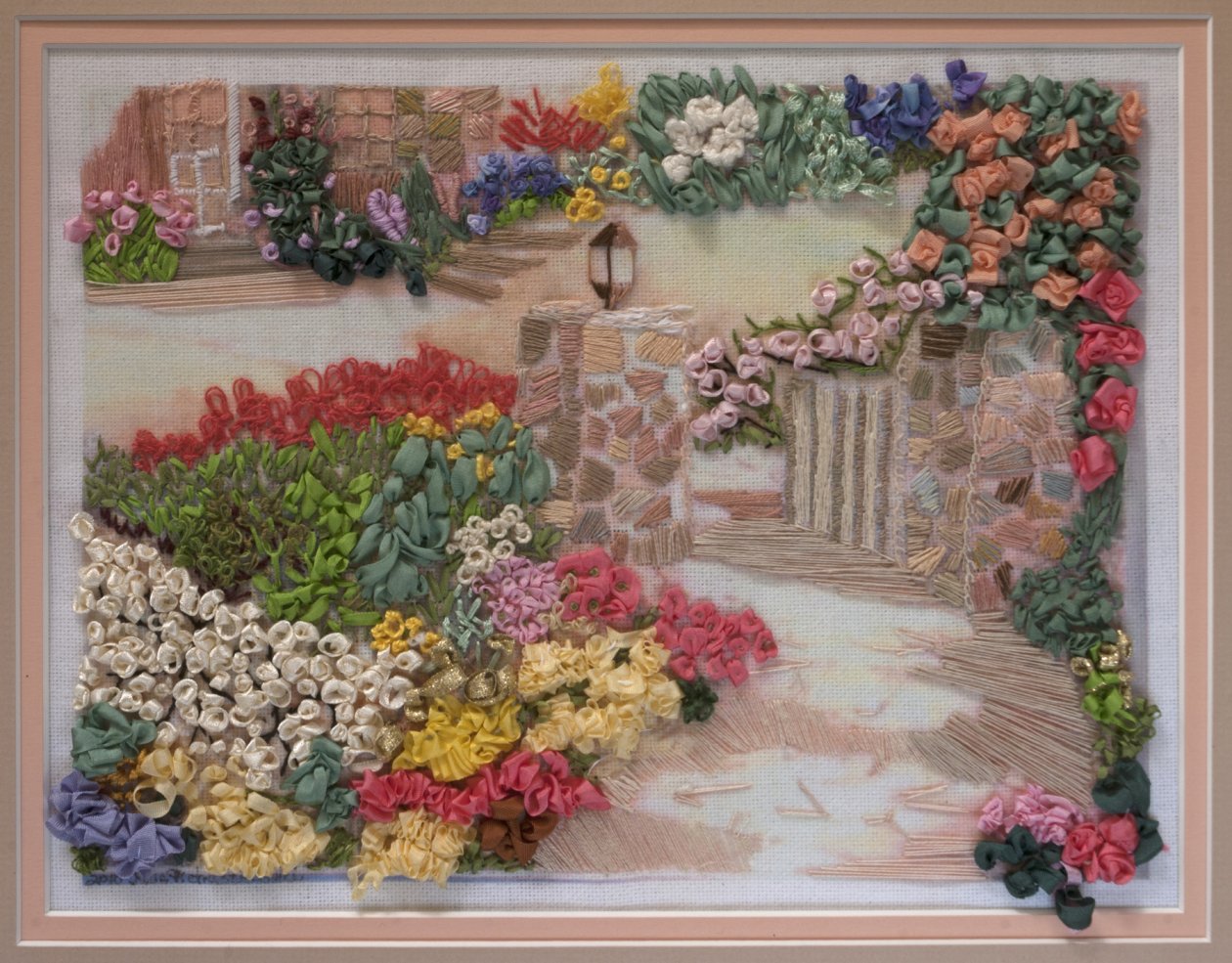 English Garden by Julia Pietruszewski, a member of our Cardinal Chapter, is a silk ribbon embroidery based on a picture she took in the countryside in Manchester, England. The artist used Photoshop and an inkjet printer to create the image on canvas and then embellished it with silk threads and ribbons. See more pieces from our National Exhibit.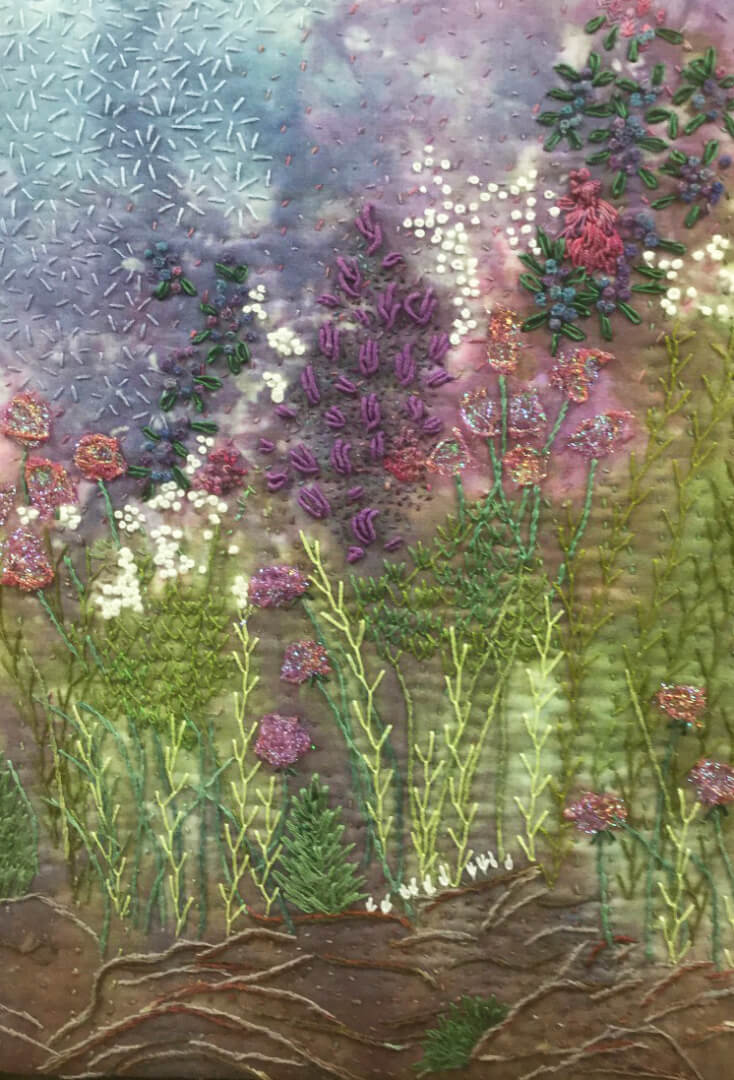 Secret Garden by Nancy Cook, member of our Charlotte Chapter, and photographed by Michael Kearney. This was an experiment with extemporaneous stitching on a dyed fabric by responding to the colors and values in the fabric. Using different colors and weights of threads including over-dyed floss, the artist used a variety of stitches to covey different elements of the landscape of this private garden. The work was completed in June 2016. See the complete piece in our Fiber Forum Gallery.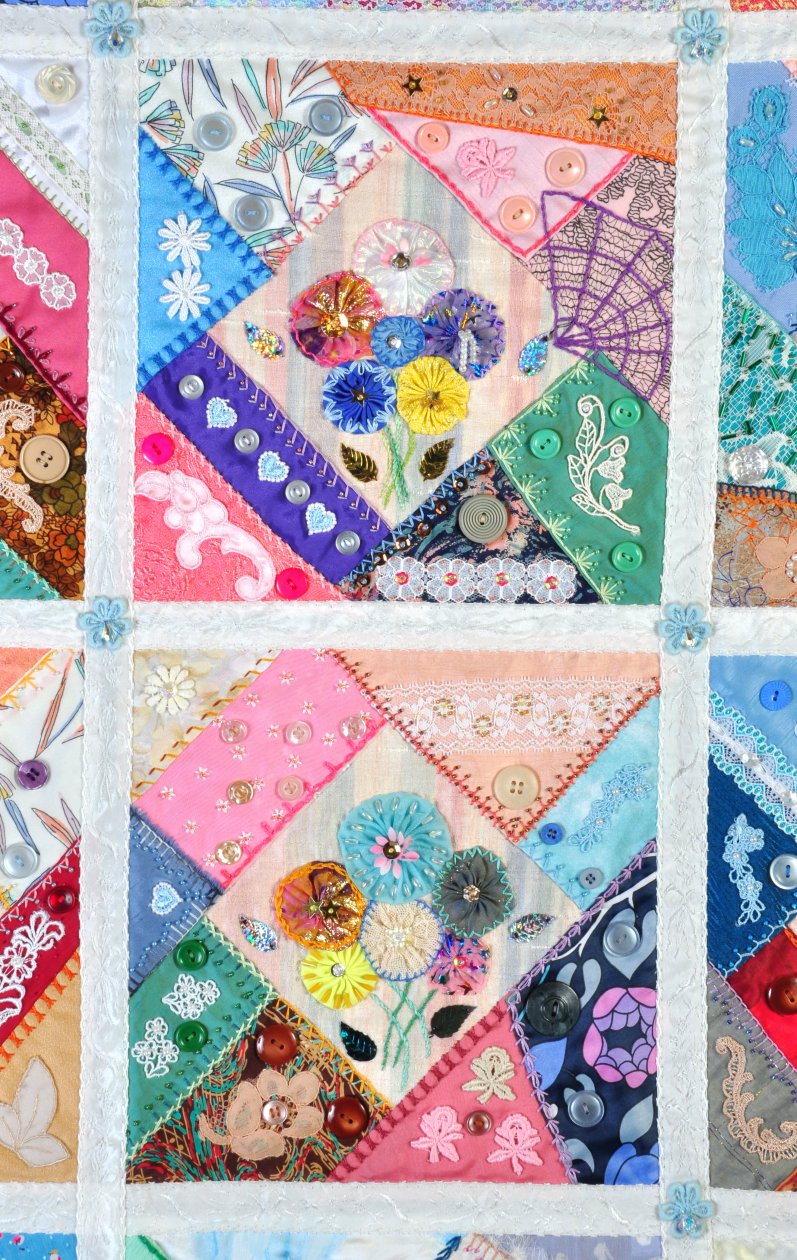 Memories 2 by Yvonne Line. On this piece, the artist used her fabric collection, laces, ribbons, buttons, beads and thread and the memories they evoke from years of sewing, dance, sports, costumes, weddings and family. See the complete piece in our National Exhibit Gallery.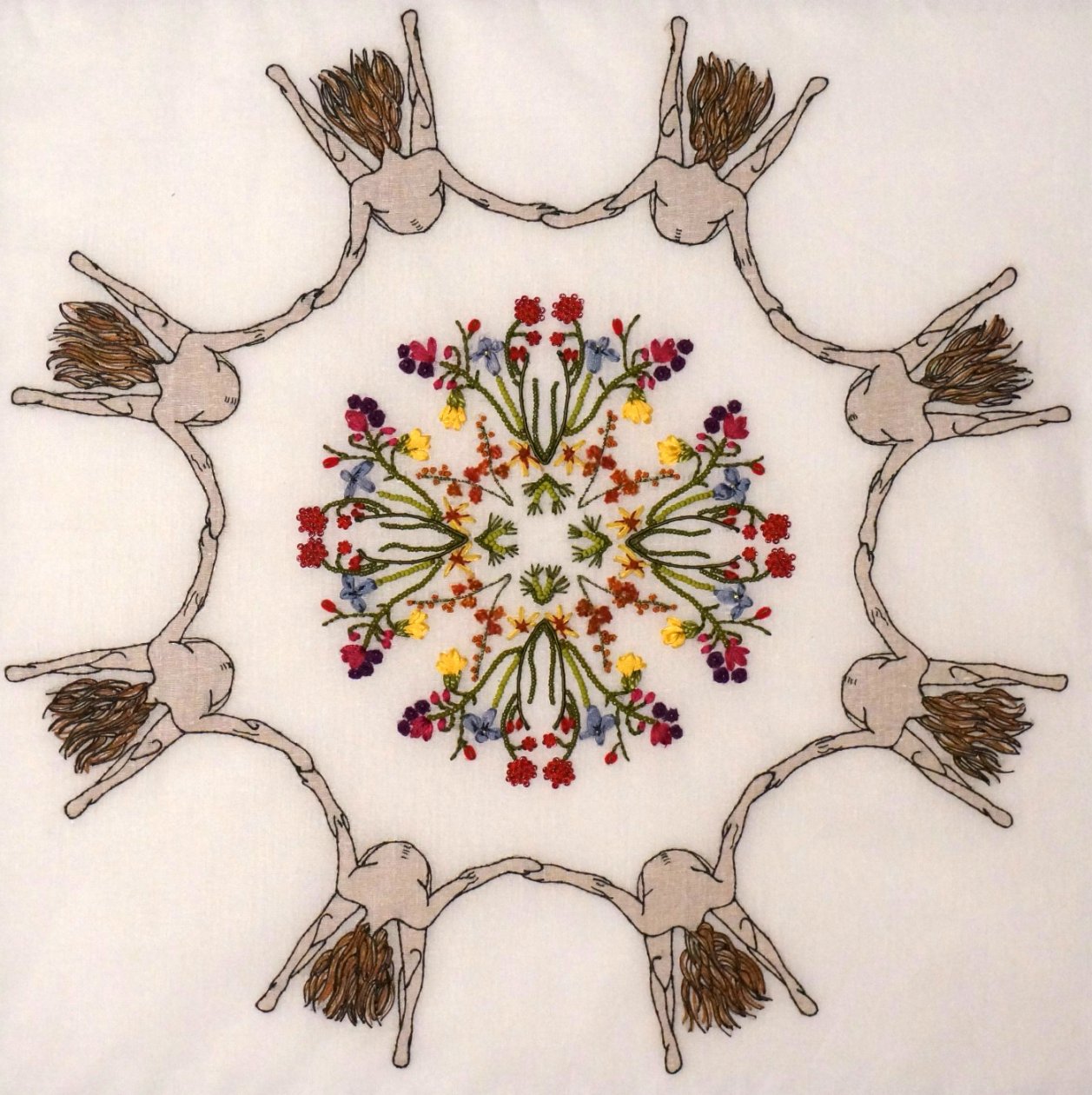 Hope by Marilu Morency, a member from our Mountain View Chapter in Santa Ana, California, began as a drawing rendered to portray figures bowing in grief with the message of hope represented by central flowers. This stitched piece then began with the creation of a ring of felted 'paper dolls,' applied to underside of sheer fabric. This variation of shadow appliqué provided the base for further embellishment using couching for the figures and hair. Bead and ribbon embroidery, woven wheels, and velvet stitch are among stitches used for flowers. This work was completed in 2016. See a close-up of this piece in our Fiber Forum Gallery.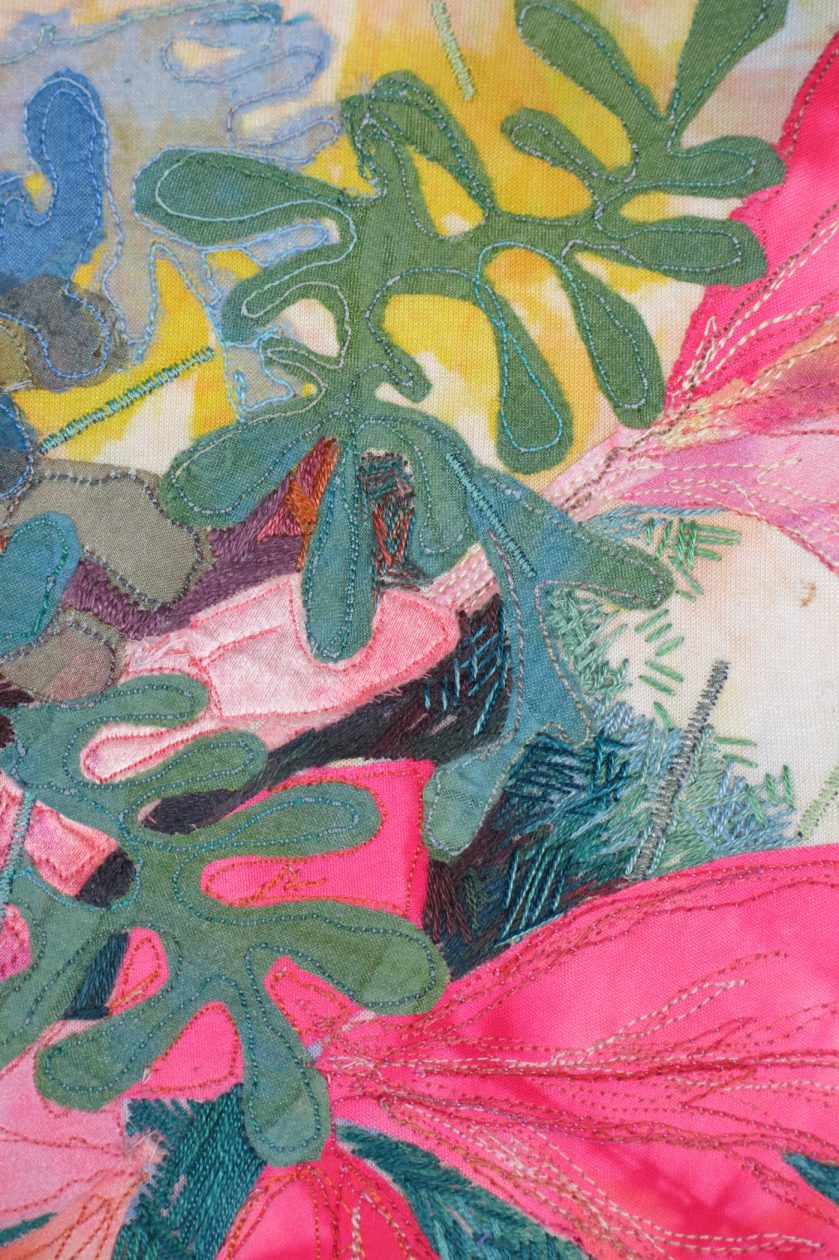 Rue and Peony Leaves by Karen Schueler, a member of our Brandywine Chapter. The artist employed intricately shaped appliqués with machine drawing, hand-dyed fabric, and paper to convey the fall colors and shapes of 'Rue and Peony Leaves'. Through embroidery, the artist was able to create shapes out of the void, to enliven shadows, and to send vapors of color into the air using facets of filling stitches. Machine satin stitch provided some geometric structure plus hints of other plants and shapes in the garden. This work was completed in September 2015. See the complete piece in our Fiber Forum Gallery.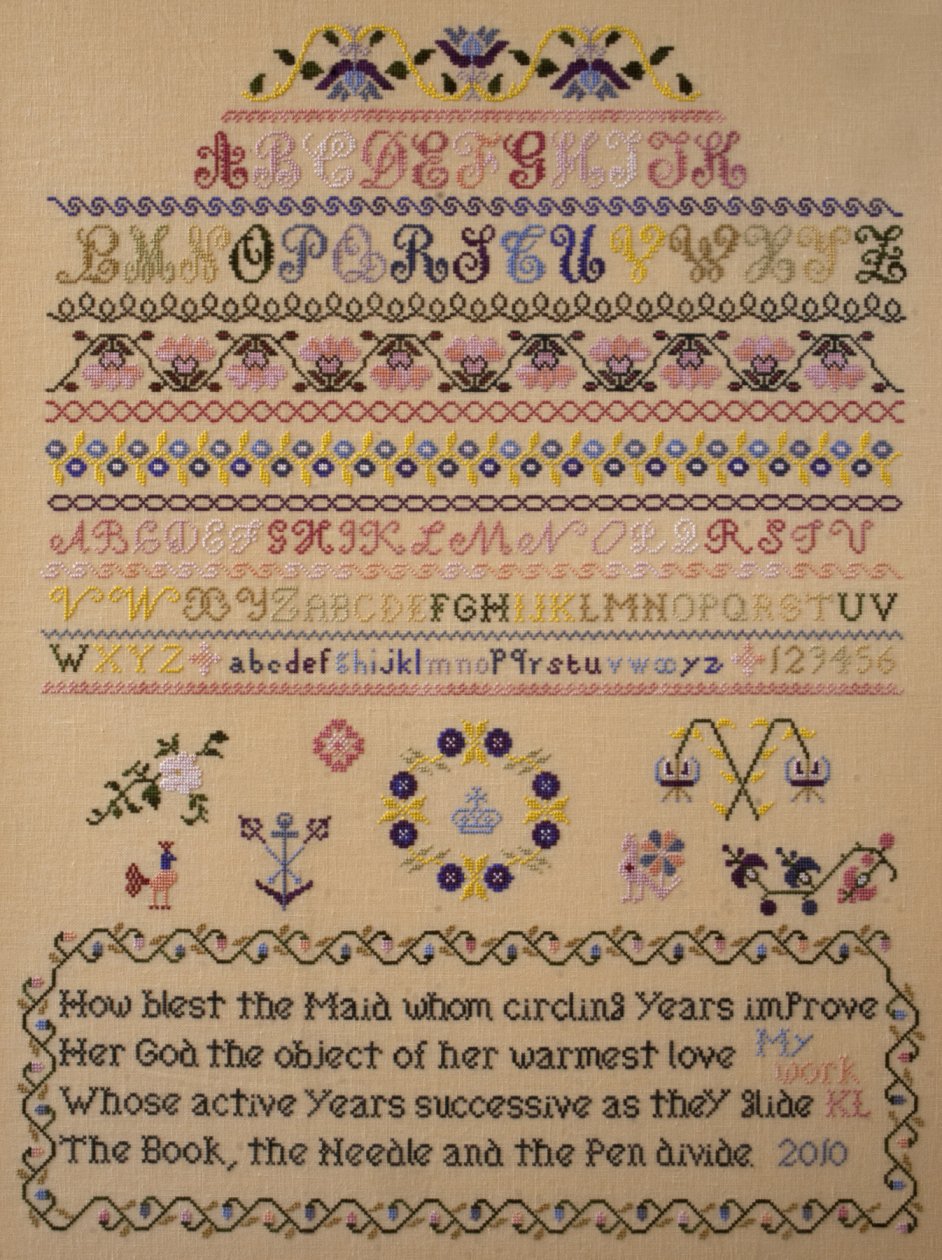 How Blest The Maid by Kathleen Littleton, a member of our Waterfall Glen Chapter. This piece is an original cross stitch sampler reminiscent of schoolgirl samplers using bands, borders and motifs of days gone by, measuring a very large 306 stitches wide by 394 stitches high and worked on 32 count Dark Cappuccino linen. The artist says: "It was started in 2010 soon after my husband was diagnosed with stage 4 leukemia and much of it was worked on while with him in the hospital as he underwent a (successful) bone marrow transplant. It brought me peace and joy, color and life while in a very sterile, often fearful environment. The piece was completed in 2012."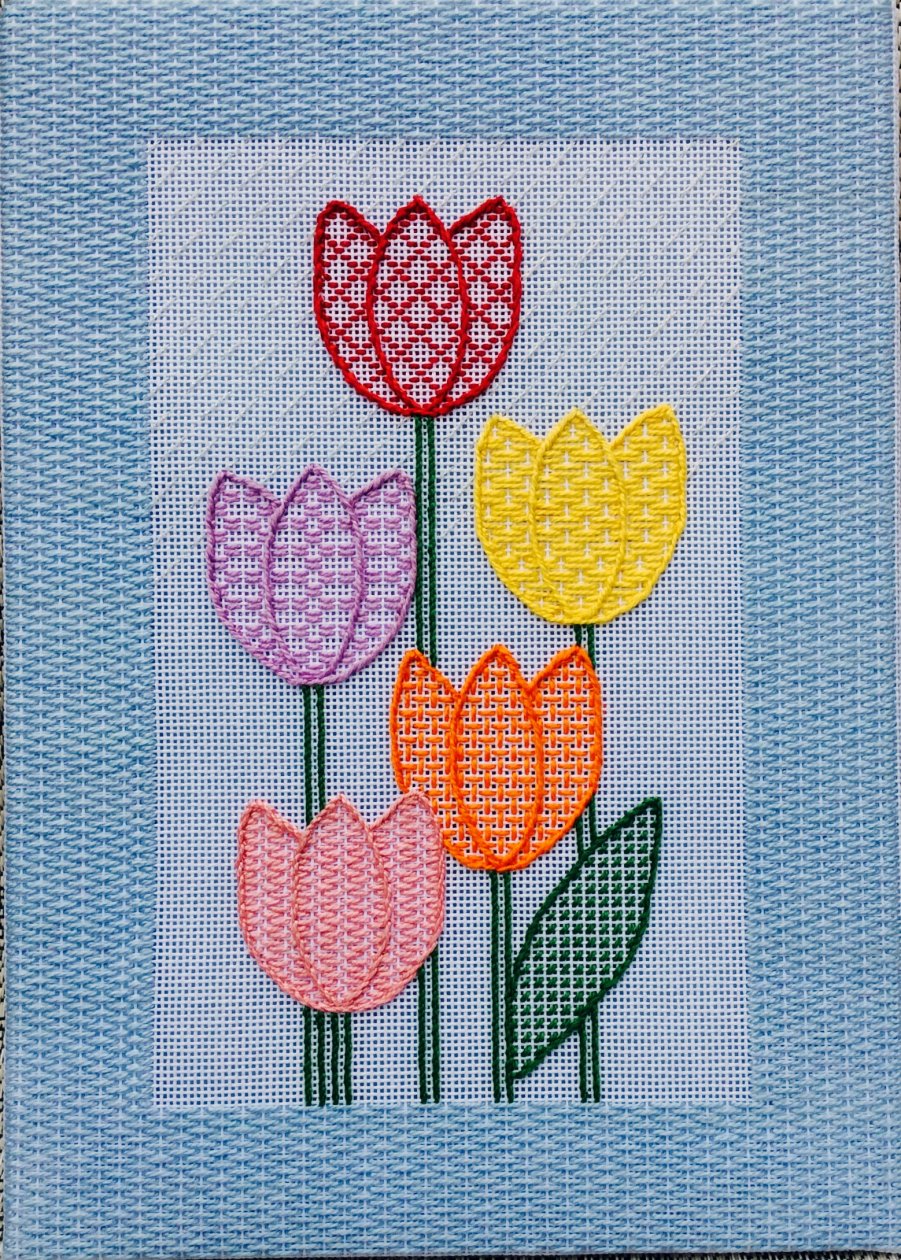 Welcome Spring Tulips in Darning Patterns designed by Marylyn H. Doyle and stitched by EGA Vice President Marnie Graley. This design is currently available for EGA members as a Petite Project. Petite Projects is a collection of over 60 beautiful projects in a wide-range of techniques made available as a benefit to EGA members. Get access to Petite Projects by becoming an EGA member today. Join here!