Our Tennessee Valley Region celebrated Country Rhodes, its 39th Share-a-Stitch seminar, in Charleston, WV, on June 27-30, 2019.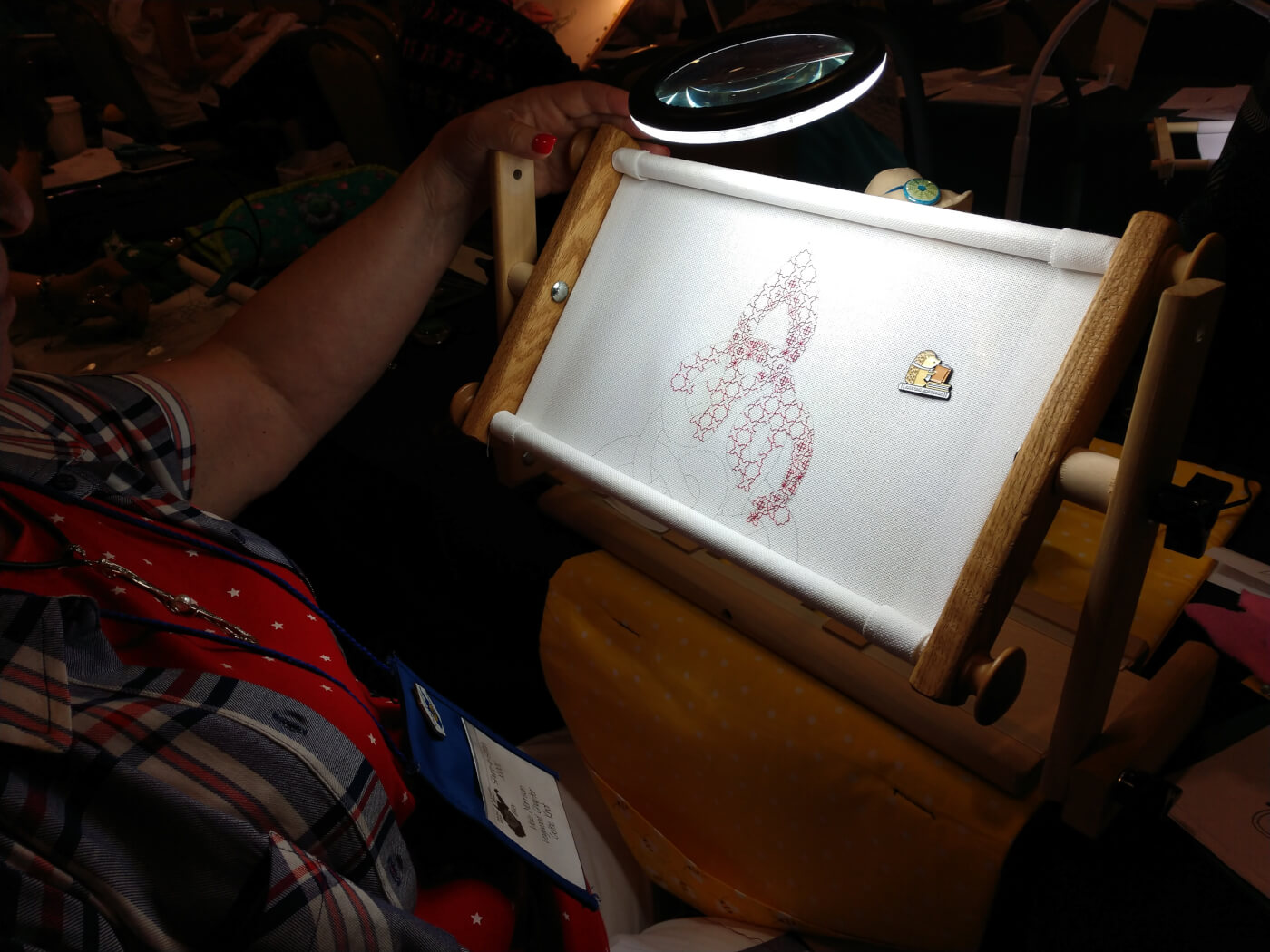 Members participated in six classes, studio time, tours and more.
The weekend kicked off with a talk on Thursday night by Doug Kreinik, of Kreinik Manufacturing. Well-known for their metallic and silk threads, Doug gave an interesting overview of multiple uses for their fibers. Metallic ribbon with a thin wire, weaving with metallic threads, string art, and even fishing line are some of the newer uses for Kreinik. He brought dozens of items to show that used Kreinik fibers in traditional and non-traditional ways.
On Friday morning, 25 attendees made their way to Parkersburg from Charleston to see the family-run Kreinik Manufacturing factory. It was fascinating to see the old machinery still being used, and watch fiber being wound onto cards, spools, and cones. Twenty friendly employees let stitchers move around their work areas and watch the process from start to finish. They are adding another shift in July to help keep up with demand. Of course, the stitchers were happy to make purchases from the onsite retail and outlets stores.
Classes began on Friday afternoon, and continued on through Saturday, and Sunday morning. Everyone reported being very satisfied with their classes, and a lot was accomplished.
Saturday night was the banquet, welcoming national EGA President Janet Noble. Also in attendance were national Vice-President Marnie Graley, past national Presidents Leslie Gagliardi and Gwen Nelson, and past national Vice-President Judy Badger.
Take a look at some photos of the classes and our tour through the Kreinik factory
Related News
See seminars, exhibits and more in our Events Page
EGA National Seminar 2019: Gateway to Stitching
Group Correspondence Course: Beginner's Hardanger with Marion Scoular
Group Correspondence Course: Finishing with Flair with Marion Scoular
We would love to share what your chapter and region are doing! Let us know at news@egausa.org.