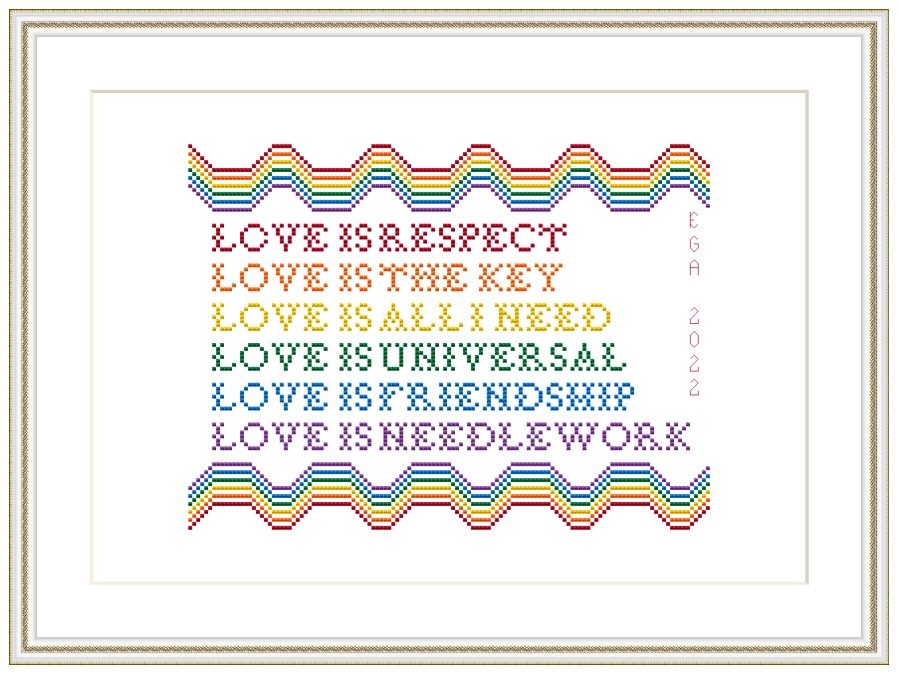 For our June stitch-a-long on Facebook we are stitching a lovely project celebrating a message of love and acceptance. A link to download the project is available below.
Here's a little more about this month's project from stitch-a-long admin Dianne Stauber:
Happy Pride Month, EGA SAL stitchers!!! As a very proud ally, I'm excited to introduce you to my friend Timothy Johnson…the amazing flight attendant known as Stitching Steward. Timothy generously designed this month's SAL: a cross stitch piece that brings us a special message of love, acceptance, and…of course…needlework! Below is a video we shot together while hanging out at the airport. I was hoping I'd be done with the model by now, but life got in the way…and I am not done. 🙂 Maybe you'll beat me to the finish!!
Let's meet Timothy Johnson, the designer behind this month's SAL project. Timothy is an amazing human and I'm proud to call him my friend. He has done such amazing work to help heal trauma, none more evident than his Rainbows for Peace and Comfort project. Here is a special feature video we shot recently when we met up in a place we both love: the airport! 🙂 I hope you'll have fun getting to hear more about Timothy! I hope you'll have fun getting to hear more about Timothy!
Please post pictures in the EGA Stitch-A-Long Facebook group when you're done!
On February's Stitch-a-long post we shared introductions by our new Stitch-a-long admins. If you haven't met them yet, you can learn more about them here.