Registration for our current set of GCC Lightning Rounds ends on May 31! GCC Lightning Rounds are a selection of 5 courses from our Group Correspondence Courses, made available for individual members to register for a limited time.
Lightning Rounds are a great opportunity for Members-At-Large and small EGA chapters that have difficulty filling a larger group in order to take a Group Correspondence Course. They are also an excellent option for a small group of friends wanting to work on one of our courses or chapter members wanting to explore a new technique.
A new selection is announced in Needle Arts every quarter.
Available through May 31!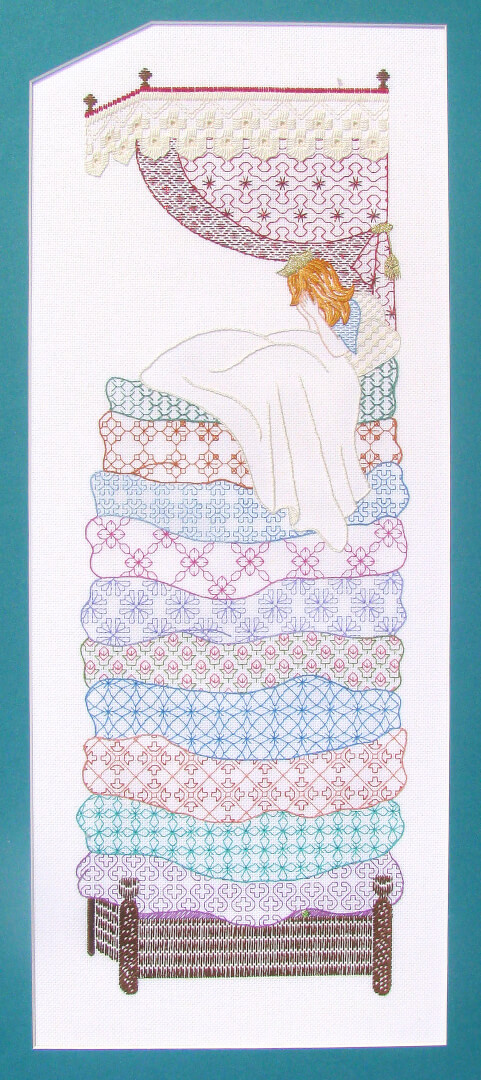 Teacher Marion Scoular's interpretation of the beloved fairy tale includes pattern darning, Blackwork, Hardanger (no cutting!) and a small amount of surface stitchery, all explicitly covered in a 26-page, well-illustrated booklet. To ensure accuracy, the teacher will be supplying the imprinted fabric, with no creases, in a roll.
---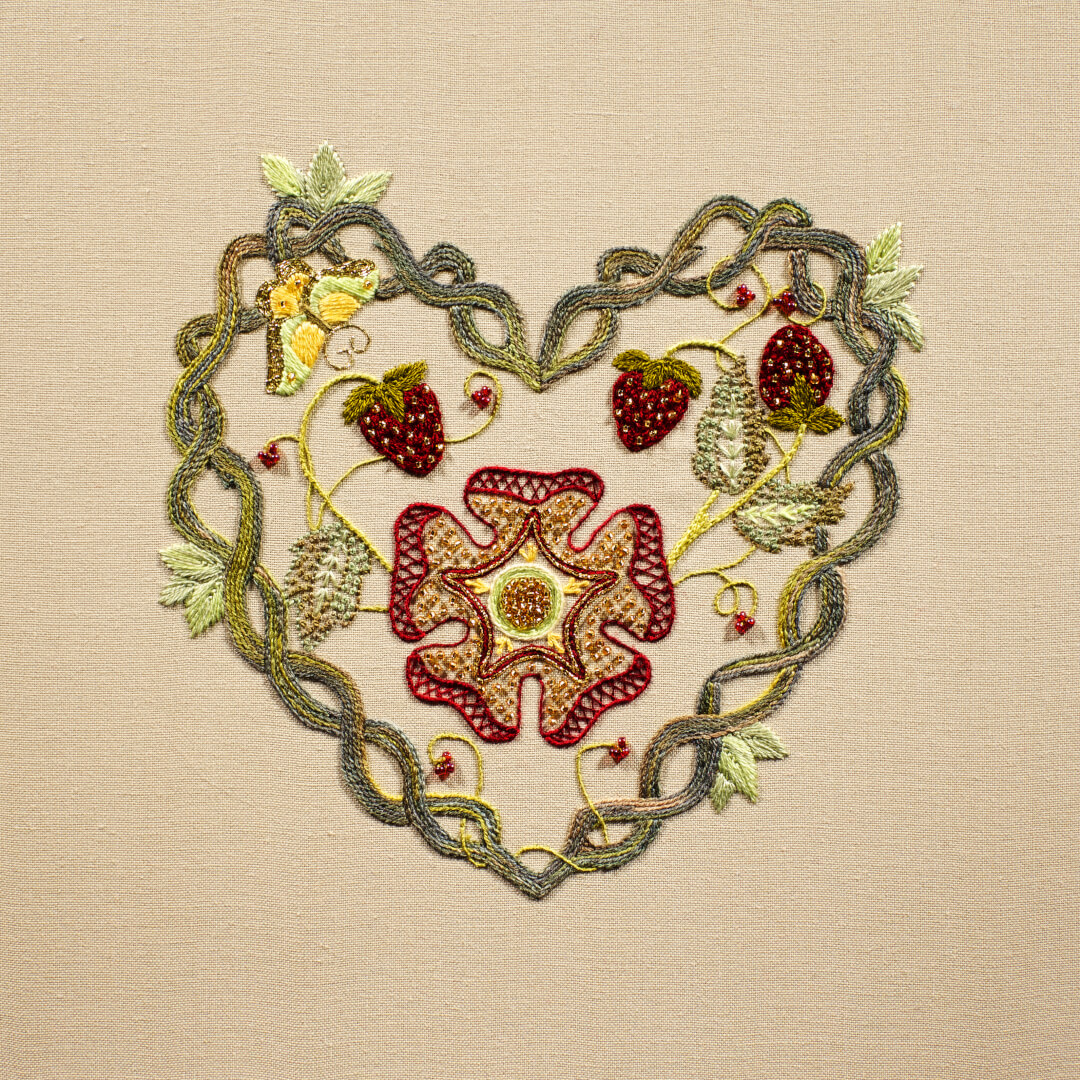 Do you want to improve your stitching? Then this is the correspondence course for you! Perfect your skills while stitching a stunning interlaced heart featuring ripe strawberries and a Tudor rose.
This course provides a lesson on how to prepare the fabric, transfer designs, and set up an embroidery on stretcher bars. Learn how to use variegated hand-dyed threads and try silk, cotton, and metallic threads while stitching the basic surface stitches.
---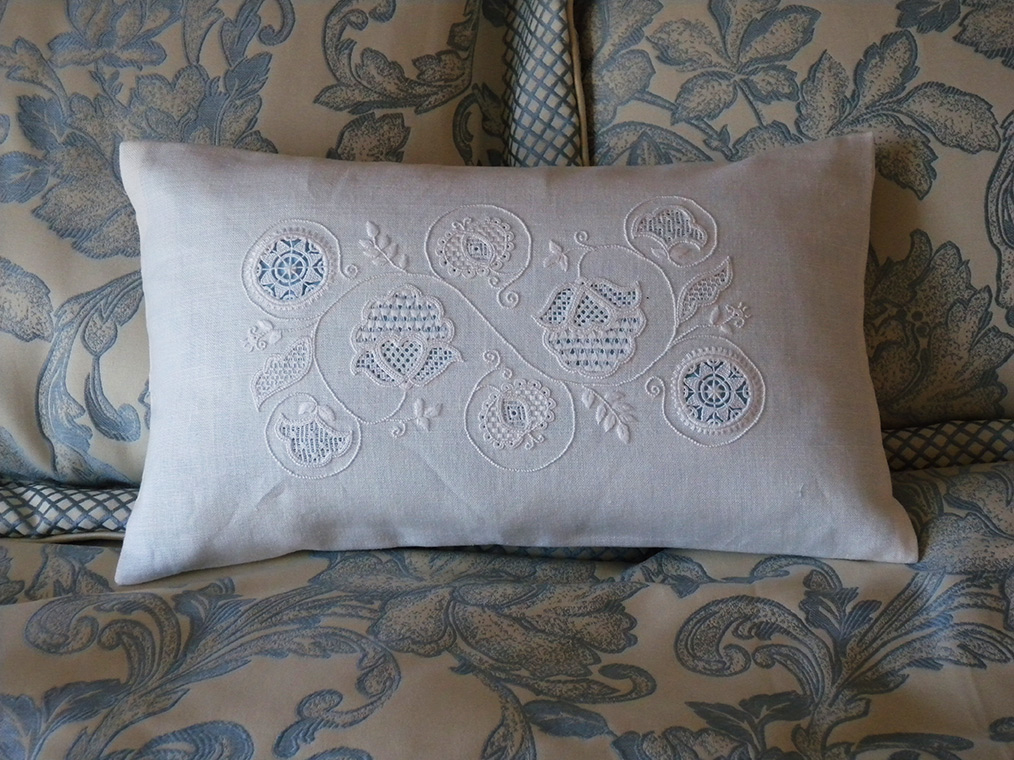 Join Barbara Kershaw in Daydreams, a correspondence course focused on Schwalm embroidery, a beautiful form of German whitework embroidery traditionally worked on an off white evenweave linen with white thread. Techniques include some surface embroidery, drawn threadwork, pulled threadwork and hemstitching. The basic stitches used are coral knot, satin stitch, chain stitch, blanket stitch and four-sided stitch.
---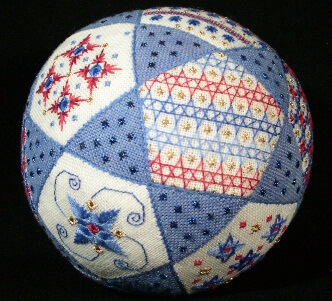 This correspondence course offers the stitcher the opportunity to discover the joy of taking counted thread embroidery into three dimensions by creating a "puzzle ball." The ball is constructed of pentagon and triangle components. The student will experience the art of counted thread embroidery by stitching the components in a variety of counted thread stitches. Some of the stitches are kite eyelet, two-sided insertion stitch, Nova stitch, leviathan star stitch, and many more.
---
Papillon is an introductory correspondence course on filet embroidery. In this 5-lesson course participants will learn briefly about the history of filet work. With needle and thread in hand, students will surround a square with satin and four-sided stitches on 30-count linen. They will then create a new grid by cutting and withdrawing threads and overcasting the remaining threads. They will also learn tips and techniques for cross-stitching a favorite verse over one thread – one of the teacher's favorite verses or a verse of their own.
Online Classes
Registration for our online class Cyclamen with Merrilyn Heazlewood closes on June 1st. On Cyclamen with Merrilyn Heazlewood you will create a decorative tile adorned with bright silk ribbon Cyclamen on all four sides. The decorative tile has over ten counted needlepoint stitches worked with Gumnut Yarns Poppies (50%wool/silk), floss and perle cotton with silver lined clear beads bringing sparkle to the design. Learn more.