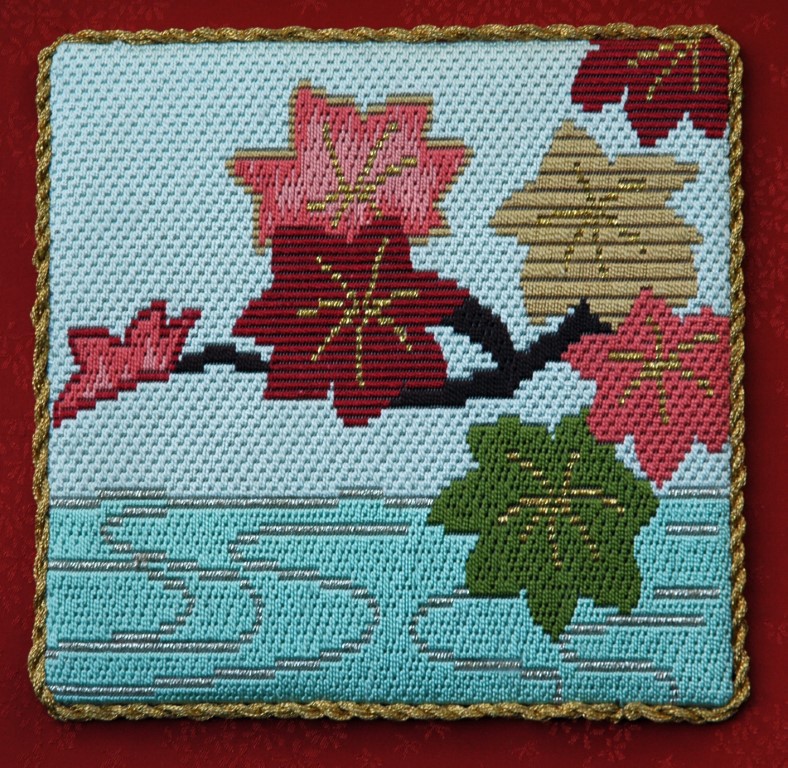 Our Education Department has added a new GCC Encore course to our selection of Group Correspondence Courses. Fall Colors with Margaret Kinsey is a study in traditional Rozashi embroidery. The leaves, the water, the water lines, the sky, background are a study in the stitches that are traditional to Rozashi. All stitches are upright in this technique. Some of the challenges in Rozashi are making points on leaves and curves for the water lines/currents, working the design on a small count ro and maintaining the proper tension on the ro and the silk threads.
Registration for this course is currently available to groups. There is a $175 fee per group, and each student in the group pays $85 for their text and a kit that comes complete with ro attached to frame, all silk and metallic threads, Rozashi needle, sticking paste for finishing, a Japanese needle and a #24 tapestry needle, and instruction booklet with color images.
Gather your favorite stitchers, make a group and sign up! If you are interested in registering for this Group Correspondence Course,  can learn more about the process and download the registration form in our Group Correspondence Course page.
If you are looking for more courses you can register for individually right now, we have 5 great GCC Lightning Rounds available through February 28. These are a selection of courses from our Group Correspondence Courses, made available for individual members to register for a limited time. Every quarter a new selection of courses is announced. See them here!