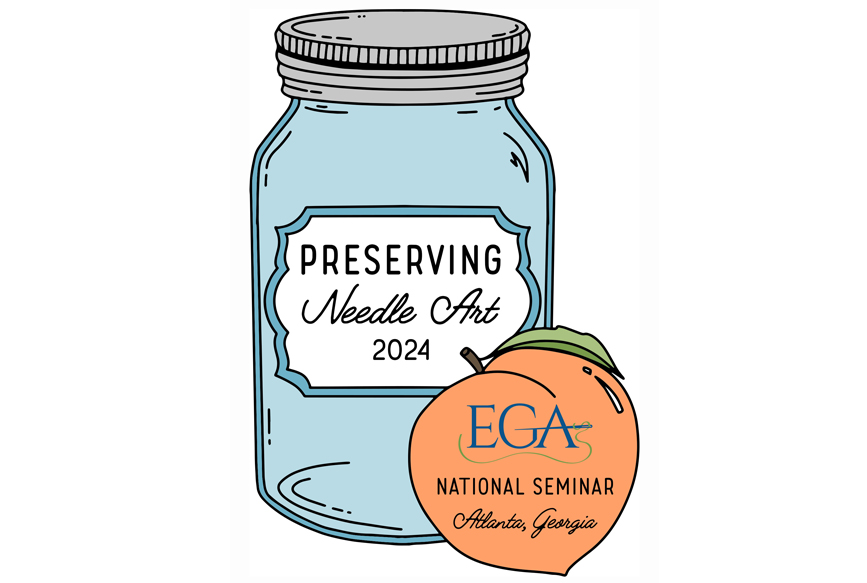 Are you prepared to register for EGA National Seminar 2024: Preserving Needle Art in Atlanta? Here are some tricks and reminders to make sure that you are ready.
Registration will open Tuesday, September 19, 2023 at 12:00 noon EDT. That's just a few days away!
Registration for EGA National Seminar 2024 will take place on a First Come, First Served basis. You will know immediately upon payment if a space is available in the class. If the class has already reached capacity, you have the option of placing yourself on a waitlist for the class. Quite often an opening will occur and you will be notified by EMAIL of the space. There will be a limited amount of time to register for the class, once you are notified, as stated in the email. If you do not register within that time frame, the next person on the wait list will be notified and have the option to register.
More information can be found on the EGA website at https://egausa.org/event/ega-national-seminar-2024/ under First Come, First Served Registration FAQs.
The quickest way to reach the CVENT registration system is to sign up for the reminder that will be emailed to you when it is time to register. One click and you will be there! Visit Seminar Central here to sign up for the reminder.
Be prepared by gathering the following information and having it on hand to speed up the registration process.
Information needed during the registration process includes:
A list of which class(es) you wish to take and color choice, if applicable
The email address which you check regularly that you will use for all Seminar correspondence
Your EGA member number. If you do not already know your member number, it can be found on the cover of your Needle Arts magazine, on the EGA website after logging into the members only section, or you may contact EGA headquarters for assistance.
Remember this is not the only information that will be entered as you register. Seminar registration requires a lot of information in order to provide the experience you want to have, including address information, meal requirements, hotel reservations, reading and understanding EGA's policies related to seminars, as well as your class selections and payment information. All this data collection will take a few moments to complete, but the end result will be worth the effort!
Everyone who registers early between September 19, 2023 and October 18, 2023 will be entered into a drawing for a Halo Bolt (power bank). EGA has a policy of no power cords in classroom because of the trip hazards that can occur. This Halo power bank will power your light and other devices during your class.
Thinking of taking a break between classes? Need time to work on your own project? Studio Time will not be offered at Seminar 2024. Instead, Stitchin' Time may be just the experience you are looking for. Think of Stitchin' Time as a one to five day retreat. You may register for Stitchin' Time at the same time as you register for your classes. Find more information about this exciting new offering here.
We look forward to seeing you in Atlanta!
The photo above shows Class 505: Celebrate with teacher Margaret Bendig.