Get Started
This course is currently closed
Note: This class has ended. This page is only for informational purposes.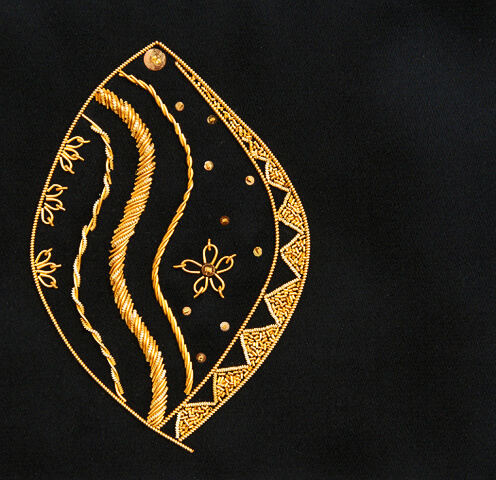 Pathways is an elegant study in Metal Thread embroidery created by Margaret Kinsey. In this class you will create pathways that are bordered with flowers and seed-like effects by using soft wire purls, pearl purl and spangles to complete this wonderful piece.
You will learn to work every day stitches by using metal threads, such as: diagonal satin stitch over waxed cord using smooth and check purls, detached chain to create the small daisy-type flower and half flowers, outline/stem to form interesting highlights in the piece and how to create a pavѐd effect by chipping.
It is a beautiful piece and a fun way to explore metal thread embroidery.
The kit comes complete with all threads, silk/wool fabric, a backing fabric and needles.
Registration is now closed.
Course information
Skill Level: Beginner/intermediate
Design Area: 3 inches W X 4.5 inches High
Overall area: 10 inches X 10 inches
Kit Contents: Pearl purl, smooth purl, check purl, spangles (3 sizes), gold and white silk couching thread, satin faced silk/wool fabric, cotton backing fabric, tissue tape and needles (assorted sizes). The kit is included in the price of the class.
Location: The class will start on this page on November 7. You are welcome to bookmark it for easy access.
Important Dates
Registration starts: September 14
Registration closes: October 12
Classes start: Wednesday November 7 (Lessons posted every Wednesday through December 5.)
About Margaret Kinsey
Margaret Kinsey is an EGA Certified Teacher in Silk and Metal Thread Techniques and continues to have a very distinguished teaching career. She is a certified Japanese Embroidery teacher as well as being the designated Kunimitsu Studio teacher for the U.S. She continues studies in Rozashi with Fumiko Ozaki as well as with the Japanese Embroidery Center in Atlanta.
As a charter member of the Lightning Needles Chapter of the American Needlepoint Guild she has taught at both the national and chapter level for the ANG. Additionally, she has traveled internationally to teach Seminars for Embroiderers Association of Canada, The New Zealand Embroidery Conference in Christchurch as well as having lectured and taught at guild chapters throughout New Zealand.
As a life member of EGA she has served in many positions: Parliamentarian and Education Chair for the Central Florida Chapter, International Embroidery Conference Chair in 2011, 2015 and 2018, and EGA Seminar chair in 2000. She was the 2008 recipient of EGA's Gold Thread Award and has taught extensively at all levels of The Embroiderers' Guild of America.
Margaret has also lectured for Chapters of the EGA, at the 2013 and 2017 Winning Ways Program presented at EGA Seminar, as well as serving as guest lecturer for several museums.
She lives in Deltona, FL with husband Bob.