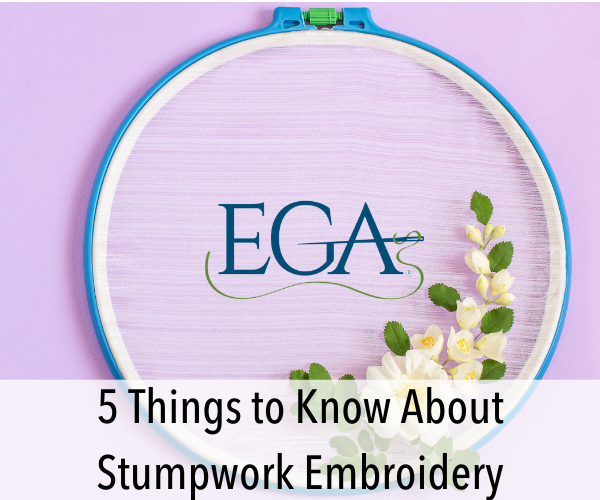 Stumpwork is a style of embroidery that employs different techniques to raise stitches above the canvas, creating three-dimensional embroidery. Stumpwork embroidery is also called raised embroidery for this reason.
Stumpwork embroidery has existed since the 1600s. Despite being over four centuries old, embroidery artists continue finding new ways to use raised stitchwork techniques to create three-dimensional embroidered objects.
The Stumpwork Butterfly, a free EGA project, is a good example of several different Stumpwork techniques. The pattern can be found here. EGA members can easily find this and all other free projects in the Member Publications page.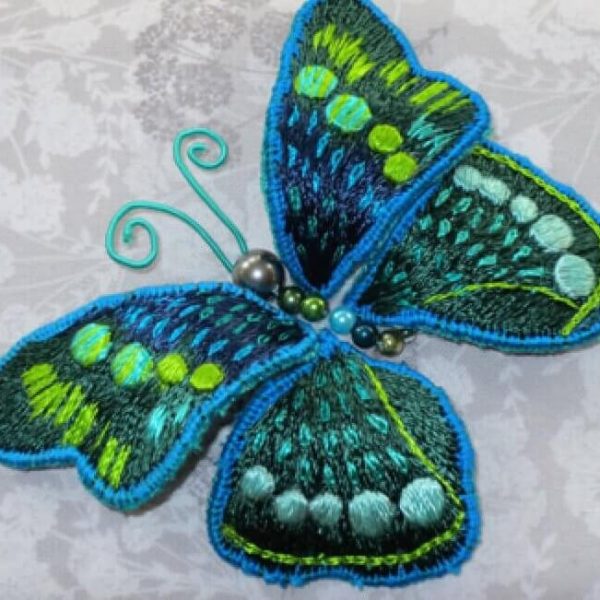 As you begin to explore Stumpwork and the beautiful creations of Stumpwork embroidery artists, you may notice a pattern. Common themes emerge–plants, butterflies, people–all elements of the natural world. The dimensionality of Stumpwork embroidery lends it to capturing the essence of living things. Stumpwork embroidery has movement and form. It lifts off the canvas and brings its subject to life.
Here are a few things to keep in mind when embroidering these high-relief designs.
If You're Doing Surface Embroidery, You Can Do Stumpwork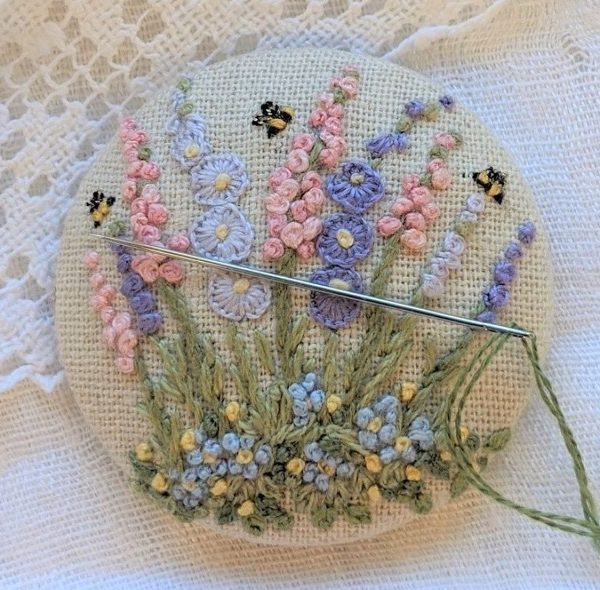 Most of the embroidery stitches you regularly use are prominent in Stumpwork embroidery. However, as you begin to work the techniques you'll find that Stumpwork favors stitches that create dimensionality.
Any stitches that create raised stitches or textural features can and are often used in stumpwork embroidery. These include French knots, bullion knots, woven wheel stitch, ceylon stitch, turkey work, velvet stitch, stitches with the word 'raised' preceding them (raised chain band stitch, raised stem band stitch, raised leaf stitch, raised fishbone stitch, etc), couched stitches, and more. You can see a complete list of the stitches used in Stumpwork here.
There Is More Than One Way to Raise Stitches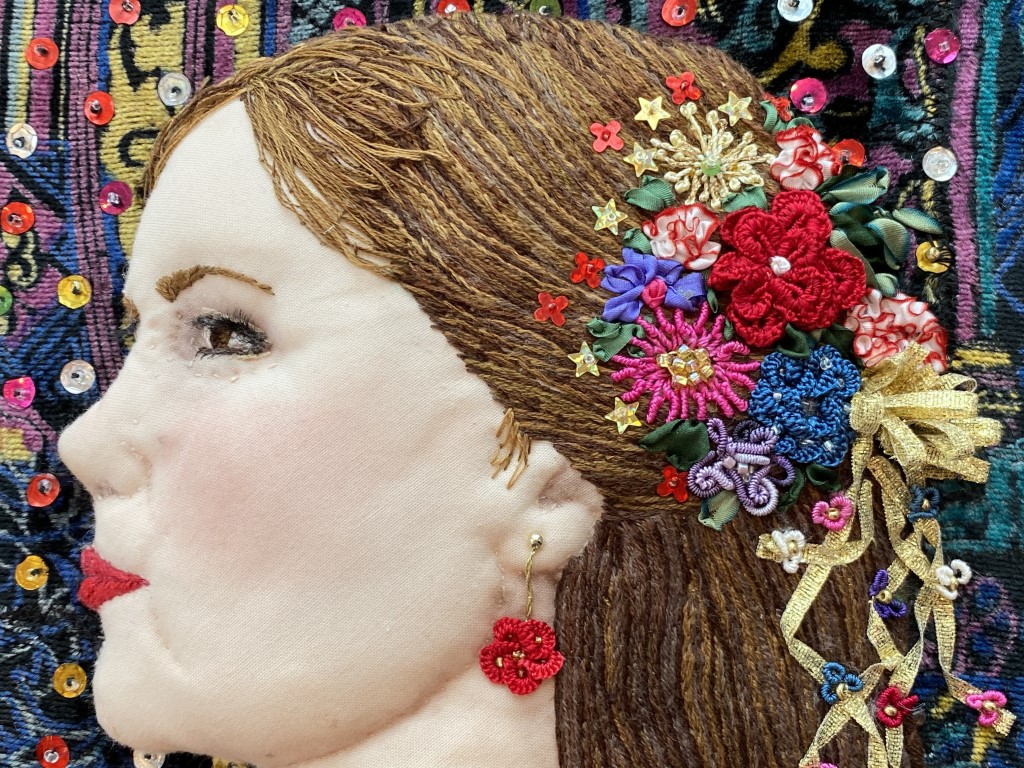 There is more than one way to raise stitches. Padding is often used to create the different surface levels in Stumpwork embroidery, and several techniques exist to create padding.
Padding with Thread
You can pad with thread, which means layering stitches one over top the other. Stumpwork embroiderers will stitch several layers of laid work stitches, alternating direction with each layer, and then cover that over with satin stitch (this technique is also known as padded satin stitch). Layered chain stitches are another easy way to create padding.
Working a raised stem stitch is another way to create padding with stitches, as in the Casalguidi stitch technique, which couches a heavy piece of thread or floss, then layers satin and/or stem stitch over it.
Padding with Felt, Quilt Batting, or Foam
Felt, quilt batting, and foam provide easy ways to raise the stitches on your canvas. Simply cut your desired medium to the size and shape of your design. Then, attach the pieces to your canvas and layer your chosen embroidery stitch over the padding.
Many Stumpwork Projects Involve 'Slips'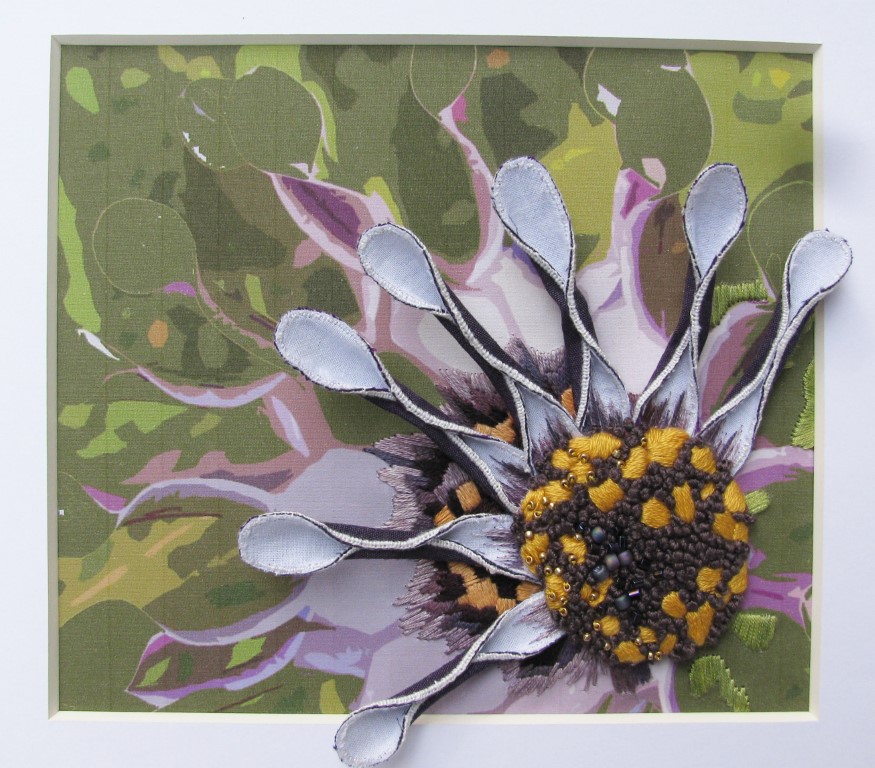 In Stumpwork embroidery, slips are embroidered details worked on a separate piece of fabric or canvas that are then cut out and appliqued to the main design. Embroiderers will sometimes leave a little extra fabric around their slips as they cut them out to use as stuffing behind the slip, raising the design even further once it's attached to the main design. The purple and white petals of the African Daisy seen above were worked as slips.
Slips were a very popular technique in the 16th and 17th centuries, and remain so today. Not only do they add dimensionality to your embroidery, but they also allow makers to transfer embroidered designs from one fabric to another. This is especially useful if you need to make repairs to your embroidery, or want to replace an aging fabric.
Wire is Often Used for Structure and Lift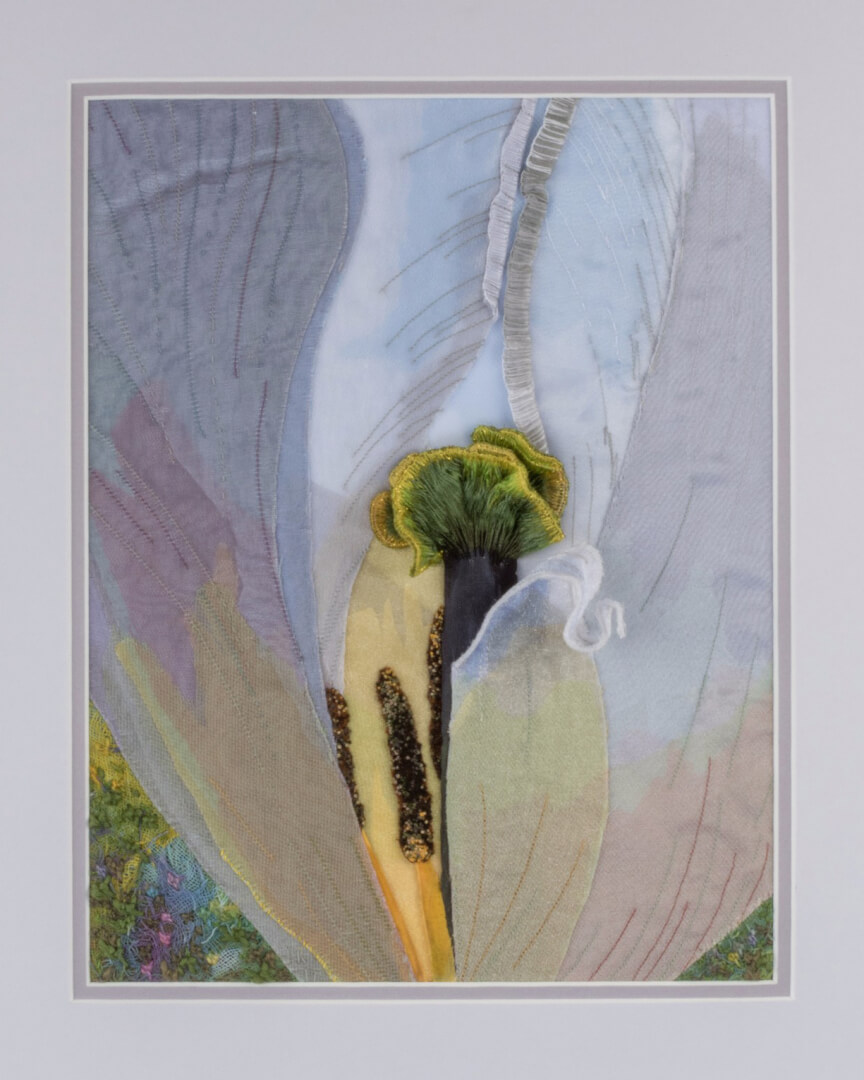 Wire is a popular tool in Stumpwork embroidery. Wire lends structural integrity to fine embroidered designs and allows the stitcher to shape their work. This can create a lifted look, giving the illusion of a hovering design.
The above Emperor Tulip design uses wire in the petal of the tulip, creating naturalistic folds that reflect the shape of the flower. Wired slips are common in Stumpwork embroidery, and very popular when making flower petals, leaves, and other flora and fauna. Celeste Chalasani used wire and organza fabric to create the delicate wings of the damselfly seen below.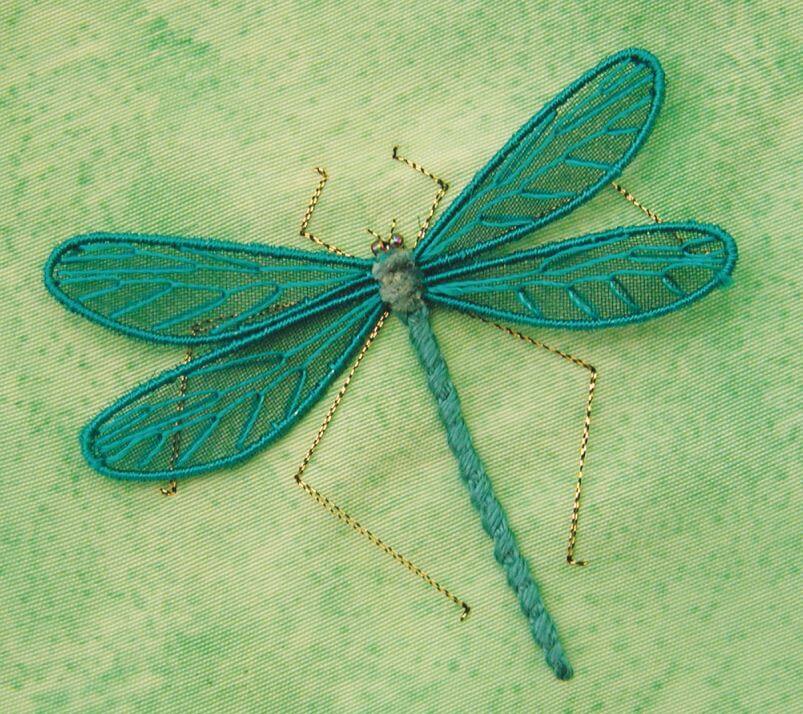 Embellishments Are Welcome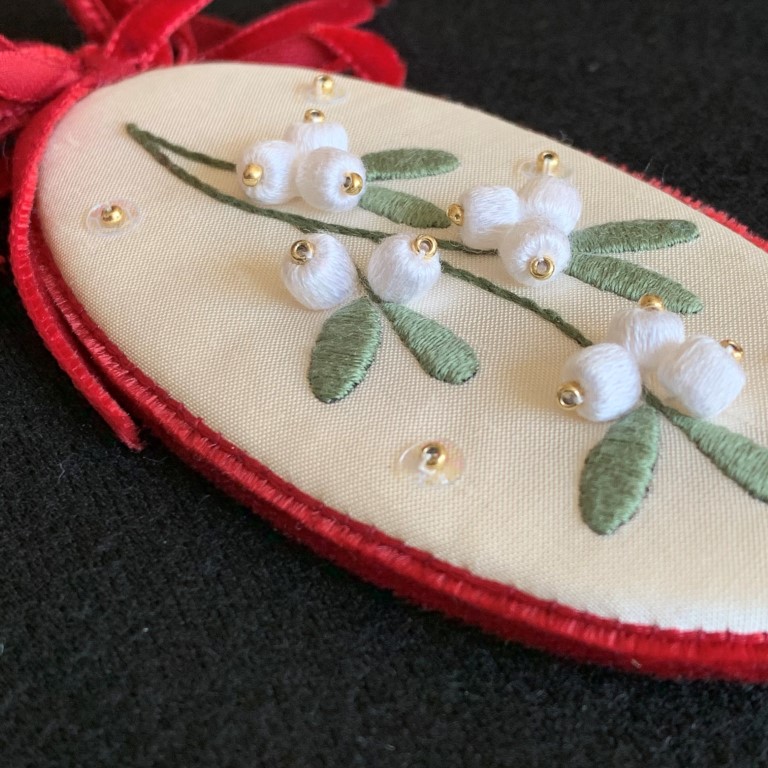 With Stumpwork embroidery, the sky's the limit when it comes to embellishments. Anything that can be couched, appliqued, stitched, or wrapped is fair game—beads, pearls, sequins, mica, buttons, ribbon, jewels, mirrored glass, shells, and more are all featured in Stumpwork embroidery. You'll notice embellishments in nearly all of the images shared here. Using different materials and textures helps elevate the dimensionality of Stumpwork embroidery.
The above ornament for our class Kiss Me Under the Mistletoe features wrapped beads for the berries, and the padding technique is used for the leaves. Embroiderers interested in trying out beginner Stumpwork techniques can sign up for the upcoming course here. Registration closes May 4, 2022.
We hope this primer on Stumpwork embroidery has whet your appetite for exploring this centuries-old technique. EGA's rotating roster of classes often features courses in Stumpwork embroidery. EGA members interested in taking our Master Craftsman: Surface Embroidery program can register here.