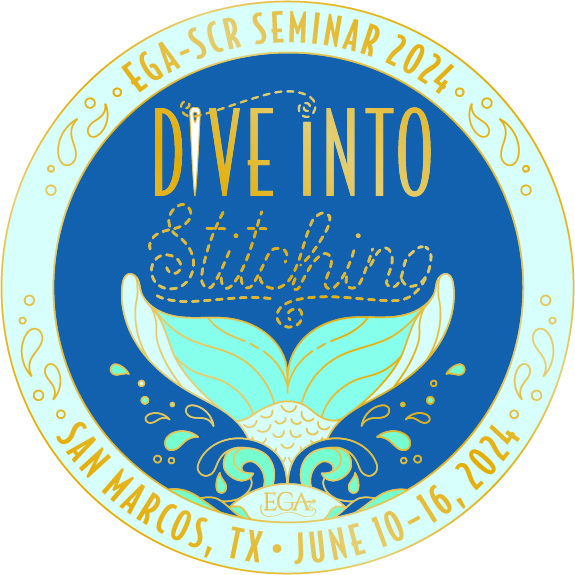 The South Central Region EGA Seminar 2024 Dive Into Stitching, will be held June 10-16, 2024 in the Mermaid Capital of Texas, San Marcos, Texas.
This is your invitation to submit proposals and join in the fun!
A variety of 1, 2 and 3-day classes will be offered in several techniques and proficiency levels. We encourage you to submit a variety of proposals of multiple lengths (1, 2, or 3 days) to allow us to balance our schedule as we strive to contract a teacher for all 3 teaching days. We would like to present several one-day classes teaching techniques that would be suitable for beginners or even those interested in learning a specific technique without committing to a large project. We are also encouraging virtual classes. The classes will be on Thursday, June 13, Friday, June 14, and Saturday, June 15, 2024.
Teacher compensation will include:
$425 per day for teaching
Economy round-trip airfare, transportation to/from home airport, or current 2024 IRS mileage rate for traveling by automobile from home to San Marcos, Texas, and transportation from Austin airports to San Marcos.
Hotel accommodations – Private room for four nights – Wednesday through Saturday.
Meals will be provided during the period of the contract – three lunches on seminar class days and one seminar banquet.
$65 per diem for other meals and incidentals such as parking at the airport
Virtual Teacher Compensation
For each project in-person teaching day, teachers are asked to hold a minimum one-hour Zoom (or equivalent) class.
Teachers will be compensated $20 per student per project in-person teaching day, (1-day class $20; 2-day class, $40; etc.).
We look forward to receiving your proposal(s). Submit your proposal(s) with picture or sketch electronically, no later than October 1, 2022. As requested by EGA, the "ICNA Standard Proposal Summary Sheet" must be the first page of each proposal. The necessary documents can be downloaded below.
Sincerely,
Lea A. Peacock, Dean of Faculty
SCR2024FacultyChair@gmail.com
Attachments
ICNA Standard Proposal Summary Sheet
SCR Proposal Item Submission Sheet
The featured photo shows The Ladies – Water by Jacqueline Winton, part of EGA's Permanent collection. Take a closer look!