It's a busy time of the year for EGA! Fresh off our National Seminar Broadway Bound in New York City, we bring you a look at some of the activities(and amazing needlework!) you may have missed. Click the photos for a closer look and visit the links to see galleries and more.
Next year, we will be in Boston for our 2023 National Seminar: Boston Stitch Party and we'll have 72 exciting classes. Early Registration is now open for all EGA members through September 26! Not a member yet? Join here.
Semi Annual Meeting Update
We had our 2022 Annual Meeting at our National Seminar in New York on Thursday, August 25, 2022. To provide coverage of the subject matter to the greatest number of people, a video featuring update reports was recorded on Thursday, August 19, and you may watch it below. The video has updates on Education, Marketing and more, as well as a section of member questions answered.
Gold Thread Award
During Seminar, Kim Sanders was announced as the 2022 National Gold Thread Award winner. Our Gold Thread Award is a way for EGA chapters and regions to recognize outstanding individuals who have given freely of their time and talents, and best exemplify EGA's purpose. A list with all of this year's winners per region can be seen here.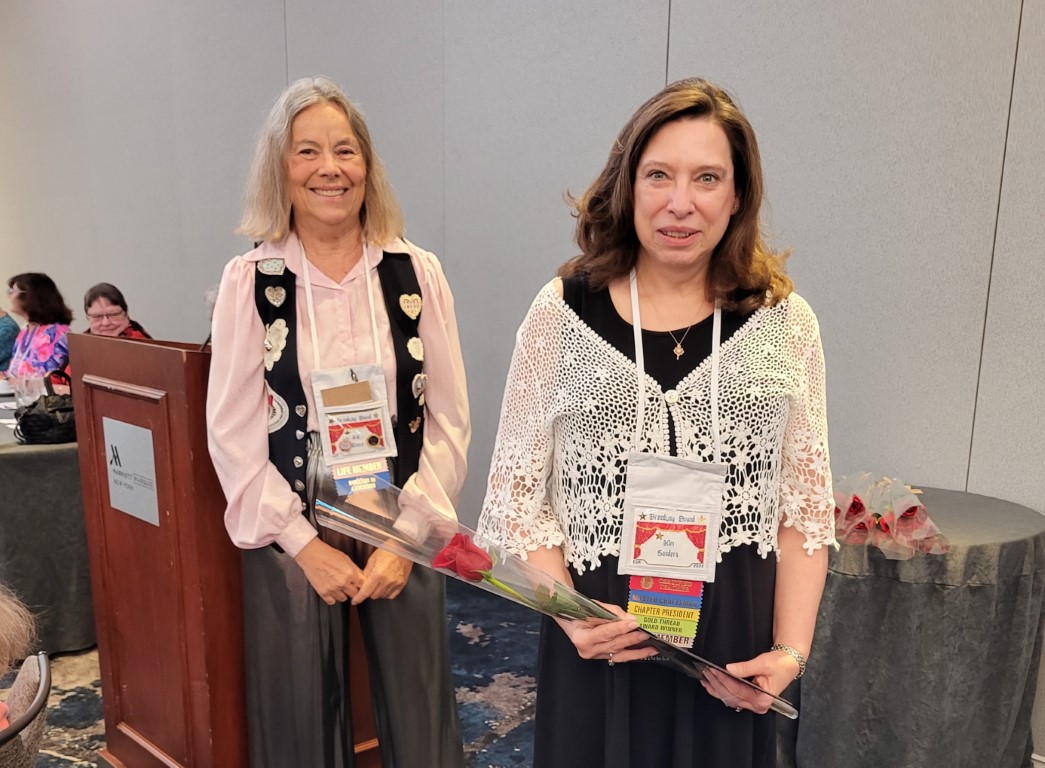 Education Exhibit
Participants and visitors at Broadway Bound had the opportunity to see up close pieces of our courses at the Education Exhibit.
Golden Needle Awards
The winners of our judged, themed exhibit, the Golden Needle Awards, were also announced at Seminar. The Viewers' Choice Award was voted on by members at our 2022 National Seminar in New York City and the piece with the most votes was Chrissie Juno Mann's Butterfly by Susan Lambert. To see all the winners, take a look at our 2022 Golden Needle Awards Gallery here.
Bobbie Pilling Memorial Awards
The winners of the Bobbie Pilling Memorial Award were also announced at Seminar. The Bobbie Pilling Memorial award is presented to an EGA member who has "gone outside the box" with an original piece of needlework that shows personal growth and artistic merit. To see all the entries, take a look at our 2022 Bobbie Pilling Memorial Award Gallery here.
Fiber Forum 2022
Among the beautiful embroidery on display at seminar, we also had some of this year's Fiber Forum juried pieces. Fiber Forum was organized in order to advance embroidery as an art form through the exhibition of original works of exceptional merit. You may see a selection of the pieces below, and visit the 2022 Fiber Forum Gallery to see them all.
Boston Stitch Party Preview and Early Registration
While 2023 seminar participants enjoyed their time in New York, early registration for the 2023 EGA National Seminar, Boston Stitch Party started. Visit Seminar Central 2023 to see the classes and register online! We have 72 classes for you to choose from, that represent a wide variety of techniques from basic to advanced. Early Registration ends on September 26, 2022.