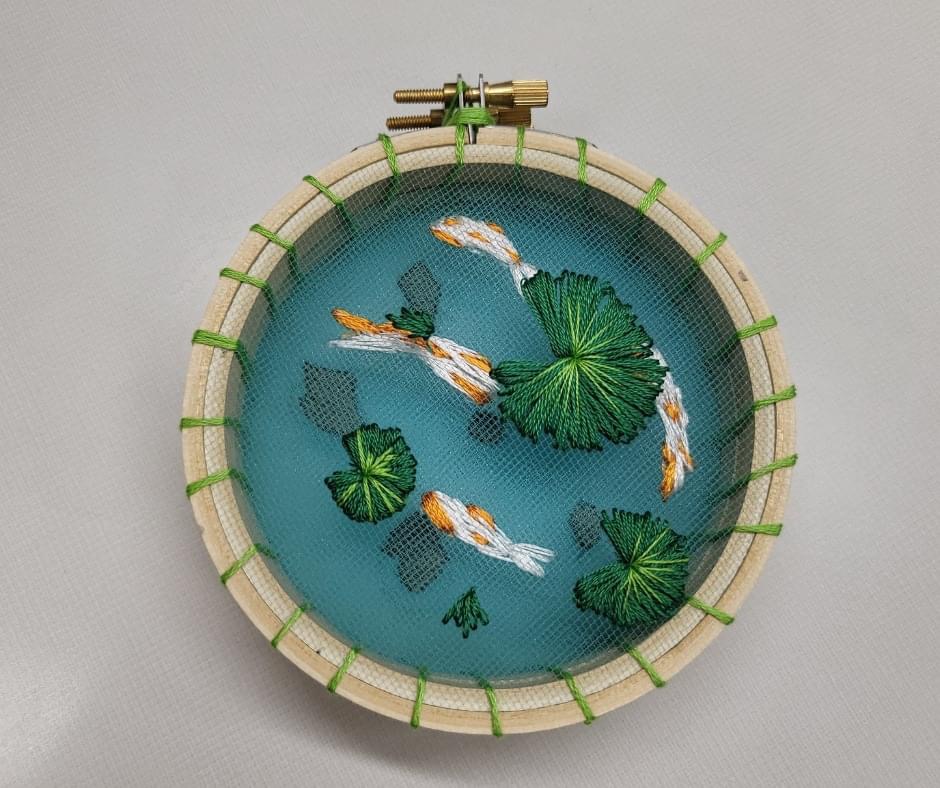 For our April stitch-a-long on Facebook we are stitching a surface embroidery project that brings to life a beautiful three-dimensional koi pond. A link to download the project is available below.
Here's a little more about this month's project from stitch-a-long admin Dianne Stauber: 
This project was inspired by a beautiful, imaginative piece I saw on Reddit, stitched by Grace Pool. You can find her on Reddit as u/M1ch00l or on Instagram as gracemichool. It took awhile before I found the courage to try this on my own, but when I did I had a BLAST!!! I hope you will too.
The piece is created by stitching on three separate embroidery hoops with different layers of tulle. You'll stitch the pond rocks in one hoop, the koi fish in another, and the lily pads on the third. When you stack each hoop on top of the other, you'll have the darkest layer on the bottom with the pond rocks, the fish suspended in "water" in the middle, and the lily pads on the top.
As you create your own koi pond, I encourage you to put your own spin on it. Add more pond rocks than my example…or make your fish bigger or smaller. Stitch some lotus flowers on the water layer. This is your creation…have fun with it! I can't wait to see what you come up with. Please post pictures in the EGA Stitch-A-Long Facebook group when you're done!
On February's Stitch-a-long post we shared introductions by our new Stitch-a-long admins. If you haven't met them yet, you can learn more about them here.