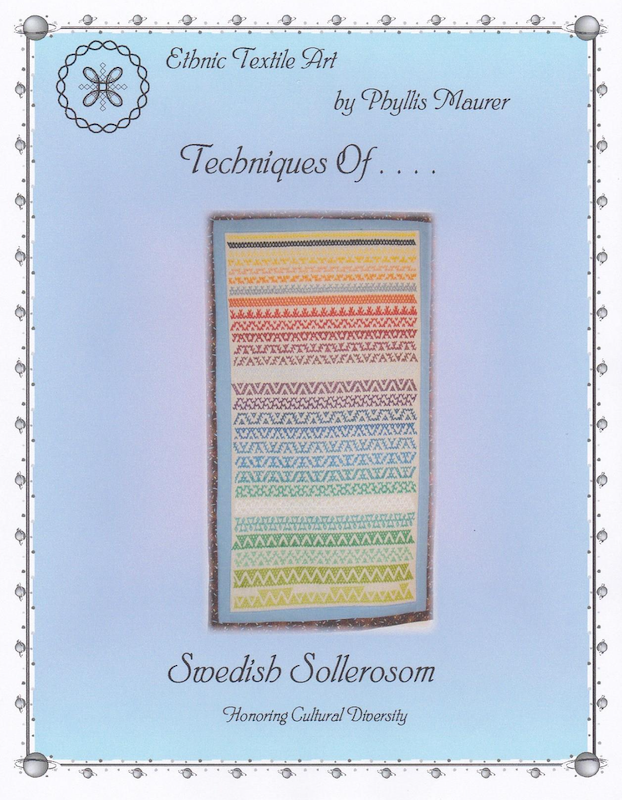 Would you like to stitch some of the projects that you might have seen in a seminar brochure or in an announcement for classes in EGA's past? Do you wonder what happens to projects that are no longer available from the original teacher or designer?
The EGA Education Department has also been asking those questions. We have recently accepted donations from a few teachers who want to make their past project instructions available to our members and to benefit EGA at the same time. We have created a new program called "Projects from EGA's Past" which accepts those donations and puts them into the EGA Store for our members to purchase as PDF downloads. Proceeds support EGA's mission of needle art education.
The first selection of projects is by teacher and designer Phyllis Maurer who is a member of our Lincoln Needleworkers Guild in Nebraska. The projects are from a series called Ethnic Textile Art and the following titles are now available for purchase: Techniques of German Schwalm, Techniques of Swedish Weaving, Techniques of Japanese Temari, Techniques of Armenian Interlace, Techniques of Norwegian Hardanger, Hand Finishing Techniques Inspired by Many Cultures, Techniques of Japanese Kogin, Techniques of Ukrainian Nyzynka, Techniques of Swedish Sollerosom, Techniques of Yugoslavian Weaving, Techniques of Swedish Naversom, Techniques of Swedish Tvistsom, Band Pillow Inspired by Ukrainian Nyzynka and A Basket Arrangement Inspired by German Schwalm. Get them here.
We hope you enjoy these projects from our past. We will add to this collection when additional projects become available. If you have questions or would like to donate projects from EGA's past that you have designed, please contact Education@egausa.org.