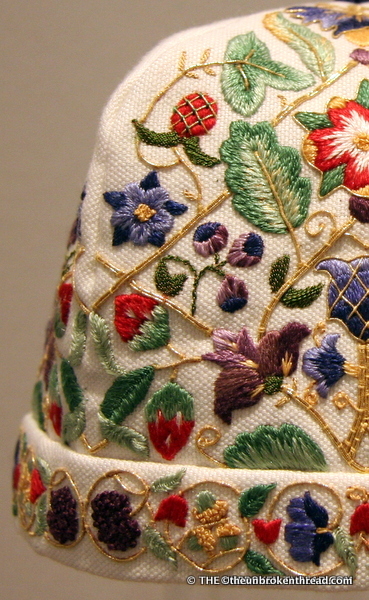 Did you miss our virtual lecture with Kathy Andrews? Good news, registration is now open for instant access to the recording of her lecture: Elizabethan Embroidery And The Trevelyon Miscellany Of 1608! Here's your chance to catch up with this exciting lecture if you missed it live. Upon registration you will be able to access the video from the lecture page through September 11, 2023.
About this lecture: The Trevelyon Miscellany of 1608 is best known for a series of embroidery designs, which have become a treasure trove for embroiderers and costume designers. Unpainted motifs of carnations, roses, cowslips and columbine, acorn and oak leaves fill the pages.
Thomas Trevelyon, a London craftsman of whom little is known, created his miscellany in 1608 when he was about 60 years old. In addition to the embroidery designs, it includes is a collection of handwritten notes and drawings covering many topics that Trevelyon felt were important to record.
A brief overview of the concept of a miscellany will be explained. We will see a facsimile of the Miscellany and explore the embroidery designs within. Participants will see both period and current examples of embroidered pieces whose designs are inspired/taken from the Miscellany.
Kathy Andrews is a textile artist and embroidery teacher who works with students of all abilities, teaching them the techniques and the joy of hand embroidery. With her enthusiasm for stitch and encouraging classroom atmosphere, she is a soughtafter teacher of embroidery. Kathy has taught at EGA National Seminars, for EGA chapters in the USA, and globally in her many online courses. Her popular and engaging lectures are in demand both in person and on Zoom. She received her Certificate of Technical Hand Embroidery with Merit from the Royal School of Needlework and her City and Guilds Certificate in Design and Stitched Textiles. In addition to her teaching, she has been published in Needle Arts Magazine and maintains an active blog.
More Virtual Lectures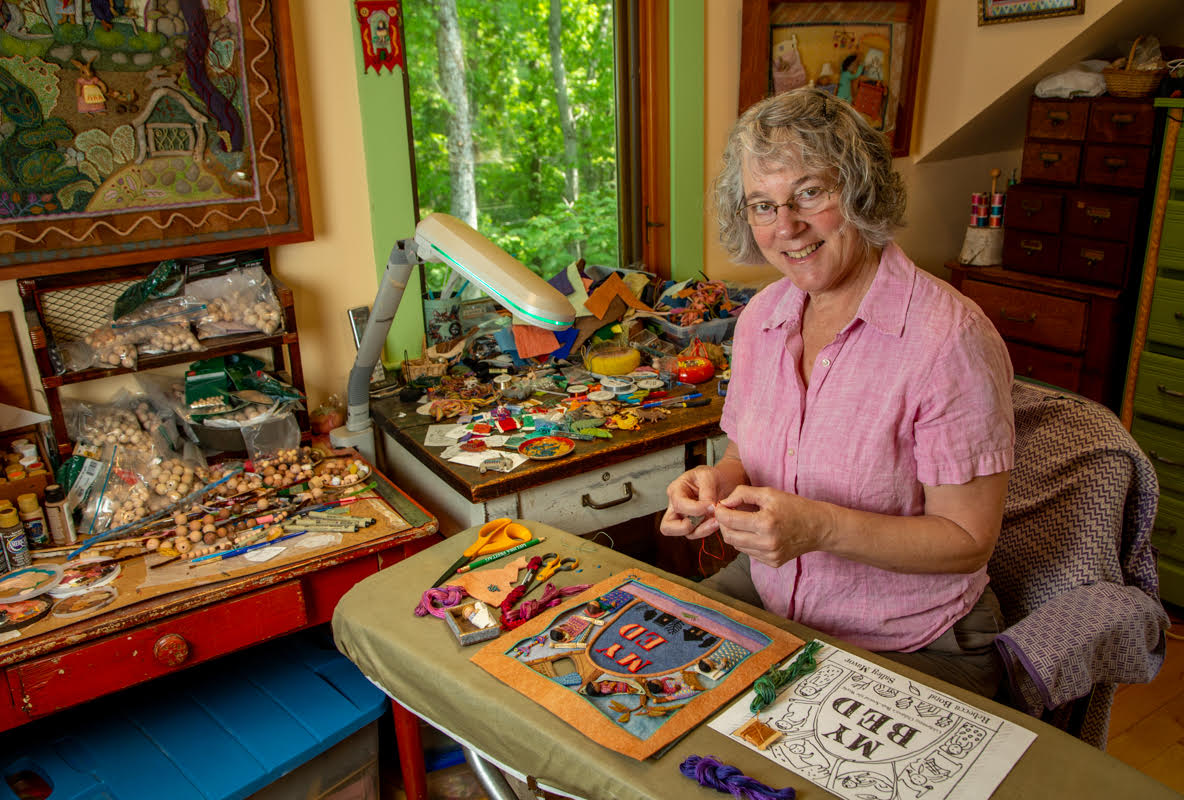 Recording Now Available: A Journey into Tibet's Sacred Textile Art with Leslie Rinchen-Wongmo — A California woman traveled to the seat of the Tibetan government-in-exile in India to manage an economic development fund. In a twist of fate, she ended up sewing pictures of buddhas instead. She ultimately learned that a path is made by walking it, and some of the best paths are made by walking off course. Get access to the recording!
Coming Soon: Making My Bed: Creating imaginative worlds with 3D embroidery with Salley Mavor — Artist Salley Mavor will talk about her 40+ year career creating imaginative worlds with 3-dimensional embroidery. The presentation will cover a wide range of artistic adventures, from illustration to doll-making to stop-motion animation, all done in her signature hand-stitched style. This is an opportunity to take a behind the scenes peek at Ms. Mavor's innovative process, which incorporates embroidery, fabric, and found objects. Live Lecture Date: Sunday, April 16, 2023 1PM Eastern Live Lecture Registration: March 27 – April 14, 2023 1PM Eastern. Sign up for a reminder!
Coming Soon: Bojagi, Stitching and Wrapping Happiness with Youngmin Lee — Bojagi (Korean Wrapping Cloths) are pieced together from small scraps of cloth. It is the most unique form of Korean textile art. Bojagi occupied a prominent place in the daily lives of Koreans of all classes. They were used to wrap or carry everything from precious ritual objects to everyday clothes and common household goods and also to cover food. It is also strikingly contemporary: the designs and colors of bojagi remind one of the works of modern abstract artists. Bojagi can be described as a true form of abstract expressionism. Youngmin Lee will talk about bojagi during this lecture and show her bojagi works after the lecture. Live Lecture Date: Saturday May 20, 2023 1PM Eastern Live Lecture Registration: April 28 – May 18, 2023 1PM Eastern Sign up for a reminder!
Coming Soon: How to Research an Antique Sampler with Cindy Steinhoff — An antique sampler reveals some of its physical characteristics and often some information about the girl who stitched it, but what else can it tell us? Cynthia Shank Steinhoff will discuss how she learns more about the samplers she collects and researches. The result is a full documentation of a sampler's appearance and history. Many of the characteristics that she identifies for older samplers can be used to provide a full description of a needlework piece made today. Live Lecture Date: Sunday, June 11, 2023 1PM Eastern Live Lecture Registration: May 21 – June 9, 2023 1PM Eastern. Sign up for a reminder!