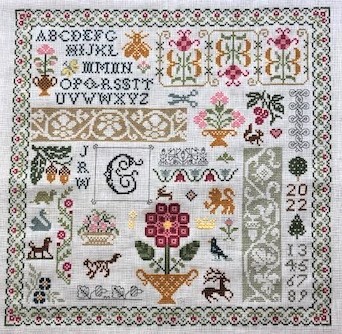 When people without a knowledge of the needle arts think about embroidery, one of their first associations with our artform is the sampler. Needleworkers have stitched samplers for generations, often passing down their knowledge through families and preserving techniques and motifs in the process. Samplers vary by culture, time period, and region. Shaped by those variables, they stand as artifacts of their particular place and time, recording history while also creating a language for future generations of needleworkers.
For this month's interview in our teacher and lecturer interview series, we sat down with Carolyn Standing Webb, teacher of the Individual Correspondence Course, The Sampler Family Tree.
Why are you drawn to samplers?
I am drawn to samplers because they are all unique and have such a wonderful variety of motifs and stitches. They become personal to the embroiderer when they change or add things that they want to their stitchery. They are fun to stitch because it is easy to put in things that have significance to the stitcher.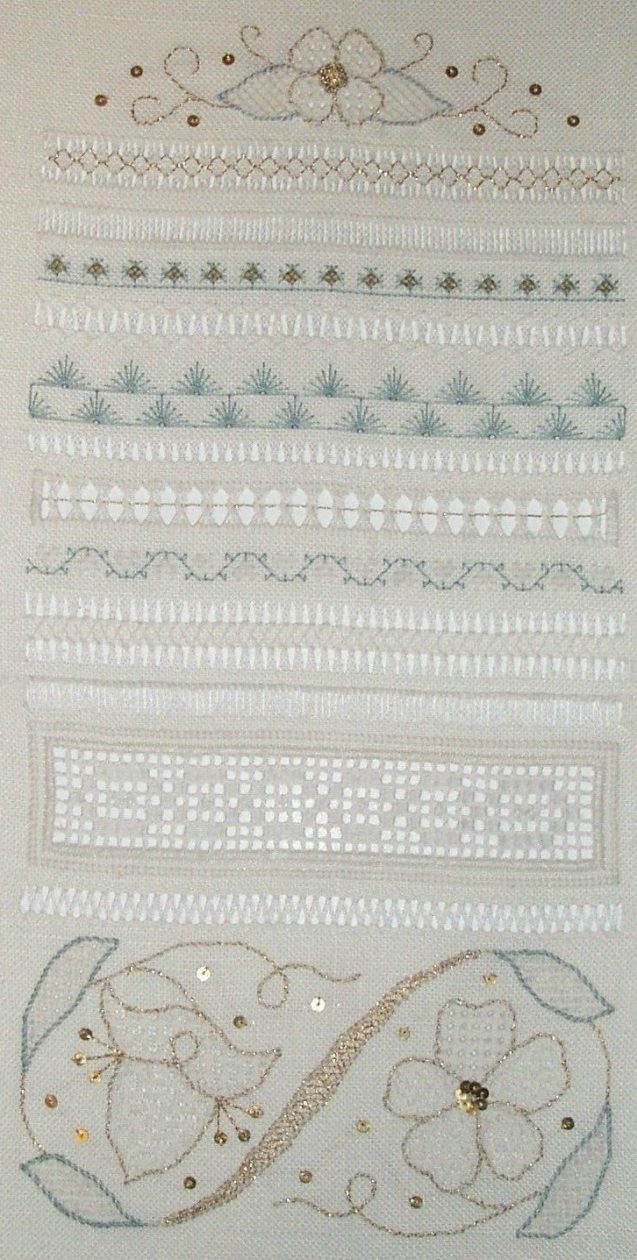 What was and is the purpose or function of samplers?
Samplers started out as a stitched sample of designs so that they could be duplicated.
Without a written pattern to follow, a record on fabric was used to pass knowledge from woman to woman. Later, when girls attended schools, samplers communicated not only what she had learned, but also demonstrated womanly traits like patience.
Why do samplers hold such historic significance in the needlework community?
Samplers have value as a record of not only changing designs, motifs, colors, and stitches, but also the expectation of female education in a changing world. They are one of the few tangible records we have of maternal history. When we look at an antique sampler, we wonder who she was, what was her life like, how did she feel about her stitching?
How have samplers changed over time?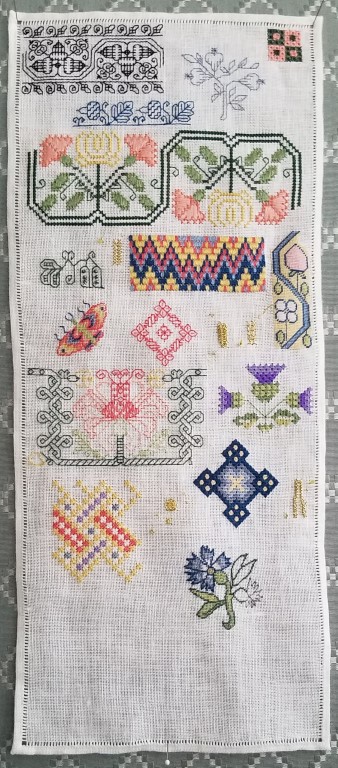 Samplers started out as stitched samples of complex designs and stitches, but as they became the work of younger girls, the stitches were simplified and the forms became more uniform. All of them are different and have personal touches that show that they are the work of one unique person.
Do you have a favorite style of sampler? Or favorite sampler from history? What about this style do you find alluring?
I tend to like the earlier samplers more because of the variety of the stitches used but I have enjoyed doing samplers in many styles from several centuries. I have always loved Tudor history and like the needlework from that period.
Do you have a favorite sampler you've made in your collection? Why is it your favorite?
That is a hard question. If I could only rescue one of them it might be Isobel Lyon, but maybe not?
She is a small part of a long story about a girl named Kathrin Boswell, from 17th century Scotland and the different things that she could have stitched like a frog purse, several samplers, and an embroidered casket.
From Carolyn's blog:

Many of my ancestors are from Scotland. We can seem to be a rather stern, taciturn clan with the sound of bagpipes in our mind and the lilt of the language in our ears.
From my Father's Scottish side of the family comes the name of a new piece that I am working on. It is a 17th century whitework band sampler named Isobel Lyon. Isobel is in my father's direct line from Burntisland, Fife. This band is a technique sometimes called Lacis. It is form of lace in which many of the threads are cut out and the remaining threads form the base for weaving and dove's eyes. Isobel is the Grandmother of Kathrin, so it fits in the narrative of the story of Katherin's kist, the embroidered casket.
Although Kathrin is a real person, she has a story that I wrote about her. I added to it by designing and stitching a whitework sampler from the years before she was born and decided that it needed to be worked by her actual Grandmother, Isobel. So with a little poetic license I named her Isobel Lyon since some of the family is descended from King William the Lyon king of Scotland.
It really stretched my skills to both design and stitch the Reticilla section of the sampler. I used a size 80 cordonnet thread for the weaving, wrapping and buttonhole bars. For framing, I have mounted it on a blue-green silk background. I still have a few more ideas for pieces for the Casket but am closer to my final design.
Do you have a daily/weekly/monthly practice that you'd recommend to other embroiderers interested in honing their craft?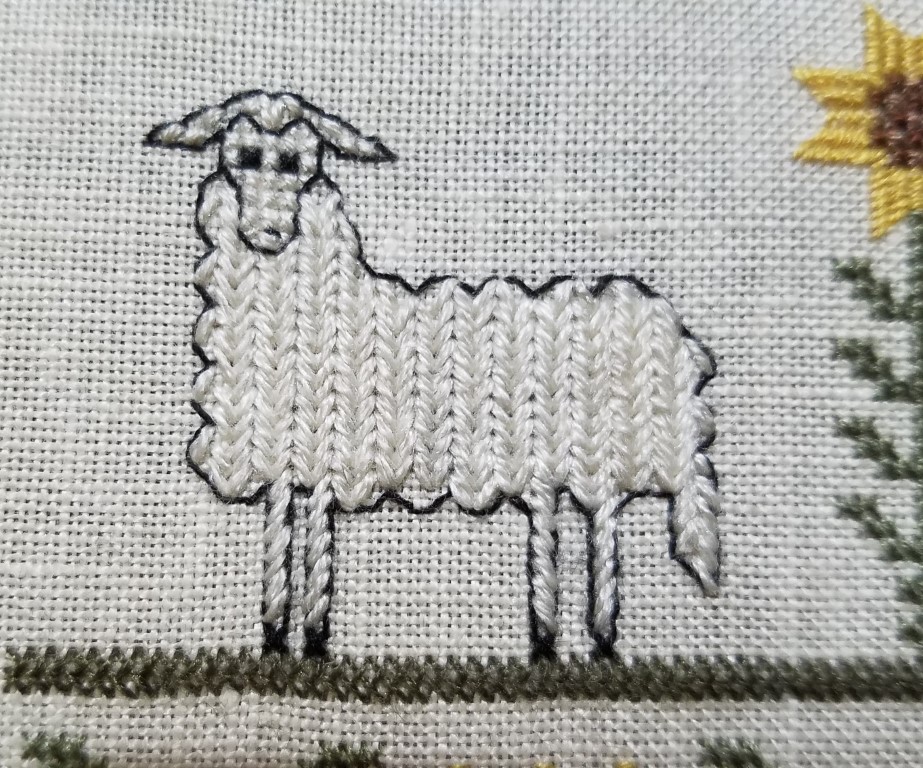 Stitch every day and do embroidery in several different techniques. I would recommend that you be willing to take classes and try new things. Be patient with yourself; you are not going to be a master on the first day. Don't be afraid to have new favorites and have fun.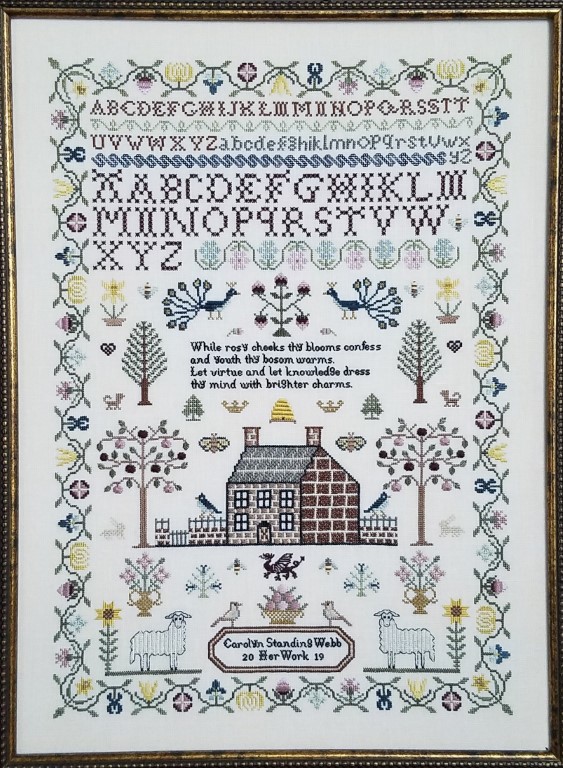 What embroidery (if any) are you drawn to in the new year?
I tend to have 5 or 6 works in progress at any time. I always have some long term projects but work on smaller things in and around them. I have been doing a lot of surface and dimensional embroidery lately, but I always have a counted thread project or two that I am working on.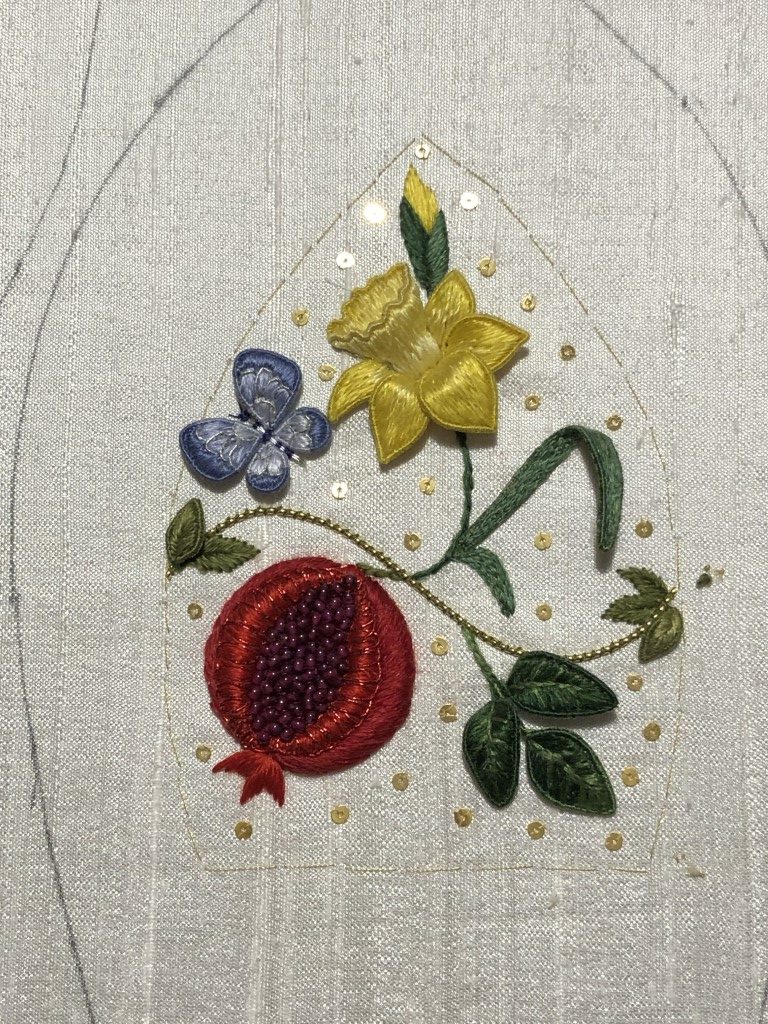 I hope that it will be fun to learn about many of the different kinds of samplers and discover why they like the ones that they do and feel a sense of accomplishment in creating one of their own.