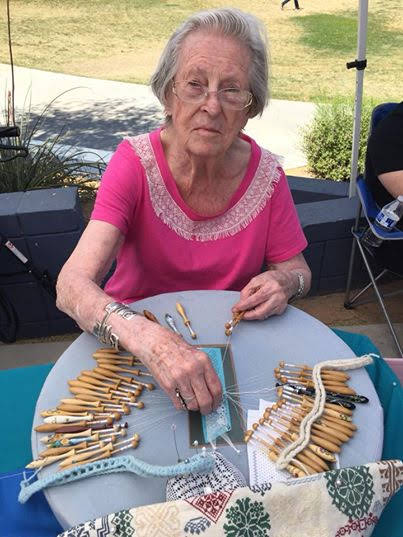 We join our Starlight Stitchers Chapter in Arizona in celebrating member Bette Crowell for her upcoming 101st birthday!
Bette was born April 13, 1920 in Tombstone, Arizona and moved to California in 1929. Bette was married twice and had four children. Her mother taught her to embroider, needlepoint, knit, and crochet. She also likes to paint, dance, and play sports. After marrying her second husband, his aunt taught her to do tatting. All these talents she passed on to her daughter, Jean Doig, also a Starlight Stitchers member. Her other three children did not get her artistic and creative side.
In the late 1970's Bette and her daughter, Jean, learned how to do needle lace together. In 1983 Jean taught Bette how to do bobbin lace. Life continued with her doing her fiber arts, painting, and raising her family. After her husband passed away, she decided to come to live in Mesa, Arizona near her daughter Jean and family. She joined Starlight Stitchers Chapter EGA.
Her health may not be as robust as used to be, but during Covid-19 lockdown she turned 100 and is still doing her cross-stitch and watching sports on TV. Her painting and several of the fiber arts she enjoyed she has had to stop due to arthritis, but she can still do embroidery, and bobbin lace. – Marilyn Evans, Pacific Southwest Region Director
Happy Birthday Bette!