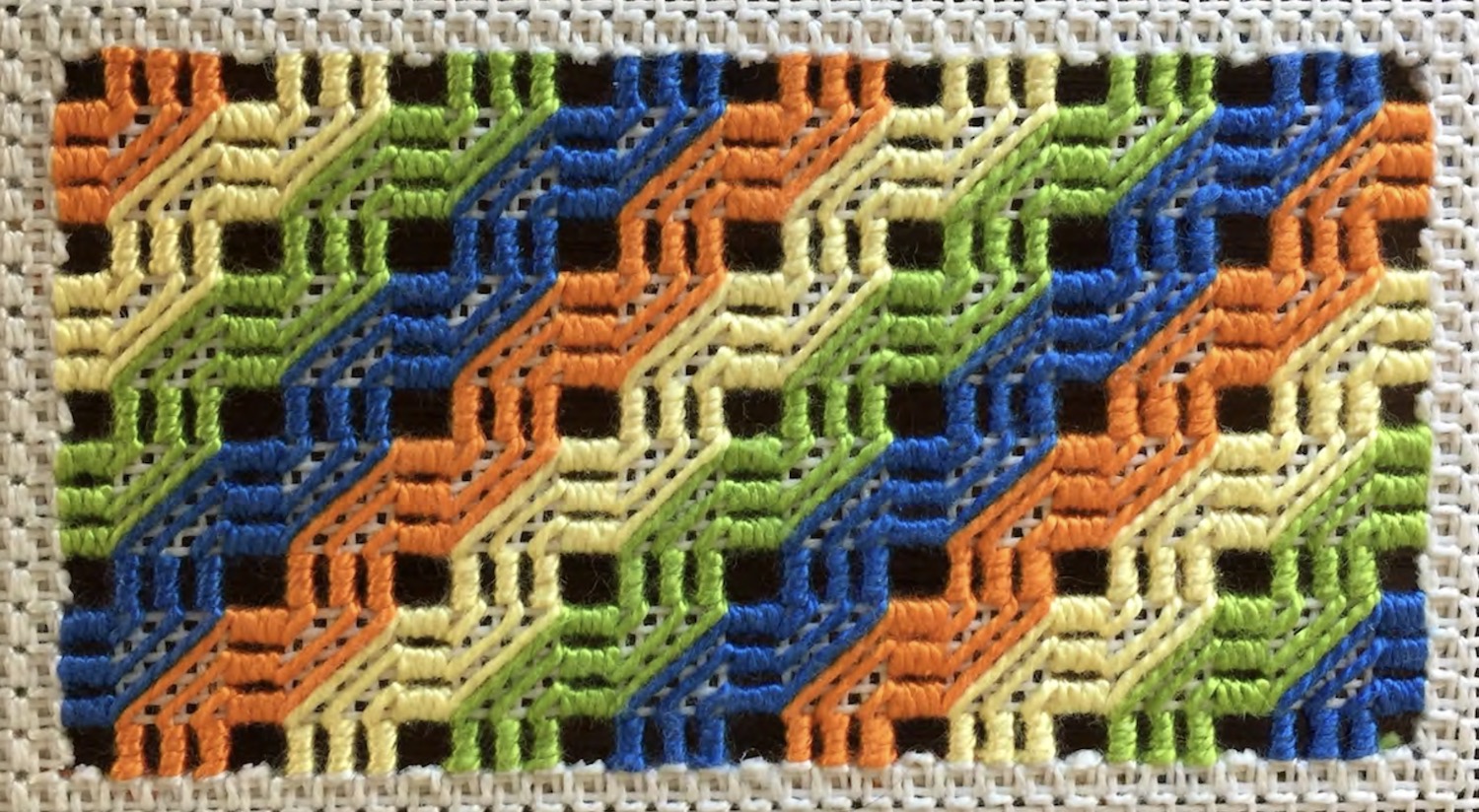 For our April stitch-a-long on Facebook we are stitching an Aztec Scissors Case! Here's more about this month's stitch-a-long from admin Kate Gaunt:
In January, we began our creativity challenge. The idea is to experiment and try new things. EGA provides a lot of great educational opportunities and I have certainly participated in a lot of classes, correspondence courses and chapter programs over the years. This project pulls together a bunch of that learning.
The Aztec Stitch is a stitch that appears on Mexican samplers. It is reminiscent of Hardanger in that you remove ground threads to create a special grid. The remaining threads are wrapped into bars to create a distinctive open work pattern. You can see examples here.
Scroll down in the article above to view: Sampler, Virginia Samtibañes, 1870, Mexico. Bequeathed by Alfred Percival Maudslay. Museum no. T.288-1928. © Victoria and Albert Museum, London and  Sampler, Encarnación Castellanos, 1850, Mexico. Bequeathed by A. F. Kendrick. Museum no. T.92-1954. © Victoria and Albert Museum, London.
The pattern at the bottom right of the Virginia Samtibañes sampler is similar to what we're exploring in this project.
I should state up front that I am NOT an expert in this stitch. I am simply intrigued by the unusual pattern and decided to create something with the stitch. I decided that my in-progress photos would benefit from some additional explanation, so I'm putting together a pdf for you with the patterns. In the meantime, you can learn more about the four-sided stitch (used for the border) here.
Denise Beusen wrote a very informative article on the Aztec stitch that you can find here.
I would like to thank Lois Kershner, Betsy Morgan, Pat Rozendal and Denise Beusen for classes or reference materials that contributed to my understanding of this technique. I would also like to thank Margaret Bendig whose Lacy Canvas Scissors case was an earlier SAL project that inspired this new one. The Lacy Canvas Scissors Case is one of many Petite Projects available to EGA members here. (Member login required)
This month we will complete Side 1 of the scissors case. The finished case is 4″ tall by 2.25″ wide. I stitched mine on 18-ct ecru mono canvas (cut size 6″x12″) with #8 ecru pearl cotton for the border and #5 pearl cotton for the Aztec Stitch pattern. I used the closest DMC pearl cotton colors I could find for the EGA colors: 825 (blue), 907 (lime green), 727 (yellow), 740 (orange). You can use whatever color canvas you would like and you could even use one of the #5 pearl cottons for your border. I like a more delicate border so I went with the #8 pearl cotton. I would suggest picking four colors of #5 pearl cotton that you like.