For this month's Stitch-a-long we will be continuing our work on stitched bookmarks with a contest! Here's more information on the contest from EGA Stitch-a-long admin Kate Gaunt. Submitted patterns will be available in our new Stitch-along page here.
For the contest, there are two main areas: One for Design/Pattern for EGA and one for those who "just want to make and donate a bookmark."
Contest: Bookmark Design/Pattern for EGA
First, please download the entry form here. The main point is that this must be your original work and you must state that in your submission. We also ask that you donate the pattern to EGA for its free projects area on the EGA website. You will be credited for your work. The finished pattern will state: "Permission granted to the Embroiderers' Guild of America, its chapters and its members for use in EGA activities. Not to be sold." We ask that you submit a hard copy (printout) of the pattern (as best you can), including supplies needed and instructions. Hand-drawn patterns are acceptable. Your Facebook Administrators reserve the right to work with you to "clean up" the pattern, as needed, before releasing the pattern(s) on the EGA website. Your complete submission will include your signed entry form, the sample bookmark (which we will keep), and the instructions to create it. Once we receive your submission, we may contact you for an electronic copy of the file since that would be easier to edit for distribution.
Awards
Since one of the goals is to come up with new patterns for EGA'ers to use to stitch bookmarks, the design category will have three awards:
1. EGA SAL Facebook page participants will vote for their favorite of the original designs submitted. Think of this one as the "people's choice" award. We will do this via a poll on the Facebook page and we will take photos of the submitted original design bookmarks.
2 and 3. Leslie Gagliardi and Kate Gaunt (admins on the SAL FB page) will each pick her favorite. Think of this as a "judge's choice" award. Depending on the number of entries, we may be inspired to create additional awards, but there will be at least three prizes given out (assuming at least three of you enter – LOL).
Contest: Donate a bookmark
First, please download the entry form here. Please complete one entry for each bookmark that you donate. If you have multiples of the SAME pattern, you can just fill out one form and let us know there are five (for example) based on the same pattern and we will credit you with five entries (or whatever quantity you submit). The finished bookmarks we receive will be donated to libraries or other literacy programs.
NOTE: For those who have already posted your entries on our SAL page on Facebook, please go ahead and fill out the entry form and mail it to Leslie along with your bookmark. We welcome everyone to keep posting your creations. Just remember that you have to fill out the entry form and mail everything for it to count in the contest.
All submissions must be received by October 4, 2019. (See the entry form for the mailing address.) Voting will occur on the SAL Facebook page (after we take the pictures and post them) and the results will be announced after the EGA National Seminar – so in early November. Prizes will only be mailed to US addresses due to cost and difficulty with international postage. You do not have to be a member of EGA to win, but we hope you will join us. We are not responsible for lost or late entries.
Awards
For the "I just want to stitch and donate a bookmark" submissions, we will draw a single name from all those who submit bookmarks. The more you enter, the better your chances of winning. Again, if we get tons of entries, we may be inspired to create additional awards, but we will give out at least one prize for the pool of people who stitch and donate a bookmark. For this portion of the contest, we will ask that you identify the designer (if known) and pattern (if known). If you don't know, that's okay too, but we'd like to reach out the designer (if possible) and show them the good work their design inspired.
The prizes
Each winner will receive their choice of any one of the four scissors styles that we've pictured. They are wonderful scissors made by Sajou in France.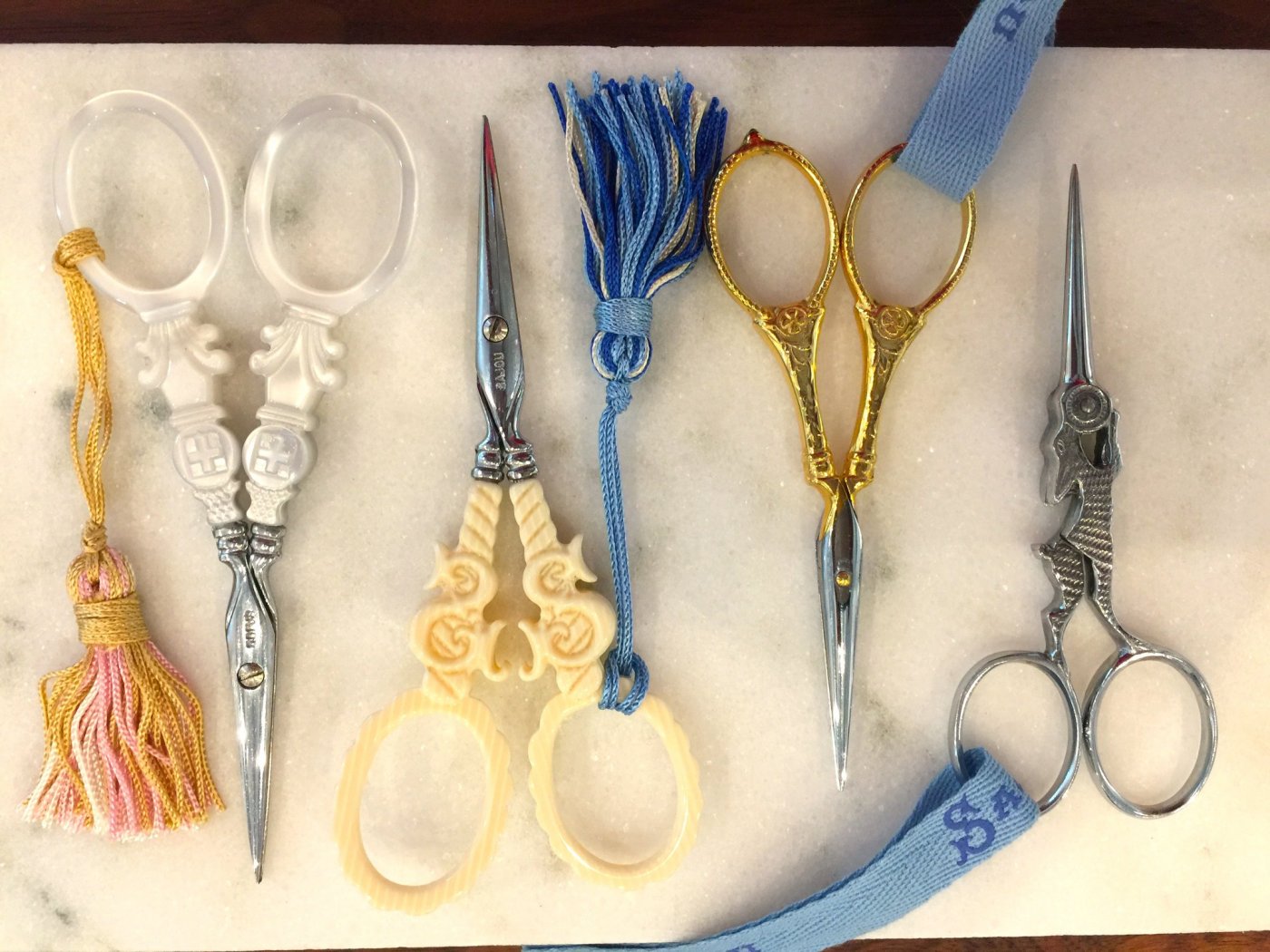 From left to right we have: Faux Mother-of-Pearl scissors (Ciseaux Facon Nacre), Faux Ivory Scissors (Ciseaux Facon Ivoire veine), Flowers and Pearls Gilded Scissors (Ciseaux Langres), Hare (rabbit) Scissors – Chrome color (Ciseaux Lievre)
We hope we've thought of everything, but if there are any issues along the way, the decision of your SAL Facebook page administrators (Leslie and Kate) is final. The prizes have been donated and no EGA monies are being used in this contest.