Our Carolinas Region has had fun working on a variety of projects in the past few months. Here are the reports from some of the Carolinas Region chapters:
Our Aiken (SC) Stitchin' Belles worked on yarn ort baskets this spring. We experimented with different sizes and styles, including the addition of handles and accessorizing with buttons. For some of us, it was a challenging exercise but we are now pleased with our results.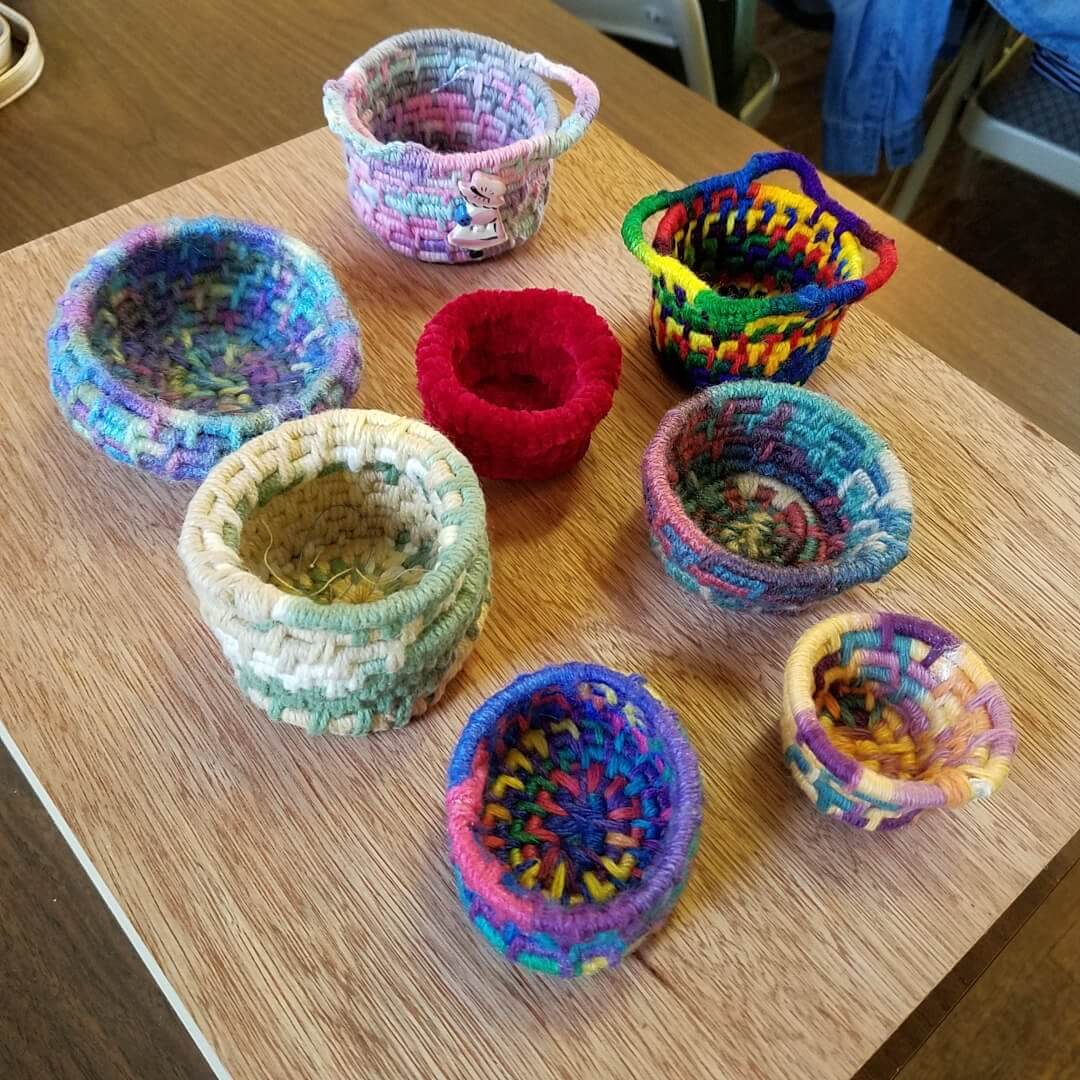 We are currently preparing for our month-long needlework show at the Aiken County Historical Museum, in conjunction with the Aiken chapter of the American Needlepoint Guild. New for us this year will be a "Meet the Artists" reception on Sunday afternoon, August 25, from 3 to 5 PM. The show will run from August 20 to September 15 and will feature a variety of techniques. We are looking forward to this chance to share our needlework with the community.
At the Chicora Stitchers (Myrtle Beach, SC) May and June meetings, Melanie Scott led the group in stitching Terri Bay's Ukrainian Whitework piece "Winter Lace". It looks beautiful whether worked in white or with a variegated thread. July's meeting was a chance for everyone to get involved in our service project: pillow cases for Ryan's Case for Smiles. After all the sewing, folding, ironing, pinning, etc., we completed 8 pillow cases (about 1 per member present!) to brighten a child's day.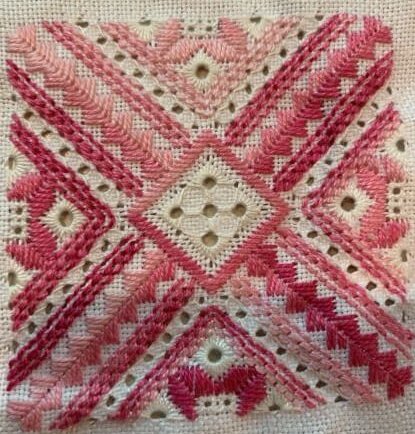 On July 26th, member Jane Toll and her husband visited the EGA Headquarters in Louisville, KY. Although the RV trip had been planned for a while, there was no planning for the sudden move down the hallway that had been completed 2 days previously by the headquarters staff! We still had a great visit, saw quite a lot of items and were the first to visit the new offices.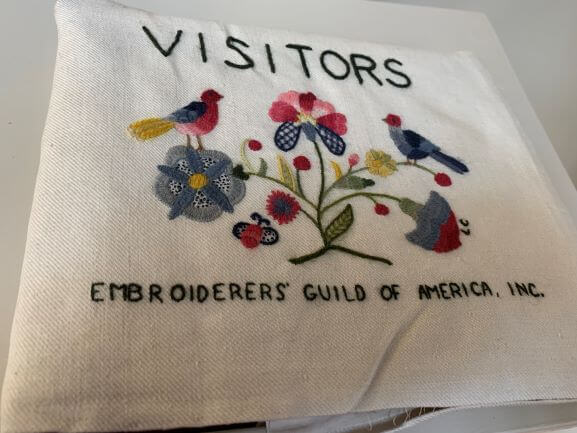 The year-long program of the Golden Needles chapter (Concord, NC) for 2019 is Twisted Band Sampler by Northern Expressions. This is a diagonal band sampler. You can see it on their website: Twisted Band Sampler with Specialty Stitches and Twisted Band Sampler Cross Stitch Version.
Another pattern option that was offered to the group was the Rainbow Band Sampler which also comes with specialty stitches or with only cross stitches. Each person chose their preferred sampler and purchased it before our January 8 meeting. We discussed it at the meeting and stitchers worked on choosing colors if they were planning to make alterations. We continued working on it at Stitch In Public Day in February and at monthly stitch ins for most months. They are coming along well.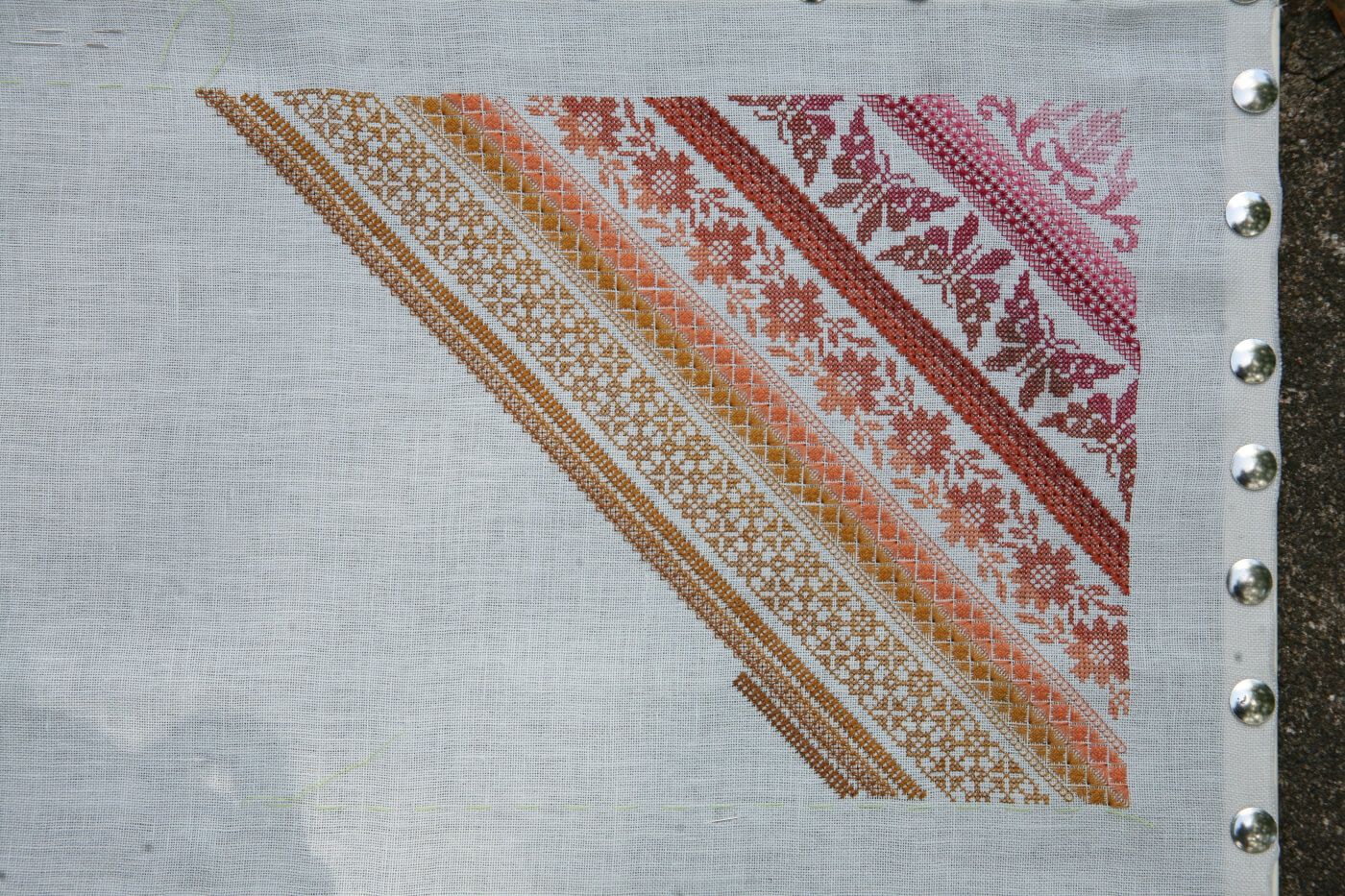 The Lowcountry Chapter (Hilton Head, SC) EGA has quieted down for the summer as a lot of our members are snow birds. So we had a pot luck lunch in June and now July and August are stitch-ins to finish up projects. The good news is that we have gained a member via a Facebook page just for SC Stitchers. I have been putting a reminder for our meeting on it and that is how the new member found us. She has traveled and moved a lot but was an EGA member previously and was glad to find a Chapter nearby.
The Tryon Chapter (New Bern, NC) is trying something new – the UFPC (unfinished project challenge). Each member who participates will list nine unfinished projects that are to be completed March through November. Participants put $2 each month into the UFPC kitty, however if a project for the month is not completed, $5 will be put into the kitty. At the end of the UFPC, the participants in the challenge will decide what to do with the money, ie, have a great lunch, donate the money, or any other decision by the group of participants. What a great way to spur everyone to finish some of their unfinished projects.
Click on the name of each chapter above to find out more about each chapter!
Related News
Photos and more: EGA members took embroidery everywhere on Stitch-in-Public Day 2019
Creating in the Carolinas: Lots of beautiful stitching at our Carolinas Region chapters