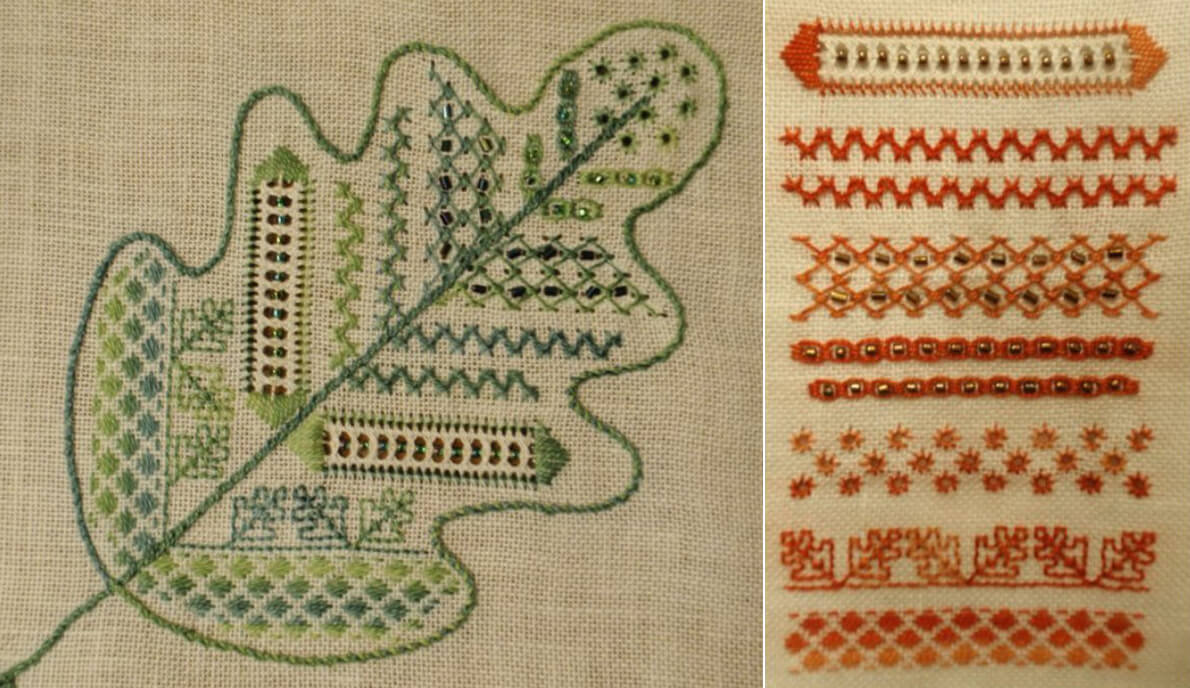 For our January and February Stitch-a-long projects on Facebook, we are stitching a sampler.
Here's a little more about this month's project from Stitch-a-long admin Kate Gaunt:
Happy 2020 to everyone! Remember when everyone was worried about Y2K? It's hard to believe that was 20 years ago — and it's still amazing that all those electronic devices did not go kaput. 🙂
Many people like to begin the new year with a new project and samplers are a great way to explore new stitches. We have a special treat for you, courtesy of long-time EGA national teacher, Jane Ellen Balzuweit from our Dayton Chapter in Ohio. Jane Ellen is a master of so many different techniques — she really is one who can "do it all."
For our January project (and continuing to February), we have a stitch sampler that will introduce you to a nice variety of stitches. Jane Ellen shows two potential formats: a traditional band sampler or a fall leaf. Note that the leaf outline is added at the end so it's easier to fit around your completed stitches.
I've uploaded files for each format to the files section of the Facebook Group and they can be downloaded below. The basic layout and details for the first three bands are included for now. Come back next month for the final four bands!
Thank you, Jane Ellen, for your many contributions to EGA and the world of embroidery!