Our Hanging By a Thread Chapter in Placerville, California recently participated in a global art project called 25 Million Stitches: One Stitch, One Refugee. Read more about the project and their participation from chapter member Billie Hoover:
A Little History and an AMAZING visit. In 2019 our EGA chapter, Hanging By A Thread in Placerville CA received an invitation to participate in a totally global art project; 25 Million Stitches: One Stitch, One Refugee.
This project was created by artist Kim Sohn and the concept was to amass 25 million stitches bringing awareness to the 25 million + people across the globe who have been forced to flee their homes and homelands as a consequence of genocide, war, poverty, natural disasters, targeted violence and other grave threats.
The call went out and panels were received from around the world. Our chapter members accepted and selected a method of African Embroidery from a prior program and book in our library. The response was terrific. Our chapter Pres at the time compiled the pieces onto our panel and submitted it.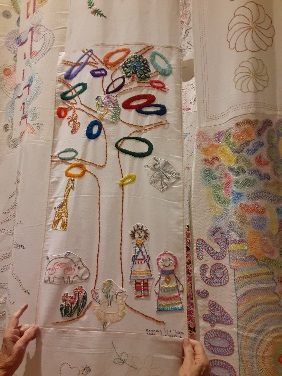 Due to the COVID pandemic the exhibit was delayed and on August 13, 2021, some members of our chapter took a "field trip" to the Verge Center for the Arts in Sacramento, CA to view the panels. We were astounded! The panels had been sewn together and hung from the ceiling. There were hundreds of them and what we thought of as a half hour visit turned into a three hour viewing. The variety and interpretations of the challenge were beautiful, varied and thought provoking leaving me with an awareness of a horrible, global situation and a deep gratitude for my blessed life.
It was so difficult to decide which pictures to include, but you can see closeups here! And I would recommend any who can to visit if possible and to try to have this amazing display brought to your area. For more information you can visit their web site at https://www.25millionstitches.com
I am so proud our chapter was able to be a part of this truly incredible project. – Billie Hoover