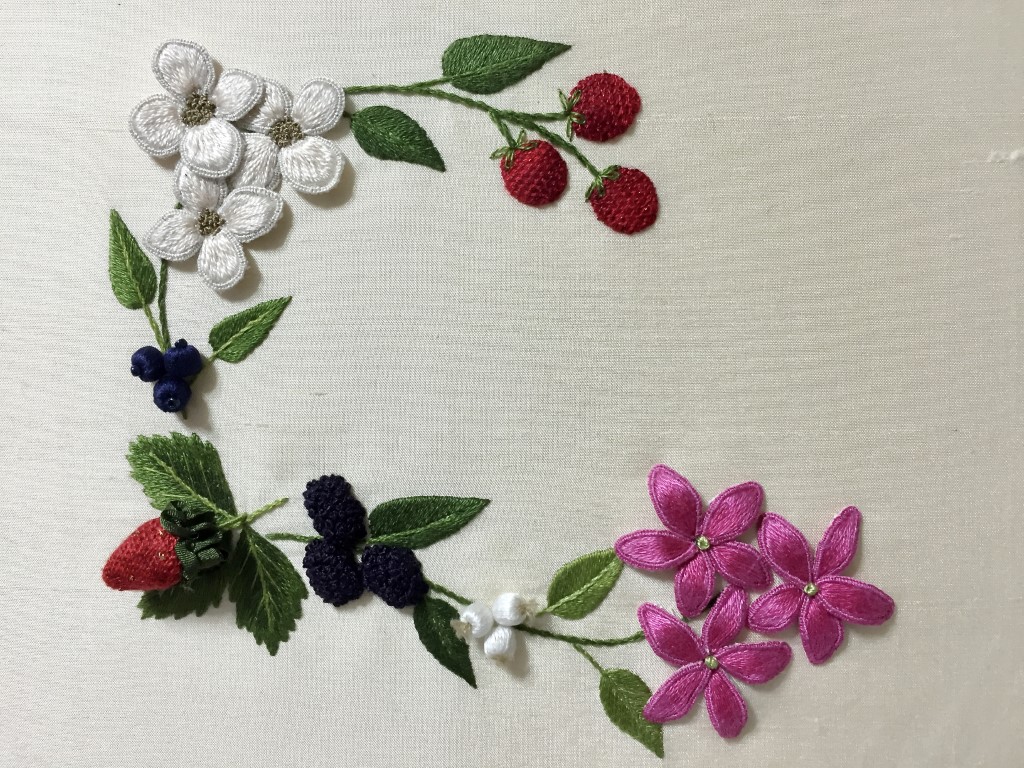 Berry Bramble teaches traditional and contemporary stumpwork techniques while employing modern motifs of berries and blossoms found in the Pacific Northwest; Pacific dogwood, salmonberry flowers, raspberries, blueberries, wild strawberries, blackberries and trailing snowberries. Students will explore essential stumpwork techniques; padding, padded slips, wired slips and needle lace.
Berry Bramble is a two day class with teacher Celeste Chalasani that will challenge intermediate to advanced level stumpwork embroiderers. Left handed instructions are available upon request. The design area is 5″ x 6″. Pre-work will take approximately 1 hour.
The kit contains project notes, diagrams, silk shantung, backing fabric, fabric for detached elements, stranded silk, cotton and specialty threads, beads, felt, needles and wire. Students will need to supply 12″ x 12″ Evertite frame (or similar), 4″ hoop, wire cutters, eyebrow brush, tweezers, sewing thread, Papermate Sharpwriter #2 mechanical pencil (or similar), acid free glue stick and archival quality felt tip pens, and magnification (recommended).
Kit fee: $100
Teaching fee: $50
Sign-up with a $20 non-refundable deposit between September 1 and November 15, 2021.
Balance is due November 15, 2021.
Interested? Send registration with deposit made payable to Corning EGA to Shelly Meldrum at her address on the Corning EGA website here. Questions may be sent to shelly.meldrum9@gmail.com. This program offering and more information about Corning can be found at www.corningega.org.