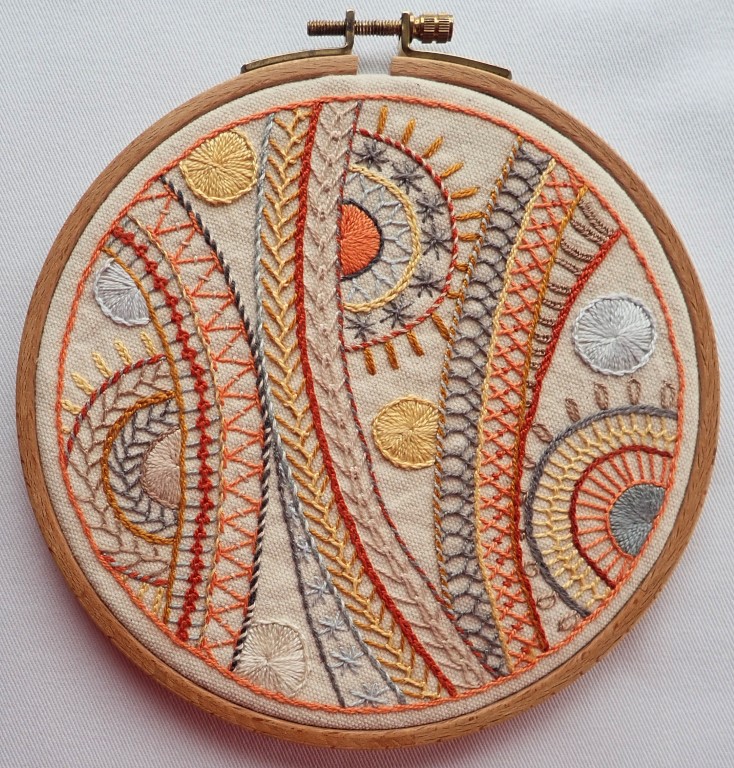 Create a geometric design within a six-inch hoop using many different embroidery stitches. Create outlines- eight different outlining options are presented- and add rows of decorative stitches to them.
Working from a stitch reference, use the embroidery stitches of your choice. Feel free to learn new ones! Build a repertoire of stitches by working each row in a different one. (The sample shows sixteen different decorative embroidery stitches plus each of the eight outlining options). Watch the pattern form as you work; it will emerge on its own. There is nothing to transfer. Relax and enjoy as the design practically forms itself.
You may wish to use this project as a stitch sampler- an opportunity to learn new stitches, or to observe the interesting patterns formed as stitches are brought together, and/or to explore color relationships. Whatever your objective, freestyle embroidery is easy to do. Prepare to be addicted!
Registration closes on August 3. The PDF Lessons for the class will be posted to the class page weekly starting October 5.
Here's a quick rundown of how our online classes work:  Students get access to the class content based on the class schedule and to a class discussion group where the teacher will answer students' questions and where students can post photos of their progress and communicate with each other. Lessons can be downloaded at any time up to two months after the last lesson is posted.  Please check the details for each class to see if the class format will include video instruction.
We have another exciting class coming soon! In Candy Cane Christmas Decoration with Emma Broughton you will make a delightful 3D Felt and Goldwork candy cane Christmas decoration with stuffing to give it a realistic look. The techniques you will use to embroider the candy cane stripes include Pearl purl, Spangles, Chipping and Ladder stitch. Registration starts August 3, 2022. Learn more and sign up for a reminder!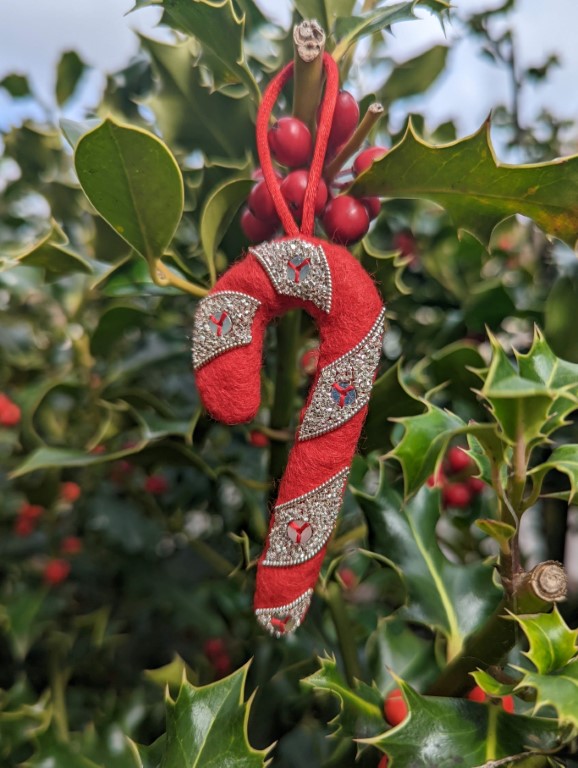 Looking for more learning opportunities?
Don't miss our current set of GCC Lightning Rounds, available through August 31st! While there is not an online component to these correspondence courses, you get to interact and learn directly with your teacher.
Here's the current set of GCC Lightning Rounds available for a limited time