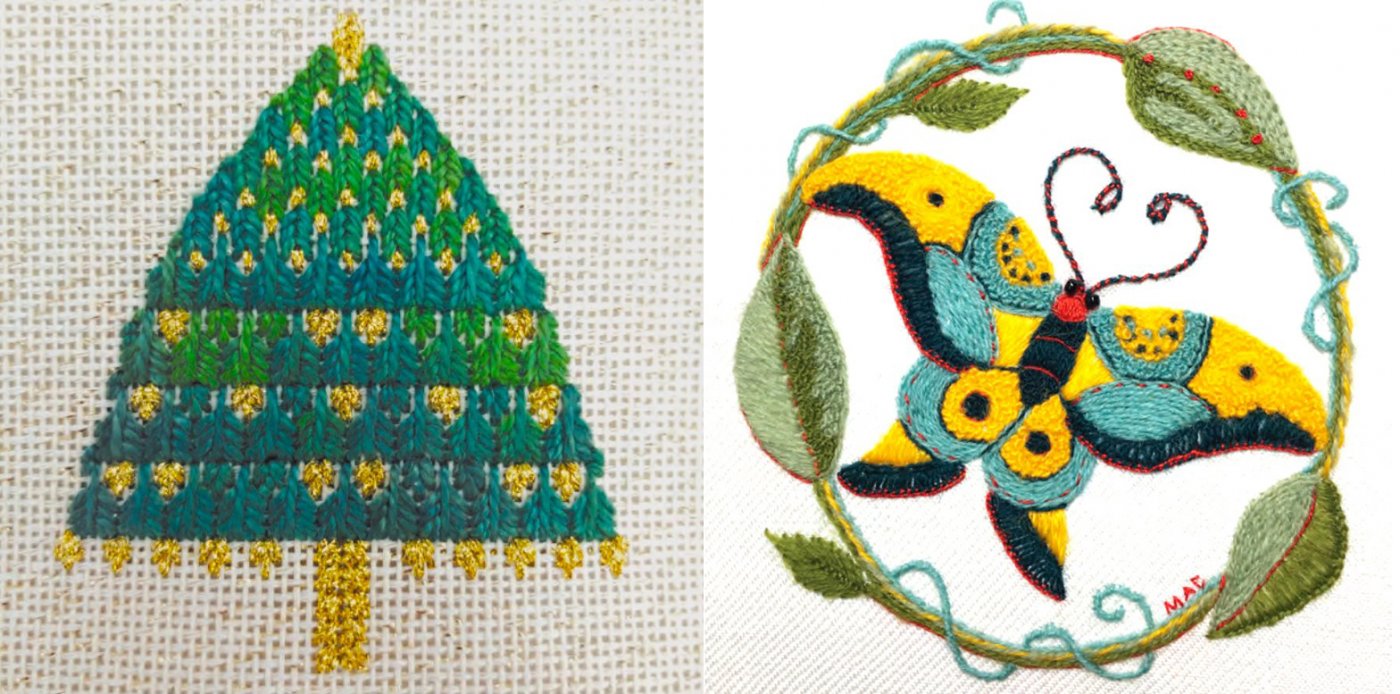 For our December Stitch-a-long on Facebook, we will be stitching two beautiful projects from our quarterly magazine Needle Arts. Needle Arts is a benefit of being a member of EGA, if you are not a member yet, you can join us here and start receiving your Needle Arts magazines among other great benefits for stitchers such as access to a collection of over 60 Petite Projects. If you join today, your December issue of Needle Arts will be part of your welcome package!
Here's a little more about this month's project from Stitch-a-long admin Kate Gaunt:

One of the reasons for this Stitch-a-Long (SAL) page is to showcase the resources available to EGA members. You don't have to be a member of EGA to be a member of this SAL page, but we hope that by calling attention to ALL of the wonderful resources in EGA, many of you will choose to become members.

The December 2019 issue of EGA's member magazine, Needle Arts, is arriving in members' mailboxes now. This new issue features TWO fun projects and that will be the focus of this month's SAL.

First up, we have Mini Leaf Pine by Mary Waldsmith, a member of the Greater Dallas Chapter. Mini Leaf Pine is the latest in a series of counted canvas trees from Mary and we've enjoyed stitching previous trees as part of our SAL. Speedy stitcher and SAL member, Wendy K Hahn has already stitched this project so you know it's fun and quick. Yay, Wendy!

Our second project, Scrolling Butterfly, is a surface embroidery project designed by Michele Chavez, a member of our Washington DC Chapter. Let's see who will be the first to post a finish of this lovely design!

You will be happy to learn that Needle Arts magazine will now be featuring MORE projects, so that's an even greater value for your EGA membership. There is a new commitment to focus on more project-oriented articles, so now is a great time to join. EGA membership dues are pro-rated and you can join now and receive 6 months of membership and you'll receive the December issue of Needle Arts as part of your new member packet. You can join EGA here.

Thank you, Mary and Michele for sharing your design talents with us. Also, thank you to Cheryl Christian, Editor of Needle Arts magazine, and the support staff of Needle Arts for bringing us interesting projects that expand our stitching knowledge!
Visit our EGA Stitch-a-long group on Facebook to learn more and to start stitching with us!
Happy Stitching!