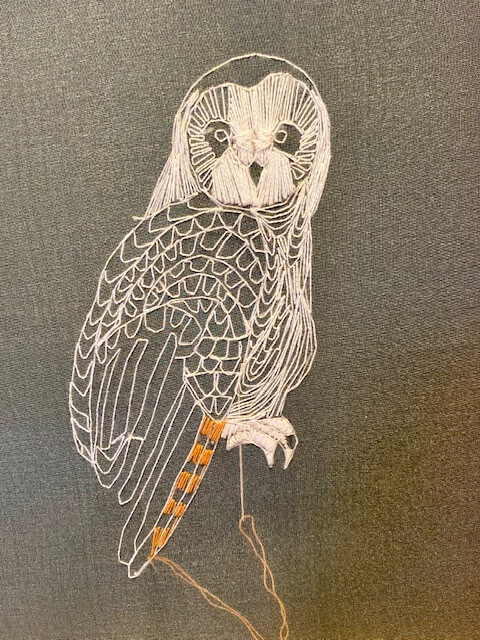 Our Laurel Chapter in western North Carolina hosted Gary Clarke, a teacher on the International Teacher Tour. The two-day workshop, entitled Tasmanian Screech Owl, was held on November 16 and 17 in Hendersonville. The event drew 28 participants from Ohio, Tennessee, South Carolina, Florida, Kentucky, and North Carolina.
The embroidery project emphasized simplification of form and color. It was stitched on a stretched organza base using one stand of six-stranded silk. Each free form stitch created a sketchy look to the work. The colors used were muted and earthy mimicking the owl's natural habitat.
Mr. Clarke, who lives in Tasmania, Australia, taught the workshop. After a demonstration on how to stretch organza onto a wooden frame, the class members traced the owl design onto their framed pieces. Then the straight lines in the design were stitched using silk thread and a 3/8 inch running stitch.
Gradually the stitching advanced to curved lines. The bird's face required stitches both above and under the organza. The last step was the addition of color accenting the owl's feathers and face. At the end of class Mr. Clarke provided detailed instructions on framing the stitched piece to allow for shadow play.
Here are comments on the workshop from several attendees.
"It was interesting to learn different techniques for stitching on organza to take advantage of the fabric's transparency." – Peggy O'Connor

"The unstructured nature of the project really stretched me out of my comfort zone." – Janet Stewart

"Working on organza with the unstructured nature of the stitches was an interesting challenge for me." – Marcia Harrison