Our Carolinas Region has had fun working on a variety of projects in the past few months. Here are the reports from some of our chapters: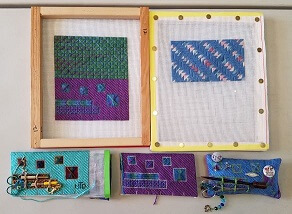 Our Aiken Stitchin' Belles Chapter in South Carolina(SC) are finishing up our frame weights, a project we announced last fall. We were thrilled that a number of other chapters around the country saw our previous article and asked for more information so their chapters could also work on the project. We have personalized our colorful weights by changing threads, colors, and even stitches and by adding magnets, pins, and other accessories. Earlier last year, a group of members worked on Ambrosia Honey; several have finished and the rest hope to do so in the near future. To take a break after completing these long-term projects, we will work on making a woven yarn basket later this spring. The Aiken chapter will also be putting up a needlework display in the local Library for the month of March and will hold a food drive for the local food bank.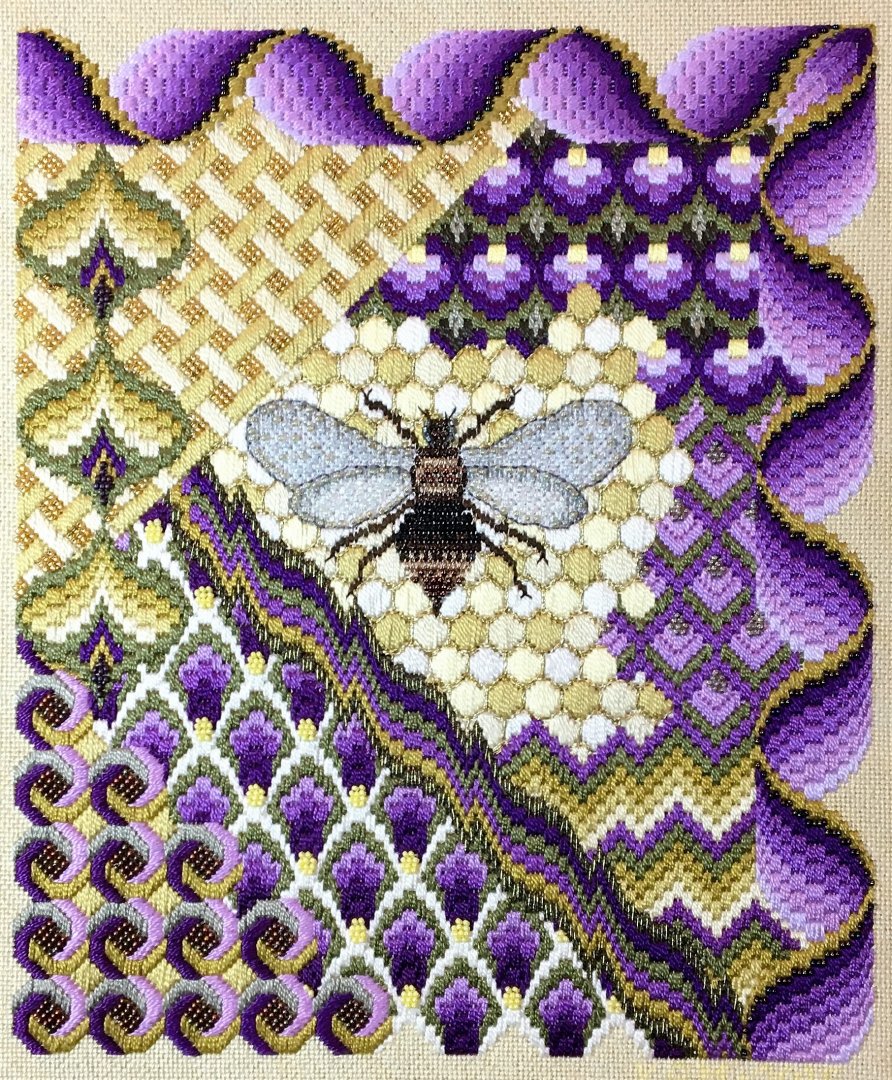 Our Augusta Chapter in Georgia chapter worked on Ambrosia Honey, and four members have completed it. The chapter's community outreach was to stitch walker bags for local nursing homes. To date, we completed 64 bags. The chapter meets monthly for stitching time in addition to holding their regular meetings.
Our Charlotte Chapter in North Carolina continues to have a variety of programs, including hands-on projects as well as lectures and demonstrations. Last year, for example, we had a class on peyote beading and a demonstration on assembling simple ornaments. We also had lectures from an award-winning quilt artist and a contemporary needle artist. For the last several years, we have mounted a display of members' works at one of the branches of our library system. We have also participated in a group correspondence course and acted as a pilot group for a national teacher for a project taught at the last seminar.
For the last 2 years, the Chicora Stitchers Chapter in Myrtle Beach, South Carolina have worked on large group projects, including a pulled thread piece and "A Confetti of Hardanger" by Abi Gurden of Bee's Needleworks, led wonderfully by our own Melanie Scott. The chapter stitched Kissing Pillows for service men and women as their outreach project. For 2019, the chapter chose to work on some smaller projects including beading (see the photo at the top of the article of the lovely scissor fobs we designed and created!), trying new stitches, working on a small Ukranian Whitework piece, and making a Romanian lace project. We will be making pillowcases for Ryan's Cases for Smiles for our outreach project.
Our Golden Needles Chapter in Concord, North Carolina stitched a heart pin for Breast Cancer Awareness in October. We gained two new members recently. Stitch in Public day is planned for February 2 at Hobby Lobby in Mooresville, NC.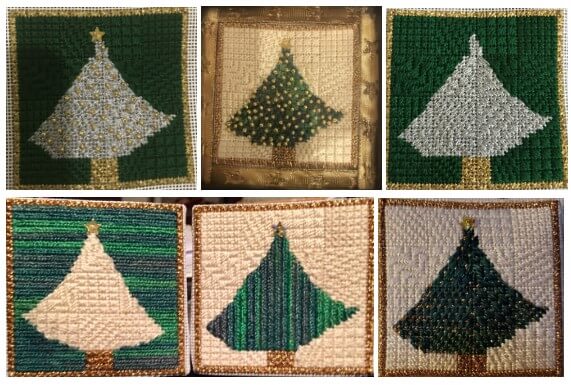 Our Low Country Chapter in Hilton Head Island, South Carolina reports that, as a Christmas gift to the membership, the chapter purchased canvas, threads and embellishment for the "Mini Checked Pine" tree published in the December 2017 issue of Needle Arts. The project was fun as everyone put their own "spin" on it. It was a wonderful project to teach those who were not familiar with canvas work. Those who knew their way around canvas had this small piece done in no time … and then stitched some more. We are currently working on the Mystery Band Sampler from the 2005 issue of Needle Arts. Our next project will be an embroidered purse from a British stitching magazine. We are also planning a "Stitch in Public" day for February 2. We are going to hold a food drive each month and the member who correctly guesses the weight at year's end will get a prize (most likely a gift card).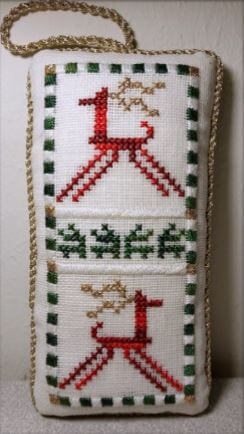 Our Magnolia Chapter in Charleston, South Carolina chapter has gotten off to a great start with our January meeting. Our Outreach Committee is organizing and teaching two beginner embroidery classes in late January at the local Michaels. Several of our members are working on one of National's Petite Projects: the Reindeer Ornament. Our Program Committee is organizing the Mary Corbet project, "Twelve Trees for Christmas", to begin at the February Chapter meeting. It is a wonderful surface embroidery project for both the beginner and more advanced embroiderer. We are fortunate to have as a member the international teacher and designer Betsy Morgan of Willing Hands Stitching, who will be teaching a two-day workshop with her newly designed project called "Bee Contained." We are very excited about that! It involves stitching and finishing a hexagonal etui, along with several "smalls," like a bee skep pin cushion, a scissor fob, a ruler, a thread winder and a needlebook. Our annual fall fundraiser at the Coastal Carolina Fair, where we are able to demonstrate embroidery, greet the public, and inform them about our Chapter and EGA, not to mention award ribbons, was a great success, thanks to the work of all our members. We were able to deposit a nice check to our coffers in January to be used for special classes in the future. We have begun discussions regarding to which organization we should donate our annual charitable contribution.
The members of our Millwood Chapter in Columbia, South Carolina have been very active stitching logos for Habitat for Humanity houses. We add the new owners name to the logo, so when they enter their home for the first time they are welcomed. We have been working on Ambrosia Honey; most are completed. Then we took the course "Meadow Melody." Again, most are completed. Just this week, we are stitching a "Wonky Christmas Tree," an adaptation of the "Elegant Christmas Tree" offered by EGA.
Our Laurel Chapter in Hendersonville, North Carolina enjoyed a holiday luncheon in December, which included new officer installations and optional ornament exchange. In January, we made 25 fleece blankets for Project Linus, our ongoing outreach. The February project is a heart pin to observe Women's Heart Health month. March is a small pin (encore) with a daffodil, while we celebrate TLC's 29th birthday. There will be special refreshments. We stitch in public 2-3 times a month, another ongoing outreach opportunity.
Our  Tryon Chapter in New Bern, North Carolina worked on several projects in 2018: paper embroidery, a cross-stitch design, a beaded bracelet, Sashiko, and needlework ornaments. Every other meeting is a stitch in. Once a year we have A Beach Retreat for a week where we go to stitch as a group. Our community outreach program includes supporting our local Salvation Army and working with our local hospice.
Click on the name of each chapter above to find out more about each chapter!
Related News
Carolinas Region Spring Retreat: Reconnecting on the Ridge
Photos and more: EGA members took embroidery everywhere on Stitch-in-Public Day 2019
Calling all teachers: Submit your proposals for EGA's Carolinas Region Seminar 2020